"I can't wait to be in one of your long facebook posts! exclaimed Katie as we drove south to Hochfügen, anxiously scanning the peaks around for any signs of snow. Well, tighten your boot buckles and put your skis into downhill mode, here we go!
After my trial by fire with Kedron and Munan a few weeks ago, I was ready to try ski touring again. Tom and Katie were fresh from a course in Chamonix, and so all we needed was some snow. Sadly, that's hard to come by this winter, and none of the routes in my little book of Bavarian ski tours seemed possible. We cast our eyes further south, and settled on some tours from Hochfügen, where the trail starts at 1500 hm, enough to guarantee snow.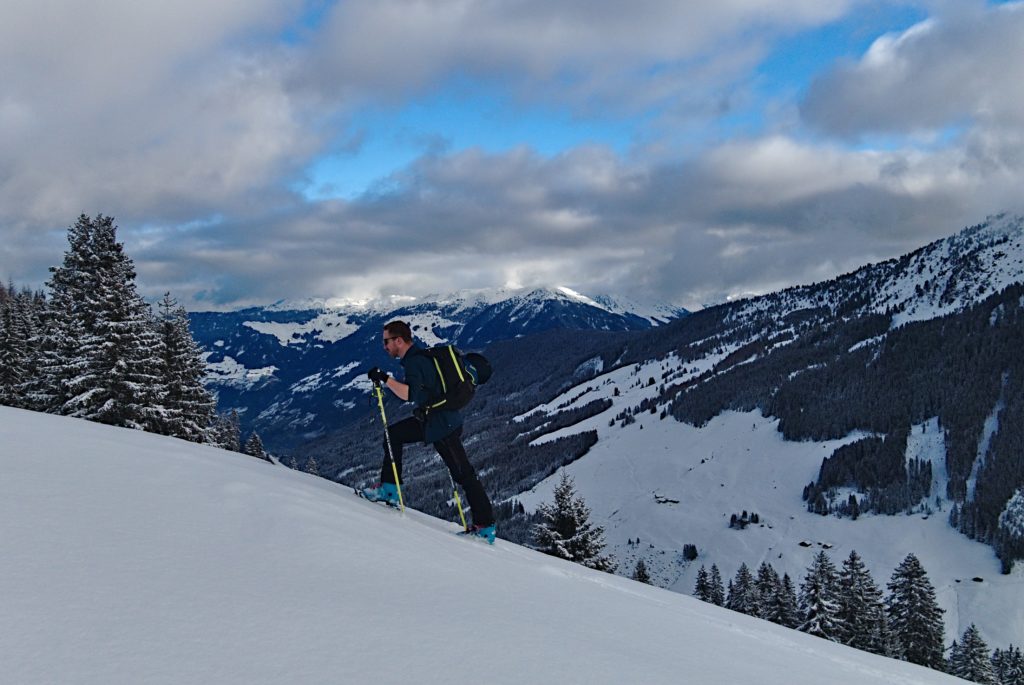 The car park was busy, and many ski tourers were ahead of us as we set off. The British lady at the shop told me that the way up was a "motorway", but we somehow missed the turn to Sonntagsköpfl, our main goal for the day, and instead found ourselves halfway up Kleiner Gamsstein, a lower peak with broad, gentle slopes free of trees. Not a bad place to warm up and test the skis we'd rented.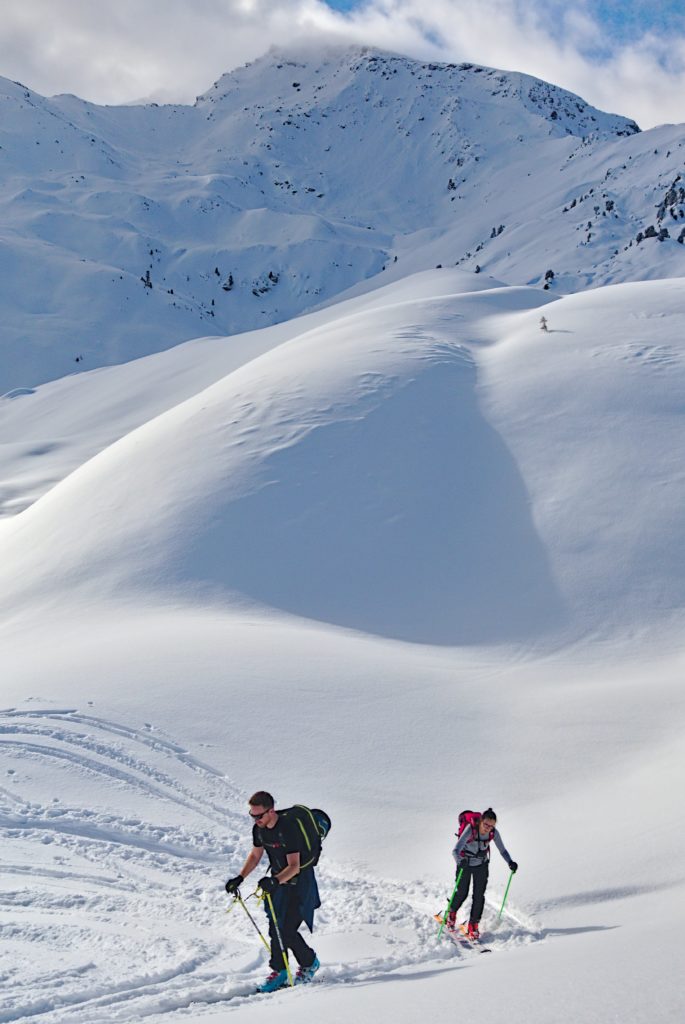 The way up was steep in the hot sun, but soon we were at the top, greeted by a very enthusiastic golden retriever with an interest in tuna mayo sandwiches. After asking for directions to Sonntagsköpfl, we found we'd have to descend most of the way down and start all over again. Ah well.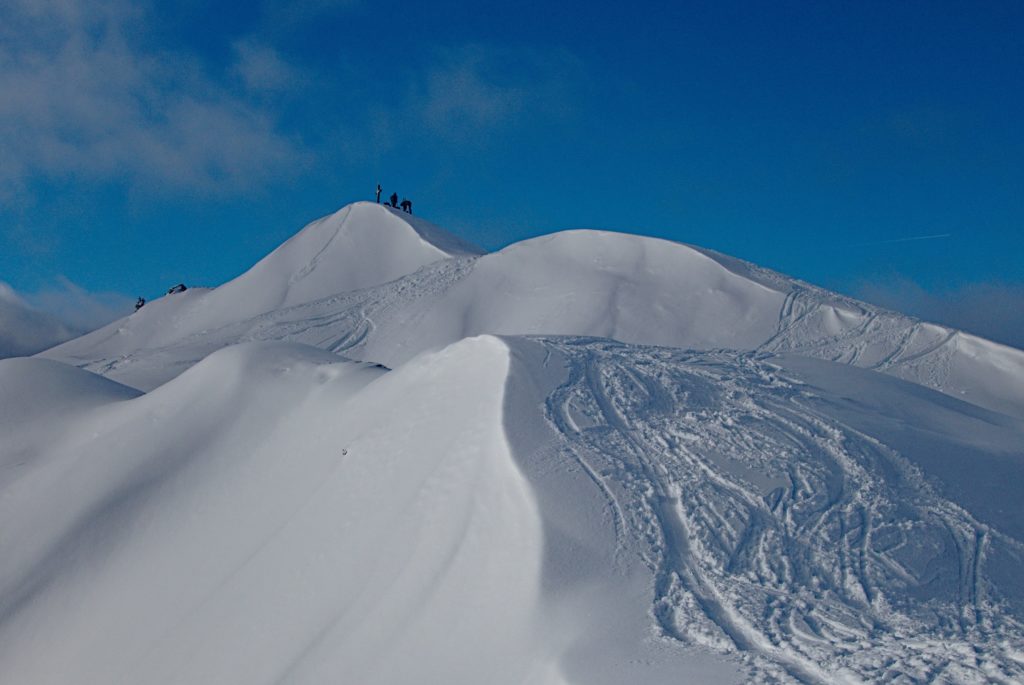 Skins off, click clunk click as the boots and skis are reset for downhill, and we're off! Lovely deep powder makes it easy to ski, and I tried to practice my turns as Katie hovered behind me, ready for an accident. All too soon we were back to the loipe, but it had been a lovely little ski down.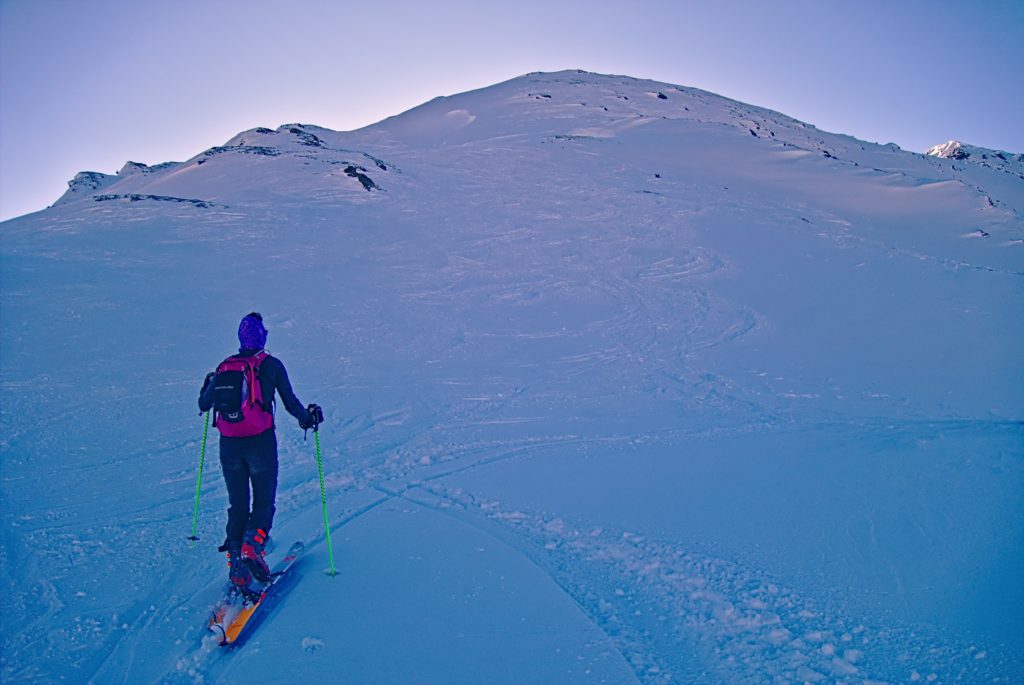 We soon found the way up the ridge, leading due south up to Sonntagsköpfl. The route wound its way steeply through the trees, and it was cold in the shade. We broke the treeline and could just see the summit. The way on was unclear, with many alternative sets of tracks to follow. We picked one, switched to another, made our own and gently picked our way up to the peak, avoiding the area below the avalanche barriers.
Near the summit the wind had cleared away the snow, leaving just the compacted layer beneath. It was tough to ascend here, and after struggling up a steep slope for a while, we decided we'd had the best of the day, and prepared to ski down.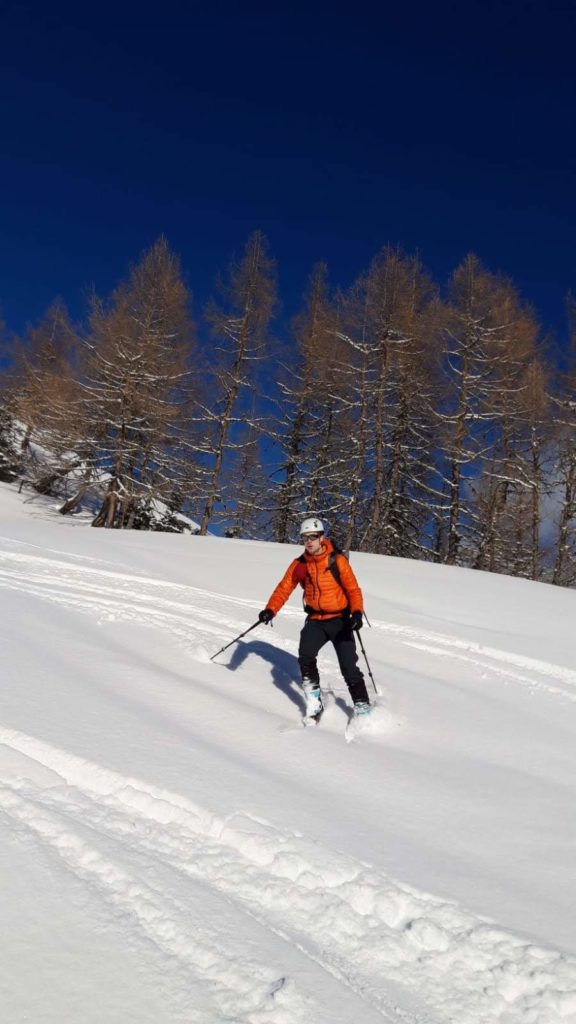 The snow was marvellous, and more than compensated for my lack of ability. We swooped down to the trees, where Tom picked a nice route down between open areas, for which I was very grateful. Back a the loipe it was 1445, but we decided against a further ascent and went for hot chocolate. What a lovely day!