Rest day, Thursday 26th
The next day I did…nothing. We went to the visitor's center, read all the information boards, saw a geology presentation which turned out to be for junior rangers (I still learned a lot) and then took the shuttle to Zion Lodge where Alex and I sat under the huge tree and read our books for a few hours. We met up with Rhys and Cecilia who had done a short walk, and then we went back to Hoodoos store to get smoothies, our favourite after-canyon treat.
We planned to wild camp that night again, but the forecast was for temperatures of 33 C even at 11 pm. I was the first to break, and suggested we get an AirBnB or motel. Everyone else rapidly agreed, and within 40 minutes we had the door code to a nice air conditioned AirBnB in Hurricane. It was perfect.
Angels' Landing, Friday 27th
Rhys had got permits for Angels' landing before 9 am, and we made another early start. In the shade we rapidly climbed the tight zig-zags blasted into the rock by the euphemistically named Civilian Conservation Corps, and we were soon at Scout's lookout. From here you technically now need a permit for Angels' landing, but there was no one checking anyway and there were few people around. We climbed the chains and chatted with fellow hikers as we paused to let the traffic in the opposite direction flow.
At the top we were convinced we saw Californian condors, though afterwards we suspected they may have been Turkey vultures. Aggressive HFCS crazed chipmunks tried to eat our boots, but we fended them off by rapidly retreating. The descent took longer due to increased footfall, but everyone was good natured. We were soon back down at the Grotto, with only some of the last section unpleasantly hot. Unwilling to hike any further, we drove around the park to Lava point on the west side, revealing the stunning beauty of the high western plateau, full of green forest punctured by towering orange rock spires. Sated, we retreated to the AC of our AirBnB and got an early night ready for our final canyon.
Telephone Canyon, Saturday 28th
Description (Canyoneering USA)
We had permits for Behunin on Friday, but the description said it was very exposed to the sun which we didn't fancy given the heat. Instead, we went for Telephone, also up on the West Rim, which promised fractionally more shade. Many people run these two canyons back to back as Telephone ends close to the start of Behunin, and another time that would be a fun but long adventure.
It's a long hike up to Telephone, and we had some significant deja vu from the day before, retracing our steps up to Scout's lookout. The West Rim trail then winds it's way up over slickrock, around hoodoos and down into the shade of canyons as it, on average, climbs higher and higher. It's a beautiful hike in its own right, and we met several groups of backpackers heading down from the campgrounds up above. We stopped to filter water from a muddy spring, and then followed vague trails to the head of Telephone canyon.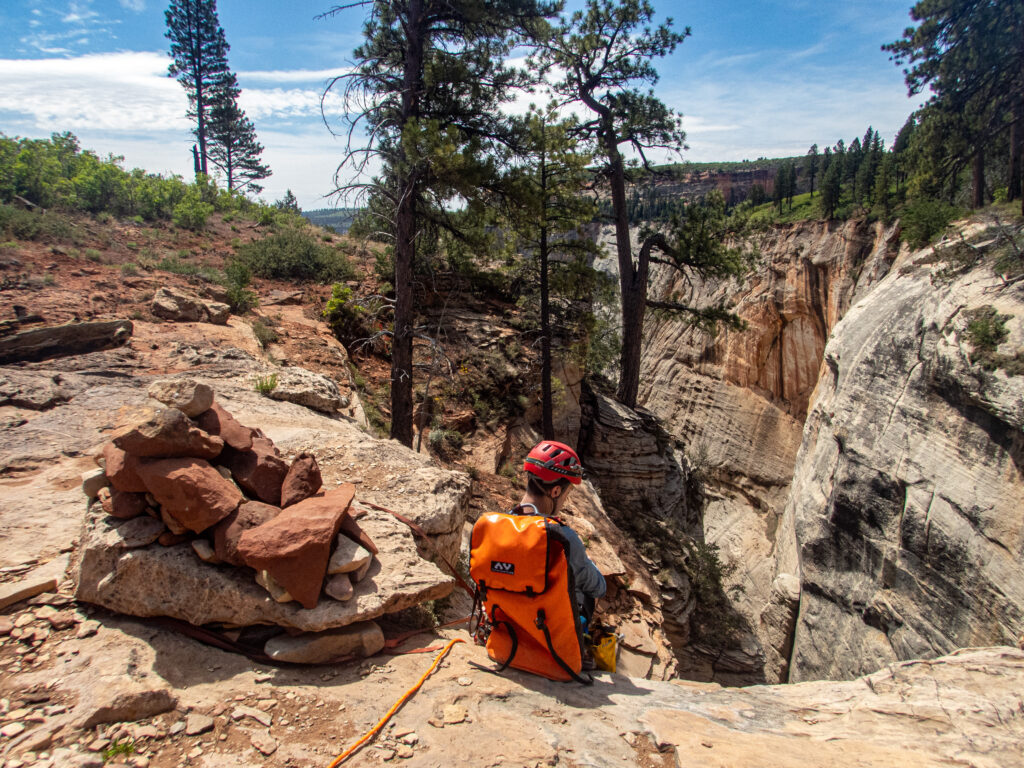 Telephone drops rapidly, fitting a large number of rappels into a small horizontal distance. The biggest rappel is also the first, and the one with the sketchiest anchor. Now, before some experienced Utah canyoneer bites my head off, let me clarify – we are used to metal bolts in the rock. We know metal bolts, we can assess metal bolts, we feel happy with them. In Zion, leave no trace ethics often results in anchors made from whatever is around, and whilst they are certainly very sturdy, they are also hilariously unsafe looking to the uninitiated. So it was with a certain degree of trepidation that we abseiled 50 m down into the canyon off a haphazardly built cairn.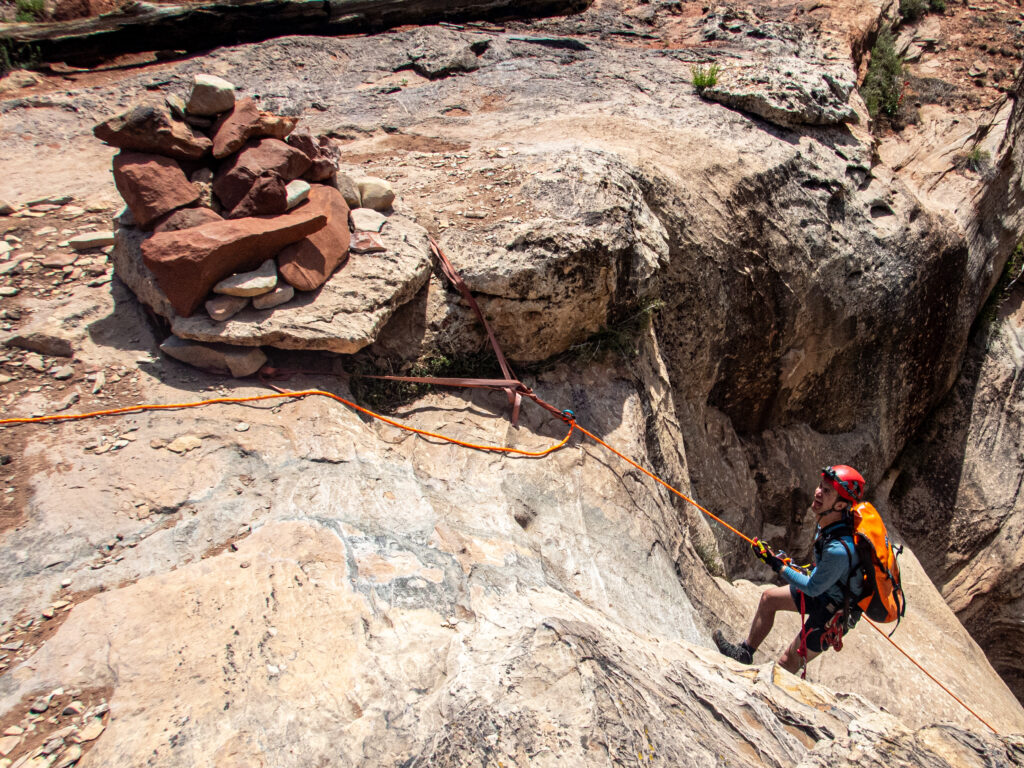 Still, we all made it fine. The rope pull was a little tricky but it came down in the end, and from there the canyon sped up – rapid fire, short rappels, all good fun with only minimally tricky anchors. Telephone had recently been rebolted, and everything was in good condition – natural anchors which caused massive rope rub were replaced with bolts which did not, but otherwise the natural anchors were easy to use and very solid.
The one dodgy bit was a section labelled with a downclimb or a handline. I rigged it as a rappel to check it out, and Alex and Cecilia did the same. The pull from the bottom looked tricky, so Rhys agreed to help us remove the rope, and then to downclimb it. Unfortunately the rock is very slick with limestone dust, and he lost control just before the bottom and slid down at high speed. Fortunately he only had a few grazes, but it was clear that this had been a bad idea. In retrospect, we found a spot we could clamber up which would've made the pull doable.
After a quick recovery, we headed on. Rhys and I had been doing most of the rigging this trip, with Cecilia doing a little. Now that we had a series of nice pitches to face, Alex also stepped up and I took a back seat, taking photos and lounging in the sparse shade.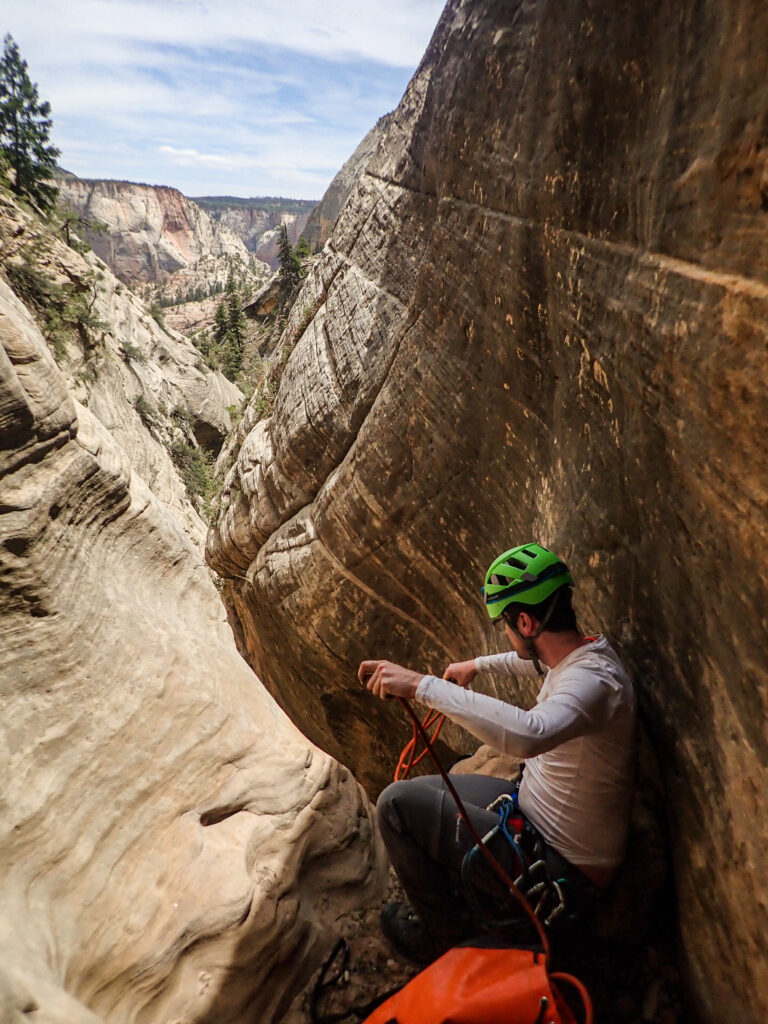 All too soon the canyon was over. The final abseil was quite fun, and the new bolts far better placed than they had been (a rockfall having stranded them 15′ above the pitch head…)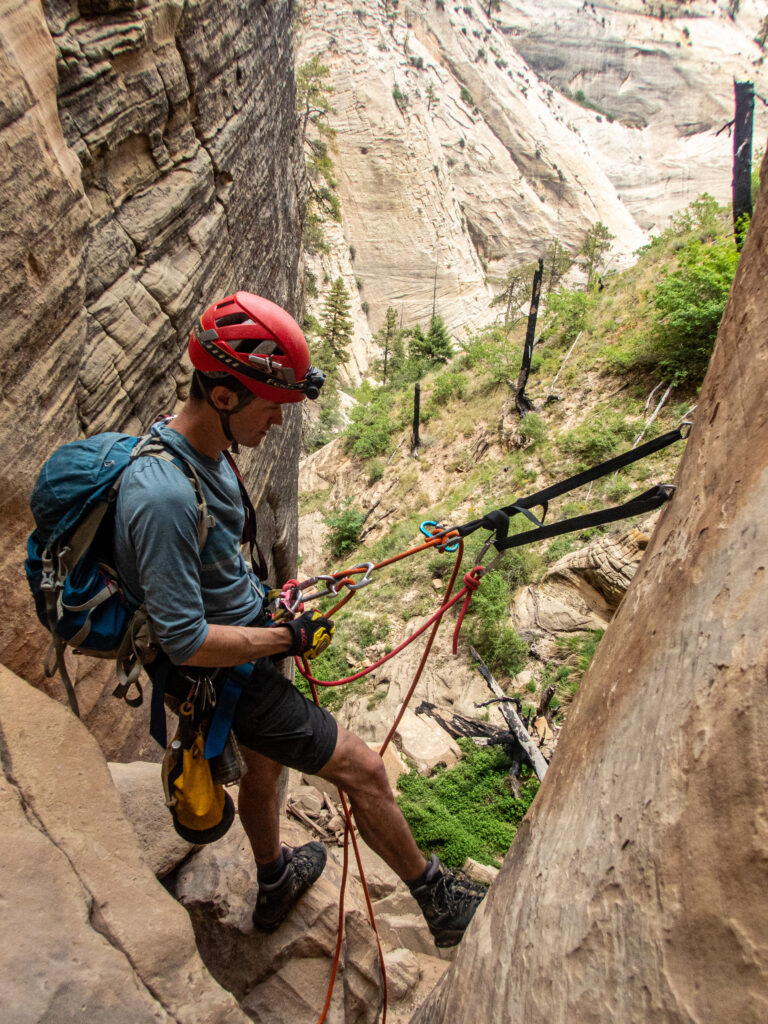 All that was left was the walk out. We eventually found a route back to the West Rim trail via dead reckoning, but there was undoubtedly a better path if we were more experienced. The cactus flowers were incredible, and we often stopped to rest, cool off and enjoy the scenery.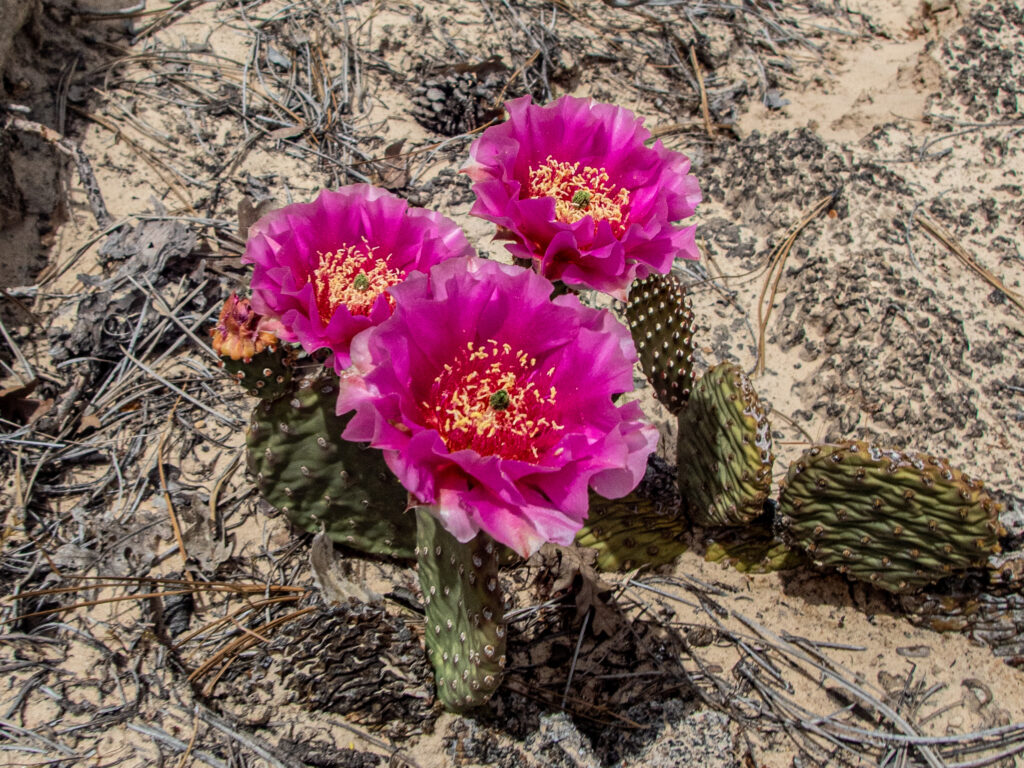 We made good time back down the zig zags and cooled off at the Grotto with plenty of water. Back at the visitor's center we said goodbye to Rhys and Cecilia, who were heading off for another week in Escalante and Bryce, and we drove to St George, ready for our flight from Vegas the next day.
It had been an incredible trip. We ran some increasingly technical canyons, all without any major incident and only some minor grazes. Our skills were at the right level for the canyons we attempted, though it's clear that we would need some instruction before we head to bigger challenges such as Imlay. Although five canyons in seven days was a lot, we were not completely broken by the end of the trip. The hot weather was difficult to deal with, adapted as our group is to cooler climates, but we were able to get early starts to avoid the worst of it, and we had no serious sunburn or heat exhaustion. Zion is a spectacular place, a fantasy of bright orange rock sculpted by water and wind into the perfect playground for adventures, and I'm sure to be back with another canyoning crew, another time.
Thoughts for next time
Thinner ropes. Zion canyoneers seem to have very thin, lightweight ropes which dramatically decrease their pack weight, which is useful given the long approaches to the canyons here.
Devices with more friction. We found that our piranas did not provide enough friction on wet 9 mm, even on the highest setting. Other brands provide more friction settings.
More neoprene layers. We mostly had very thick neoprene, which was great to Pine Creek, but for Keyhole having a shorty might have been more useful