Nine years ago, just before leaving the US and returning to the UK, I went to Zion National Park in Utah with a group of eight friends for a week of adventure. Few of us had much experience with climbing, rope work or rappelling, but we'd decided to try canyoneering, and with a few misadventures and several very long days we made it through some of the shortest and least technical canyons Zion had to offer.
I returned to Zion with nine years of caving, climbing, and canyoning (note: canyoning in Europe, canyoneering in the USA) experience. This time the team was smaller, only four people (myself, my husband Alex, and two friends from the UK, Rhys and Cecilia), and we had significantly more experience. We booked a load of permits in advance, failed to get some we wanted in the lottery (Subway, Mystery) and flew to Las Vegas to begin our journey.
All photos, including many not in this blog post.
Keyhole Canyon, Sunday 22nd
Description (Canyoneering USA)
After a night in St George, we headed up Rt 9 to Springdale, the small town nestled in the beginnings of Zion canyon. Springdale is utterly overrun with tourists (like ourselves), but surprisingly well set up, with shuttle buses, water filling stations and a few small grocery stores. At the end of the town is the park entrance – we paid our fee, parked, and joined the long line for wilderness permits. The National Park Service are fastidious, and getting a permit takes 15-20 minutes, and the line moved slowly. Eventually we had the permits for Keyhole (today) and Spry (tomorrow).
We drove up the long and winding Rt 9 to the Mt Carmel tunnel, a Great Depression era project which is not quite wide enough for two large vehicles, resulting in an often tedious one-way system when someone decides to drive a gigantic RV through the tunnel. On the far side, the scenery is stunning – a winding road picks its way over small dry canyons, around wind-sculpted hoodoos and beneath towering mesas. We parked in a small lay-by and began laboriously assembling our canyoneering gear from wheely suitcases and various trash bags. The trip description suggest some long, cold swims and we all packed full neoprene, though it maybe wasn't completely necessary.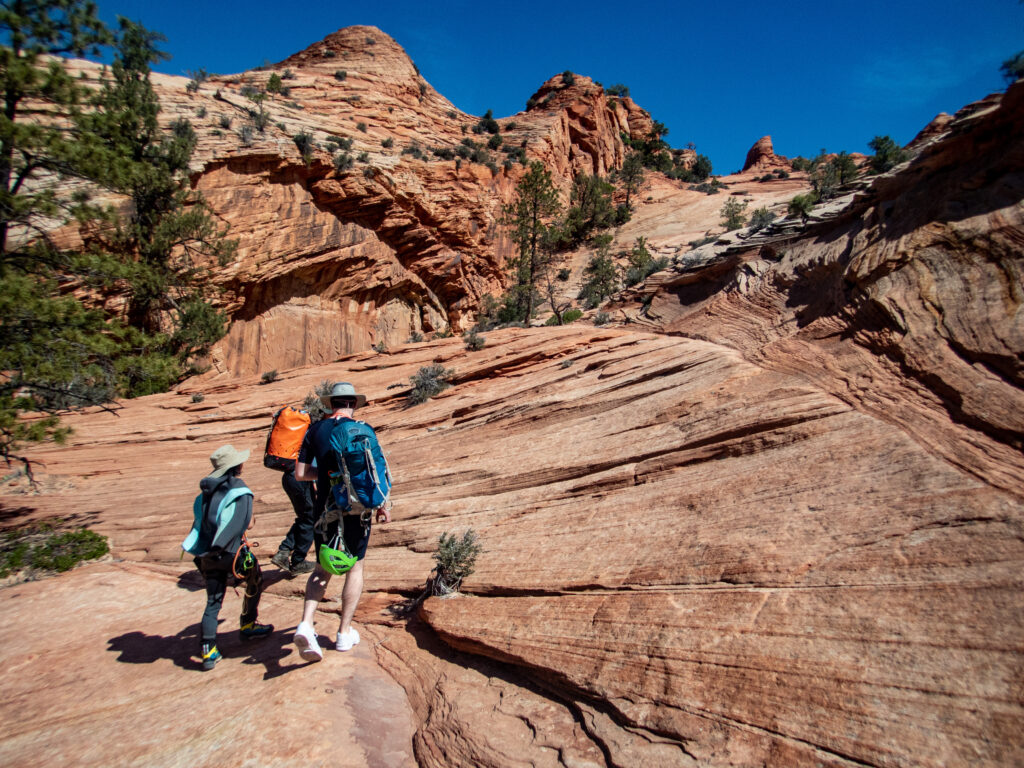 The hike up is relatively short, on slick red sandstone to a saddle, and then a rapid descent on a dusty slope to the canyon entrance. Here we changed into our neoprene in the shade, cursing the hot sun and the apparent shrinkage of our wetsuits over the pandemic. A pair of canyoneers overtook as we were changing, heading for a quick trip before returning to Vegas that afternoon – they eschewed neoprene, favoring a rapid approach to fend off hypothermia, and they were probably correct.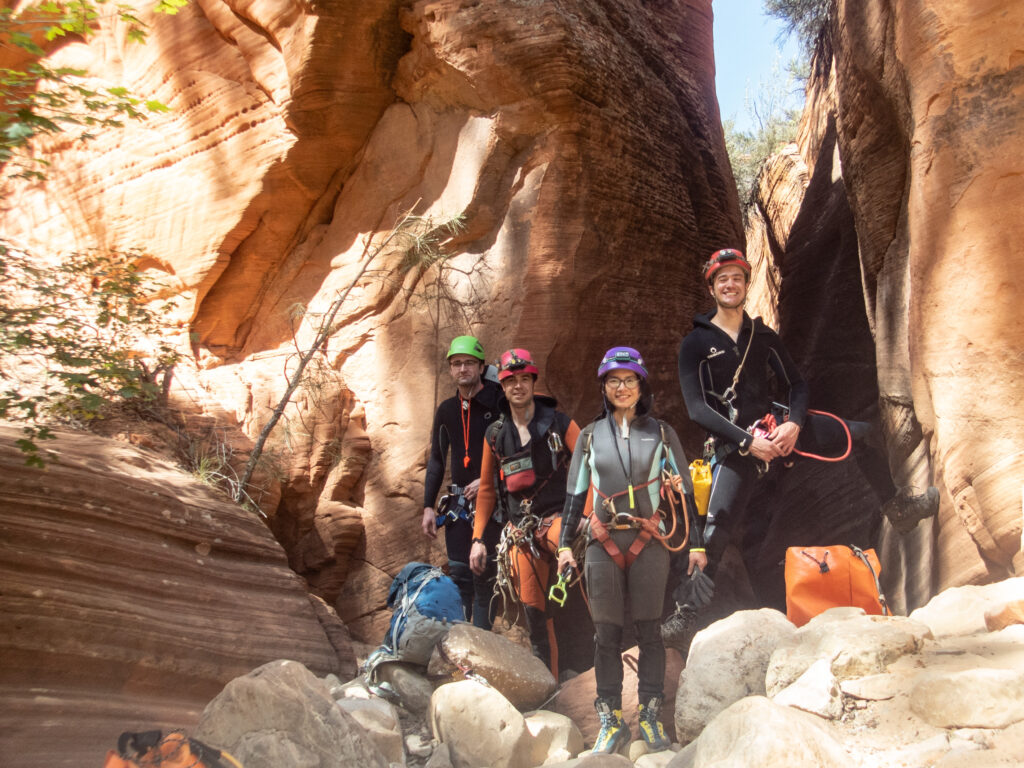 The canyon begins immediately as a narrow slot. I'd done Keyhole on my previous trip, and had no strong memories. There were several short and pleasant descents, and the canyon is quite dark – we were happy to have head lamps, if only for the photography.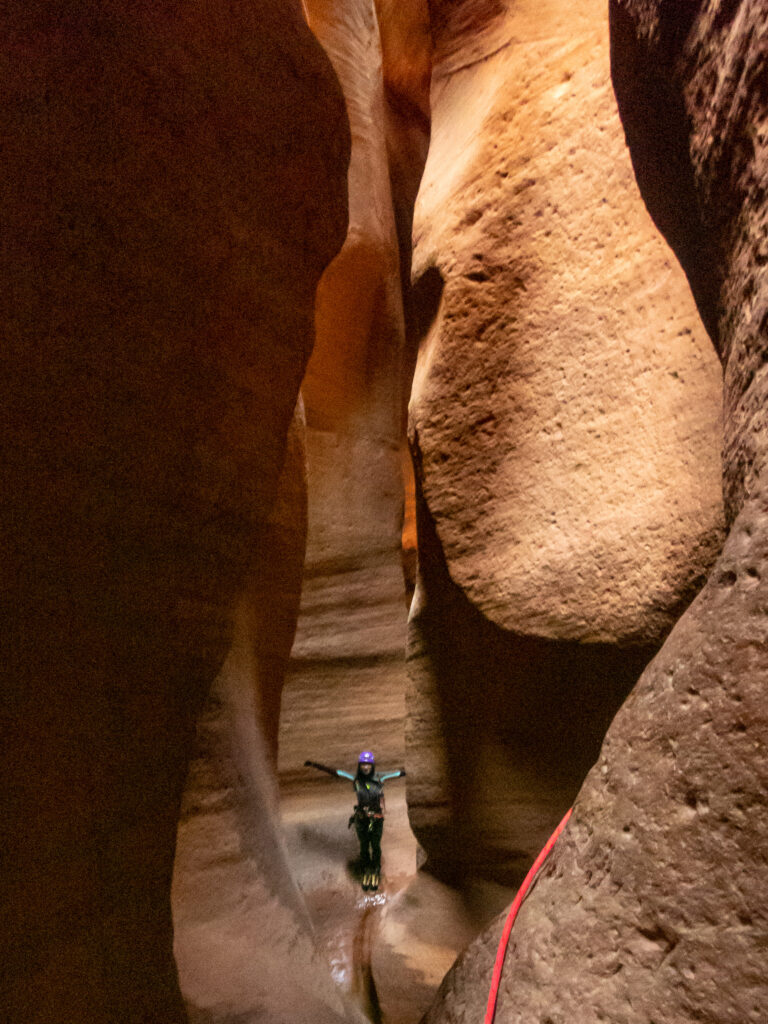 Despite several deep wading sections, we didn't get close to a full swim and the neoprene seemed unnecessary. Eventually we burst out into the sunshine, and warmed up and changed before strolling back to our cars a scant 50 m away. This was the last easy canyon we would do.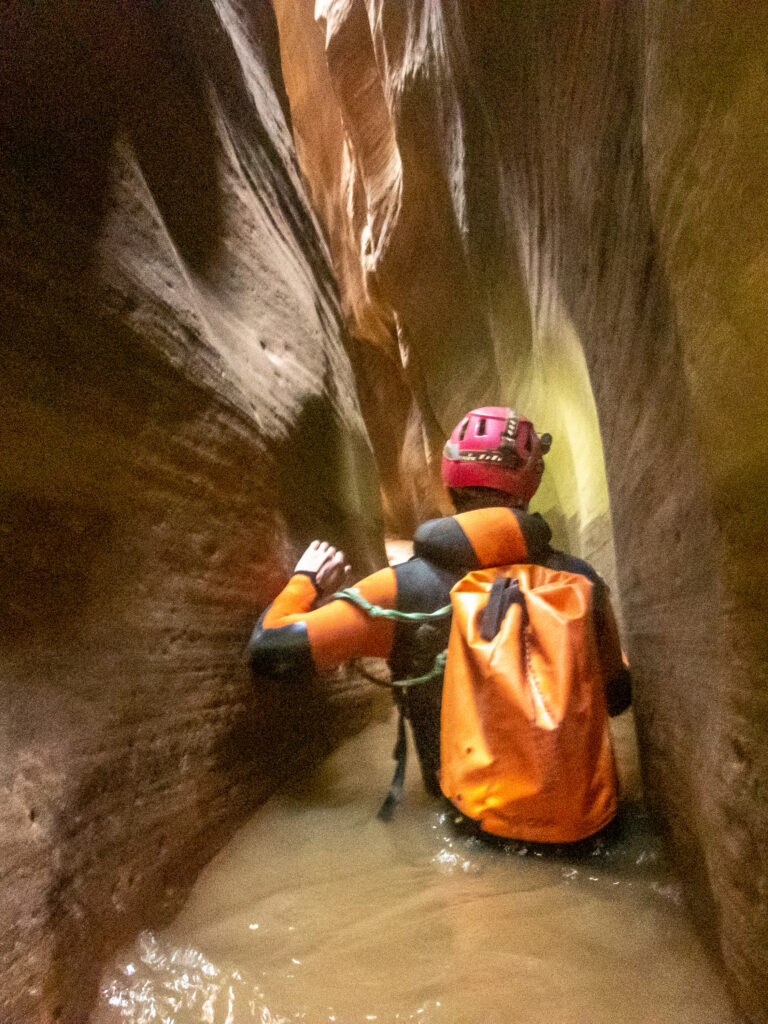 Not content with simply doing a canyon on our first day, we also joined the hordes of tourists and walked the Emerald Pools trail; an impressive set of paths around some pools, falls and cliffs on the west side of the main canyon.
That night we wanted to wild camp – there's plenty of Bureau of Land Management land south of Springdale, though increasingly there are restrictions due to over-use. Nine years ago we had camped on the Smithsonian Butte, which I remembered had a difficult road access. Still, we had two 4WD, high clearance vehicles and we felt confident. As we approached the dirt road it seemed almost impossibly steep and rutted, and the cars bounced everywhere as we carefully picked our way up the slope. It was far worse than I remembered – either the vagaries of time had done something to my memory, or to this worn out old road. Eventually we found a place to camp and settled down, only to be assaulted by vast hordes of flies, which are apparently only active for a few weeks in the year, exactly when we visited. I had a terrible headache, probably from dehydration, and lay in my tent listening to others complain about the flies as they cooked dinner. An inauspicious start to the trip.
Spry, Monday 23rd
Description (Canyoneering USA)
We'd initially overlooked Spry when making our plans, but re-reading the description had convinced us it was worth doing. A long, curving canyon, it goes from one side of the Mt Carmel tunnel to the other, enclosing Pine Creek (our canyon for the next day). The walk in looked somewhat long, but the canyon promised a little taste of wilderness and we decided to start early to beat the heat.
There was only one problem. Getting back down from the Butte. Our cars wobbled and rattled down the road, often on three wheels. Half-way down we encountered a huge pickup truck, parked on the road, its wheels curbed and rocks wedged underneath. Closer inspection showed that one of the wheels had fallen off, and the truck had been abandoned. This was a clear sign we should not drive this road again, and mentally and physically shaken we returned to the paved road back into Springdale.
After only minor faff setting up a car shuttle, we parked the second car near where we'd been the day before. After a quick bagel breakfast, we set off up the sandy floor of Upper Pine Creek. Cecili wore a neoprene long John, concerned by the description, the rest of us in hiking clothes. Rhys and I opted for hiking boots for the long walk in, but Alex managed fine in cheap sneakers, bought specifically to be destroyed in a canyon.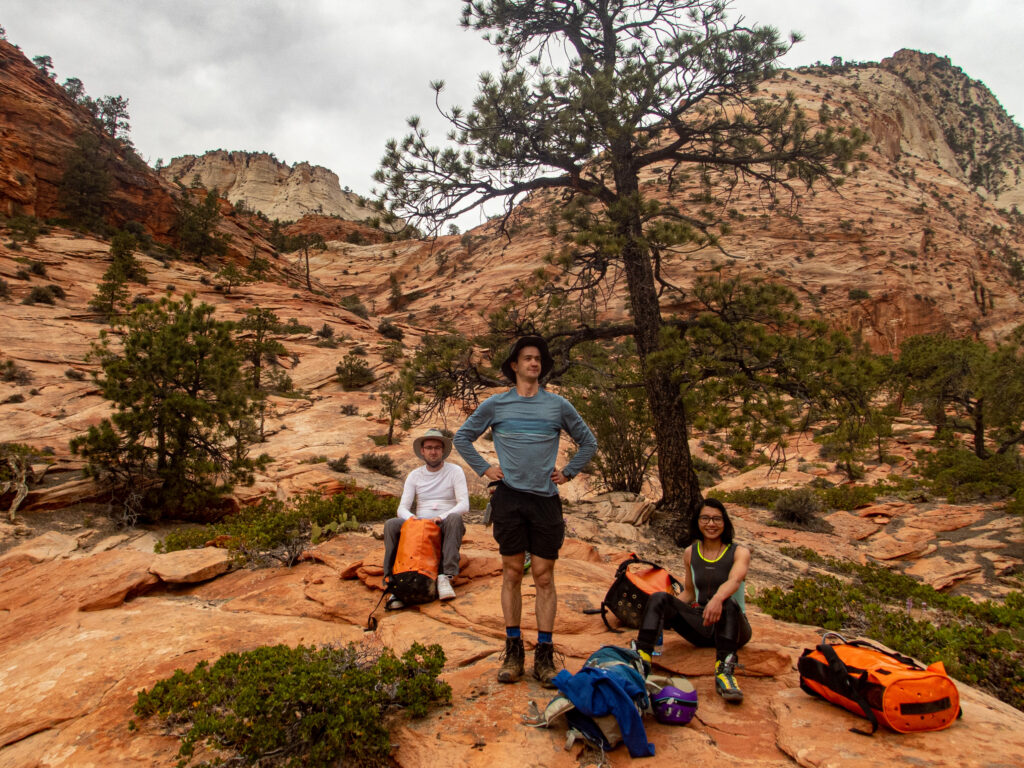 The hike up was very beautiful, and the navigation was easy if you looked at the terrain (rather than our map or GPS, both of which were somewhat misleading). Effectively we climbed to a saddle and then descended the other side to Spry canyon. We took it pretty slow, unused to heavy packs in hot weather. Another group passed us, taking a shortcut and moving fast. I caught up with them to see how they handled the first rappel, and when the rest of my group arrived we paused for lunch.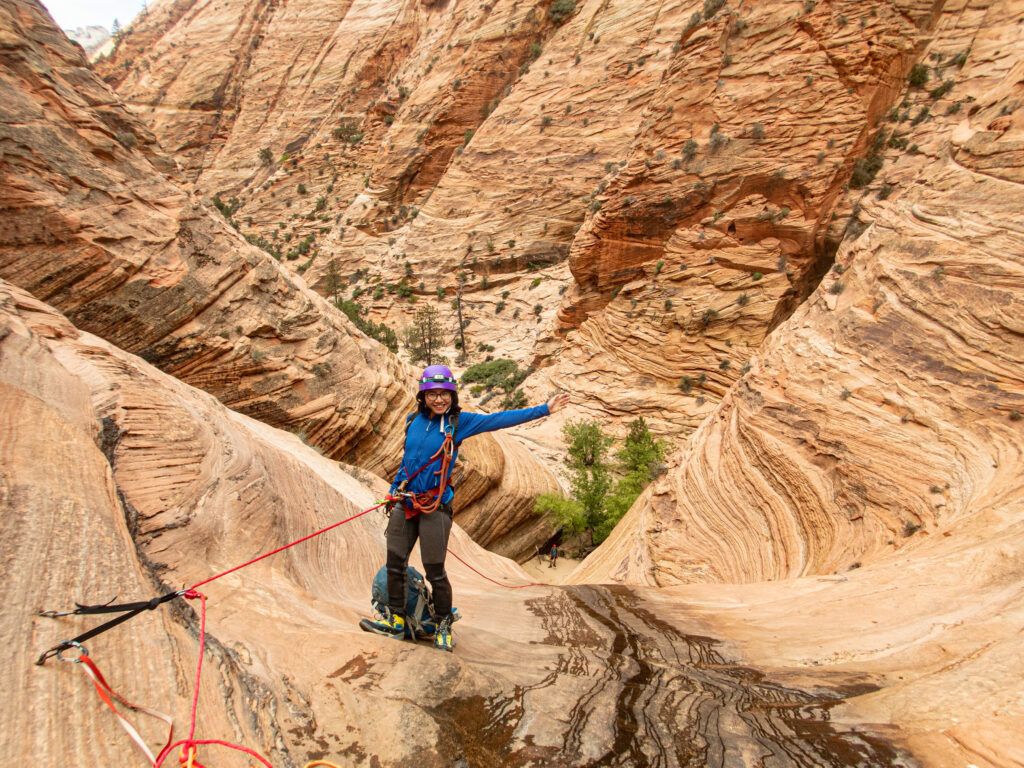 The first rappel is wonderful, a long 50 m abseil diagonally down the (mostly dry) watercourse. There's a small stagnant pool at the bottom to avoid, but otherwise it's sheer joy. And when you pull the rope, it's very clear that you are totally committed – the high walls of the canyon rise on either side, utterly unescapable. I guess we're headed on down.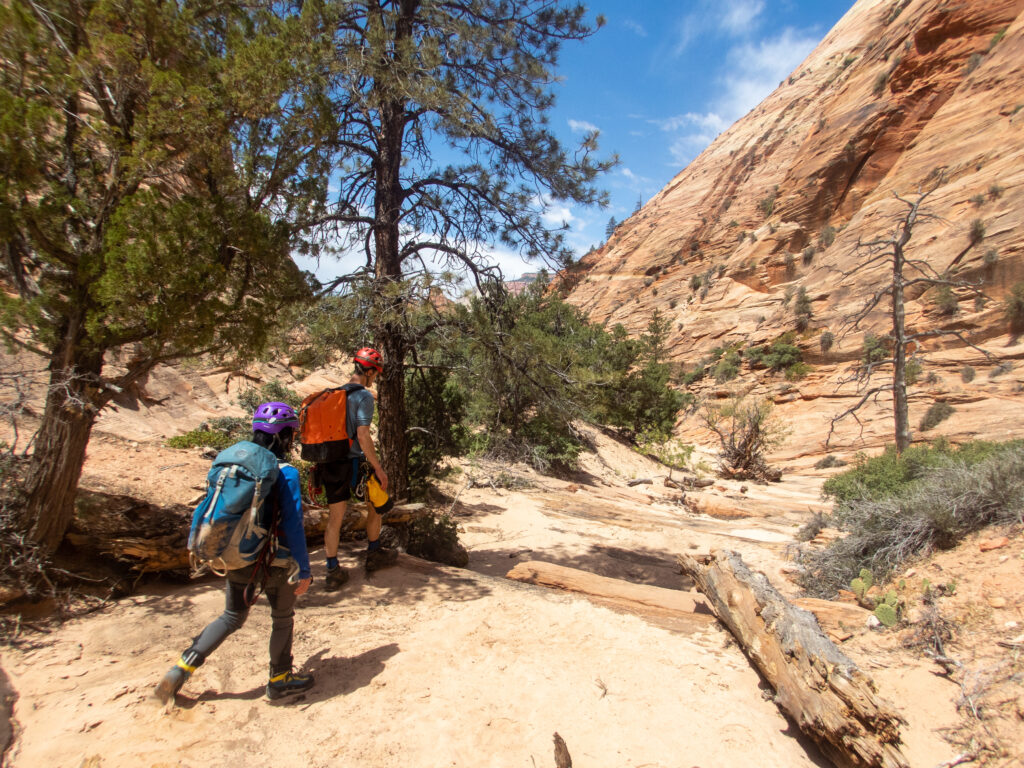 After some more walking there are a few simple downclimbs to get going, and then some more tricky rappels. Most of the anchors were pretty good – some were a bit exposed, and we rigged traverse lines to them, and some were simply off a tree, where I had to rap double-stranded (an unusual technique for a European canyoner) with a Fig 8 I fortunately had as a spare. One interesting abseil into a stagnant pool was bypassed by a scramble up to a crack, and the anchor was rigged on 4 m of tape from a tree, requiring a lot of downclimbing before you reached the rope. This sort of thing all adds to the general excitement.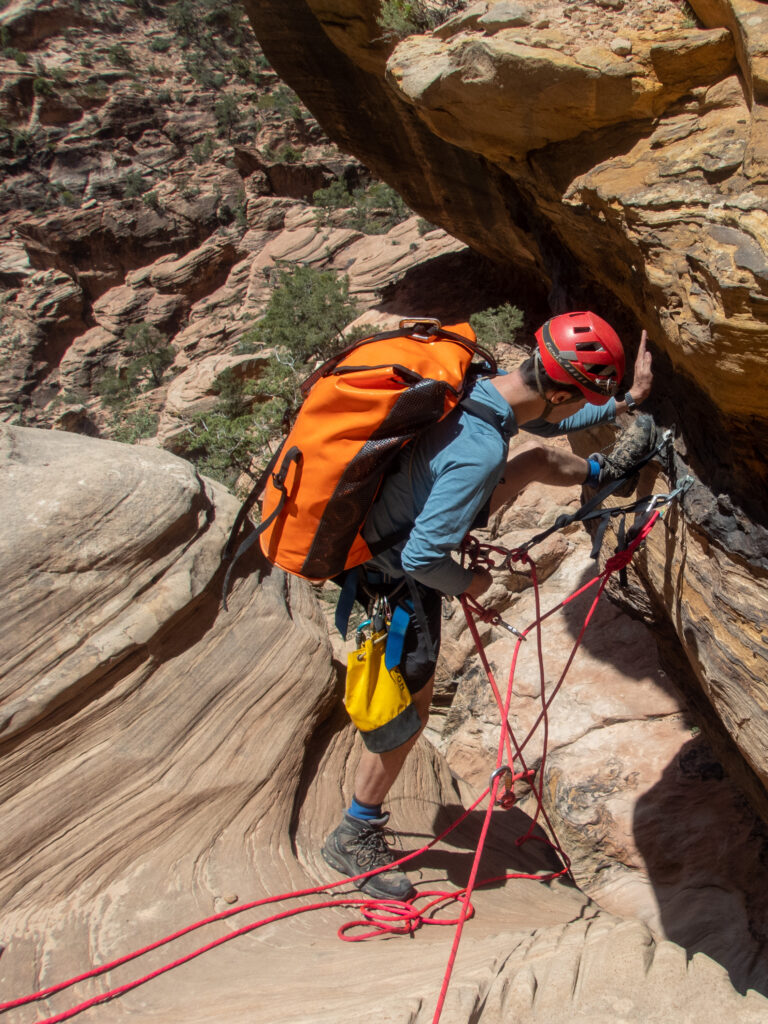 Dodging in and out of the shade and wading through some relatively stagnant pools, we generally rested with our legs in the sun and our upper body in the shade. Eventually we reached a long diagonal abseil which was the beginning of the final section. Rhys and Cecilia went first, and the awful screams echoing from below made me think they had reached the long, stagnant pool promised by the description.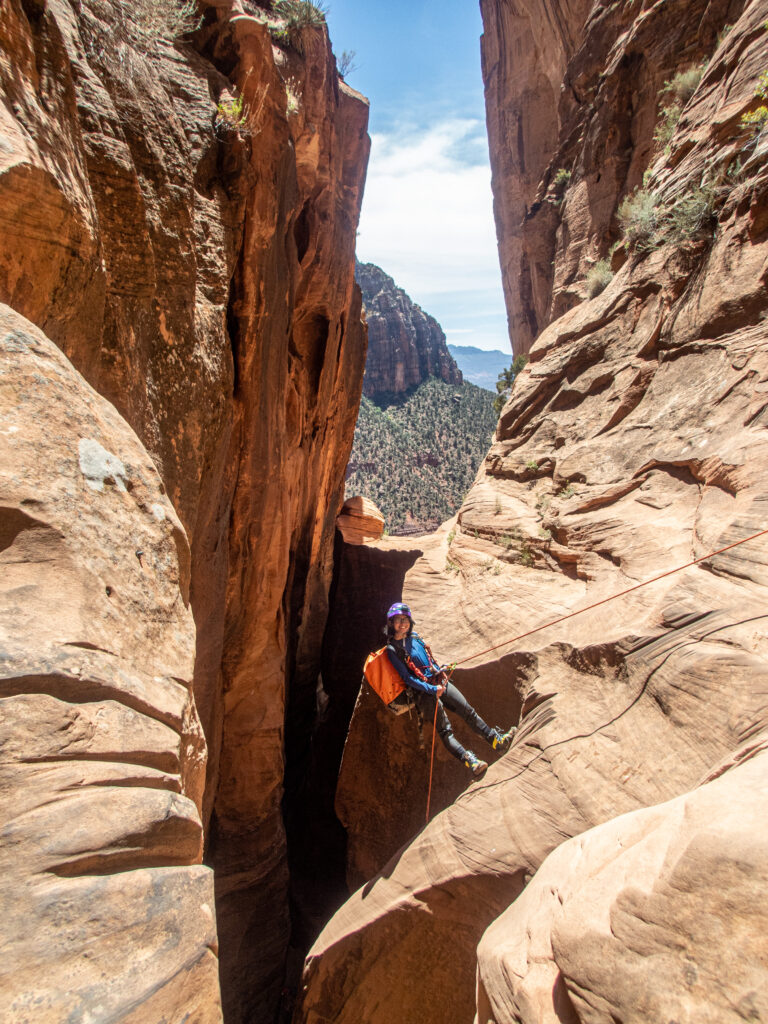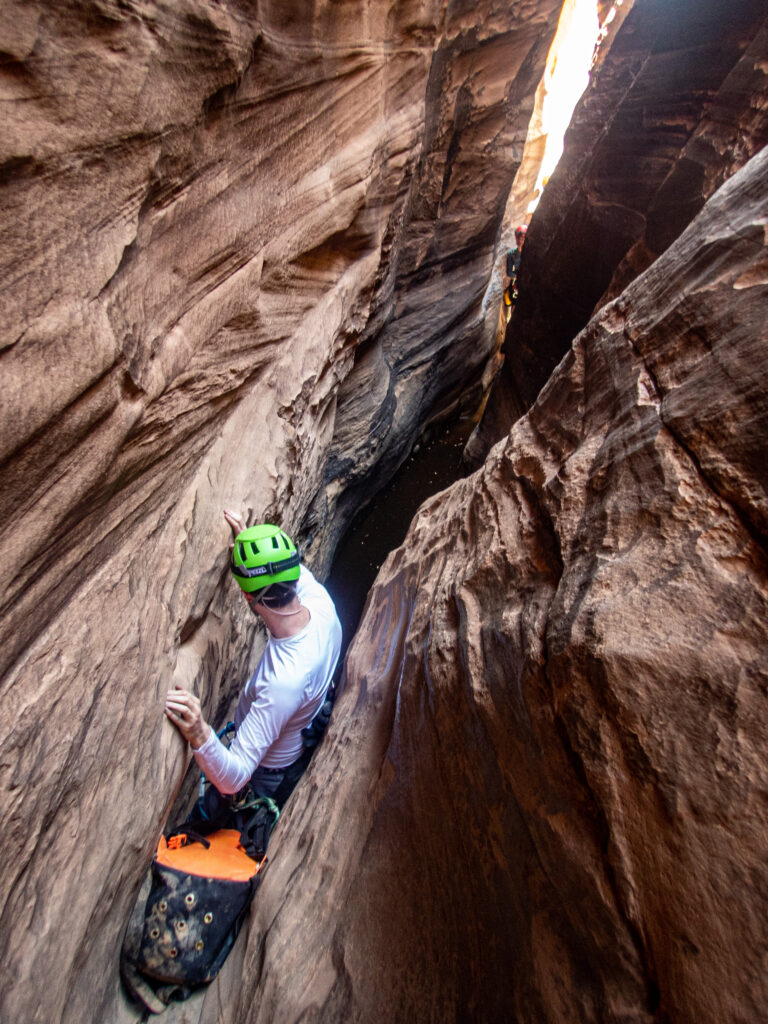 When we reached the bottom Cecilia informed us that the long pool below had been full or red wriggling worms who had gone into hiding as she thrashed her way through. We saw no evidence of these worms and doubtless they were the product of some deranged fantasy. The narrow slot leading down to the pool was difficult to descend, and Alex slid forwards with a mighty yell, further disturbing whatever inhabitants the pool might have. I stoically slid in and waded across in silence, my eyes focused firmly on the far end of the pool.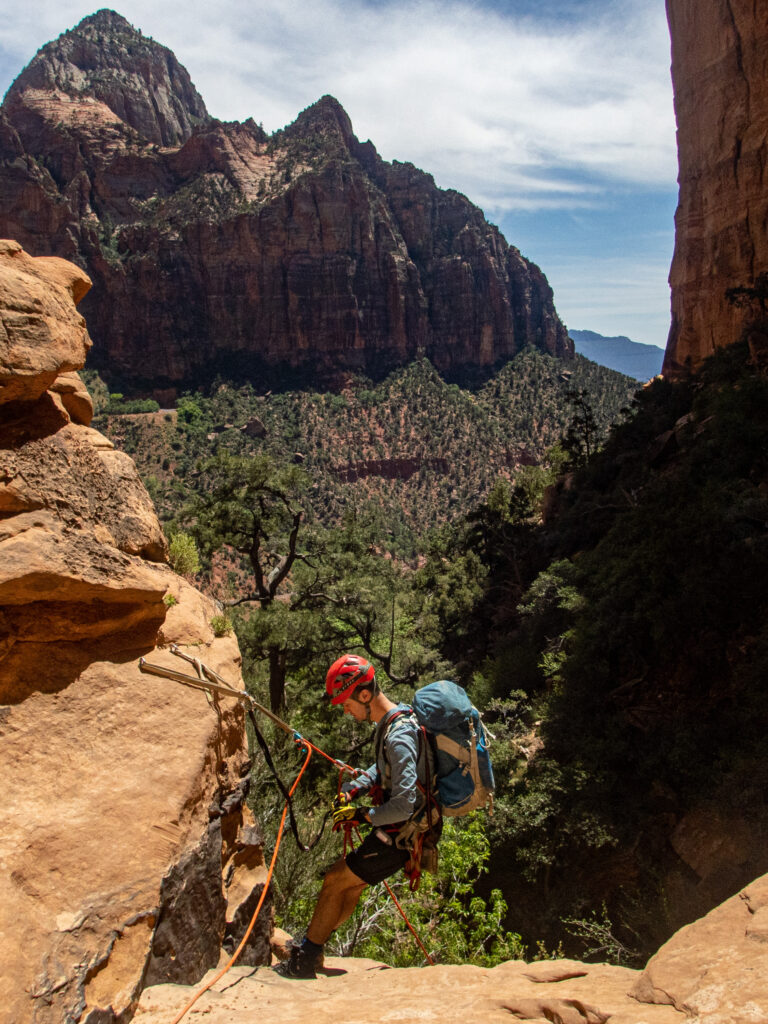 After the penultimate abseil there was a long section of boulder hopping and downclimbing. This is pretty fun, though the sun was high in the sky and it was sweaty work. We split up to explore several routes down, calling out when we found a good way on. Finally we reached a broad ledge clearly visible from the road on the far side of the canyon, and from here we abseiled off a well chosen tree.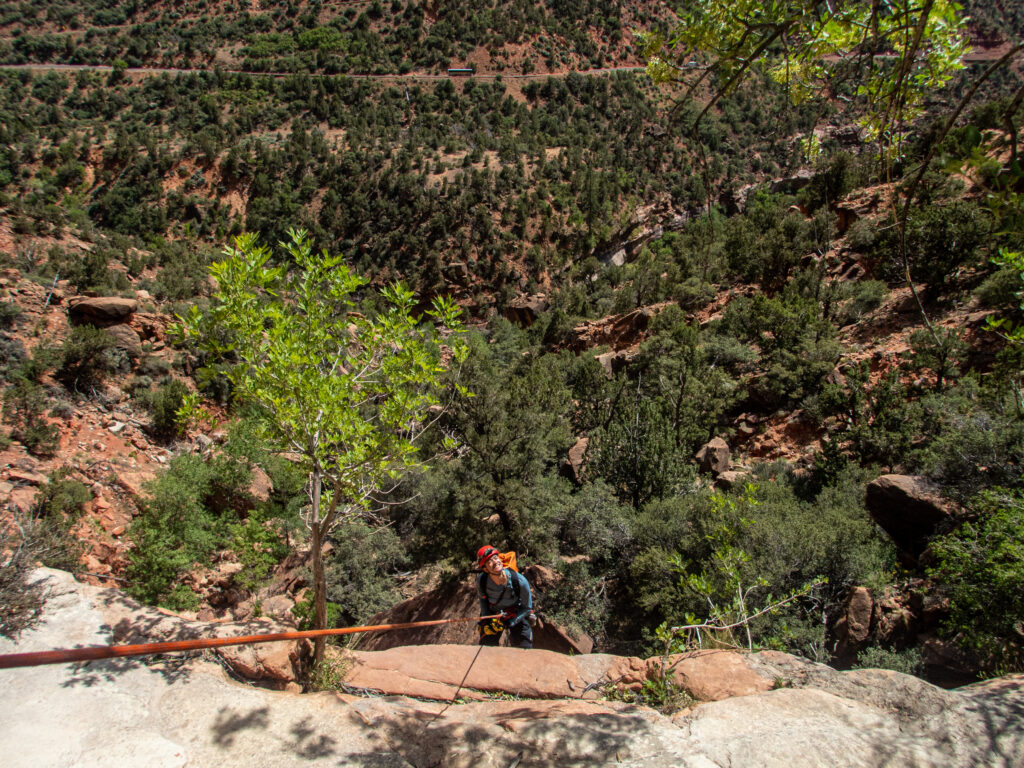 A little more boulder scrambling ensued as we dropped into the oasis of lower Pine Creek, which had several pools with families bathing. We relaxed, removed gear and then meandered back to our cars, pausing only to look at herd of entirely unconcerned Big Horn sheep.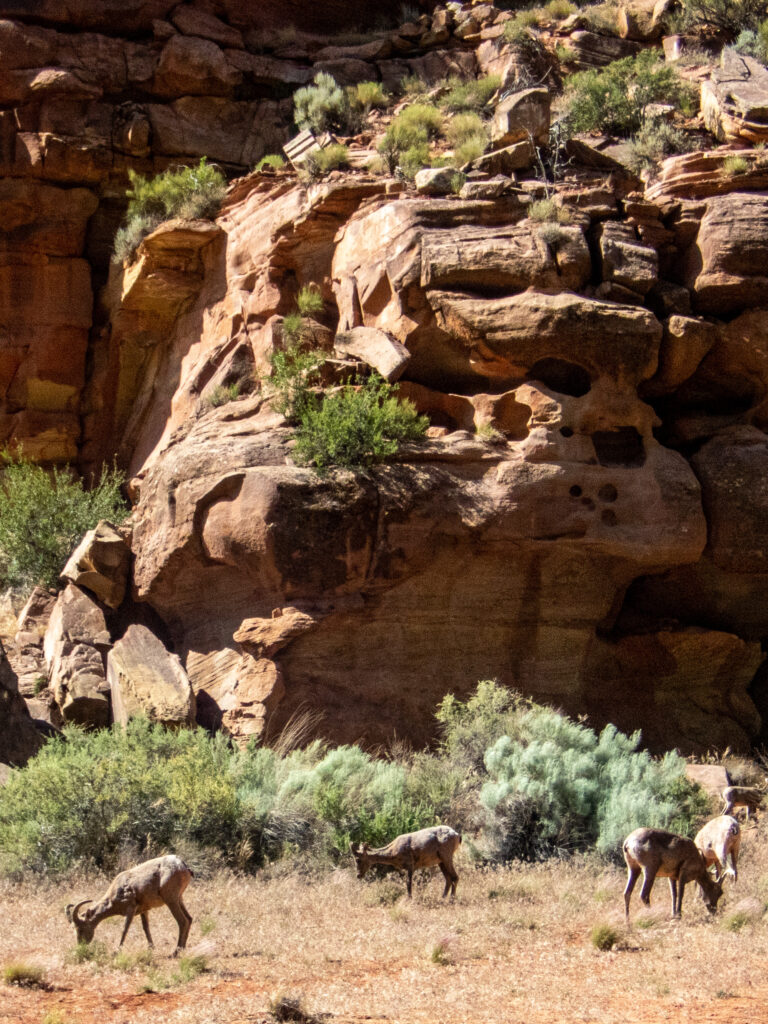 With at last 50% of the group thoroughly disgusted by the much they had to wade through in Spry, we stopped off in Springdale for $5/5 minute hot showers at the Zion Outfitters. Frankly this was very good value and everyone was much happier afterwards. We drove further from Springdale to the Hurricane Cliffs BLM land – here the road is simply gravel, with no steep slopes of dangerous ruts. The camping is less shaded and the land is, um, well-used: little piles of desiccated waste dot the landscape. But it's free and easy to get to, and we put up the tents, made dinner and settled in for an early night.