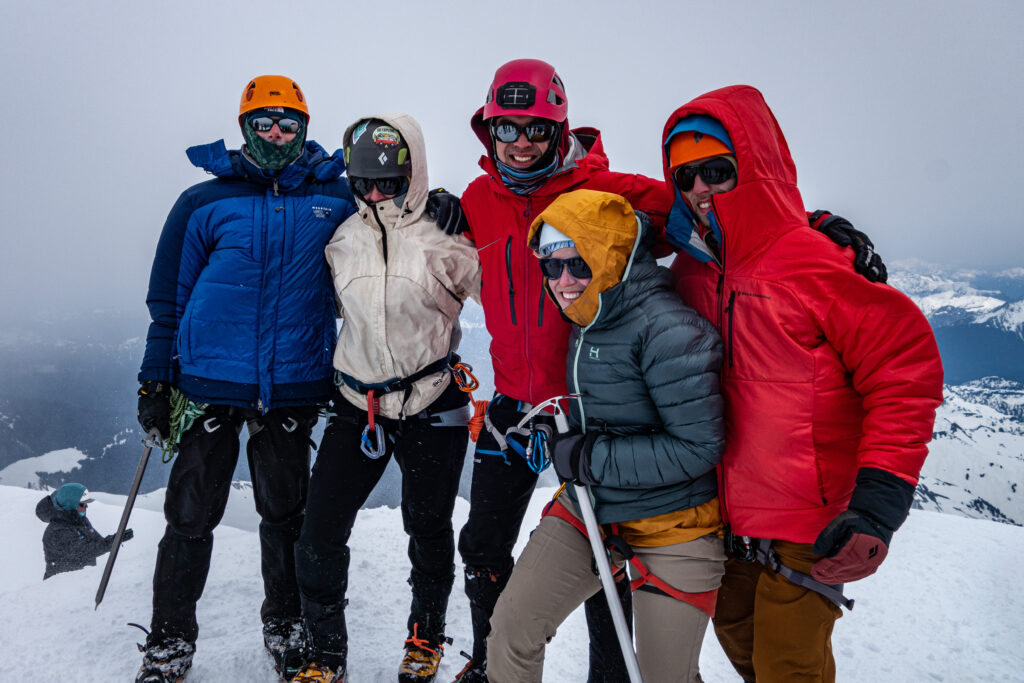 I was only at Princeton for two years, but the friends I made seem like they will last me a life time. I'd last seen Elle in 2016, but when she found out that I'd moved to the states, she instantly recruited me for a mountaineering trip she'd been organising with her partner Greg, another mutual Princeton friend Ben, and a friend from the Caltech outdoor club, Emily. And so it was that in June 2022 I flew over to Seattle with a big rucksack full of gear to climb Mt Baker. After a night in the bustling metropolis of Sedro-Woolley (featuring a surprisingly good Hawaiian pizzeria) we woke up early the next morning to meet the rest of our group.
We'd booked with Northwest Alpine Guides as part of a larger group: 13 people in total with four guides, which was a good ratio. I'd opted to rent a lot of gear as I didn't have time to buy everything before the trip, and so I had a fair bit of repacking to do. In the hot sun it seemed absurd that we'd soon need thick down jackets, but into the bag it went along with freeze dried meals, sunscreen, waterproofs and lots of snacks.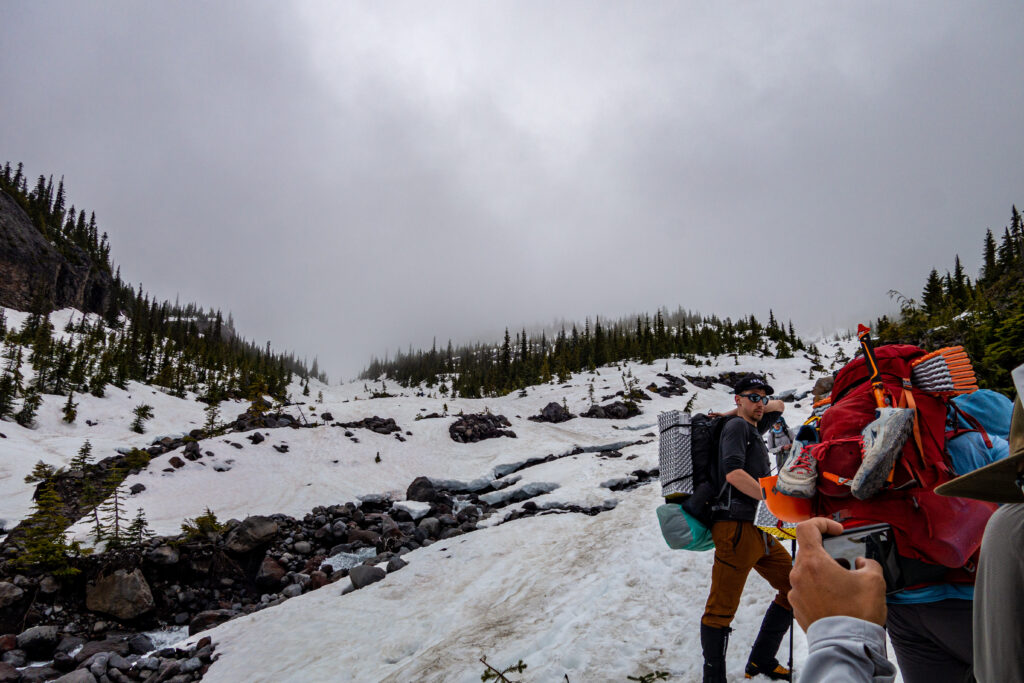 We drove up a bumpy forest road as high as we could before the snow set in. There were dozens of cars already parked, as this was one of the most popular routes up Mt Baker, up the Easton glacier from the south. We shouldered our packs and set off – it was immediately hot and sticky, even in minimal layers.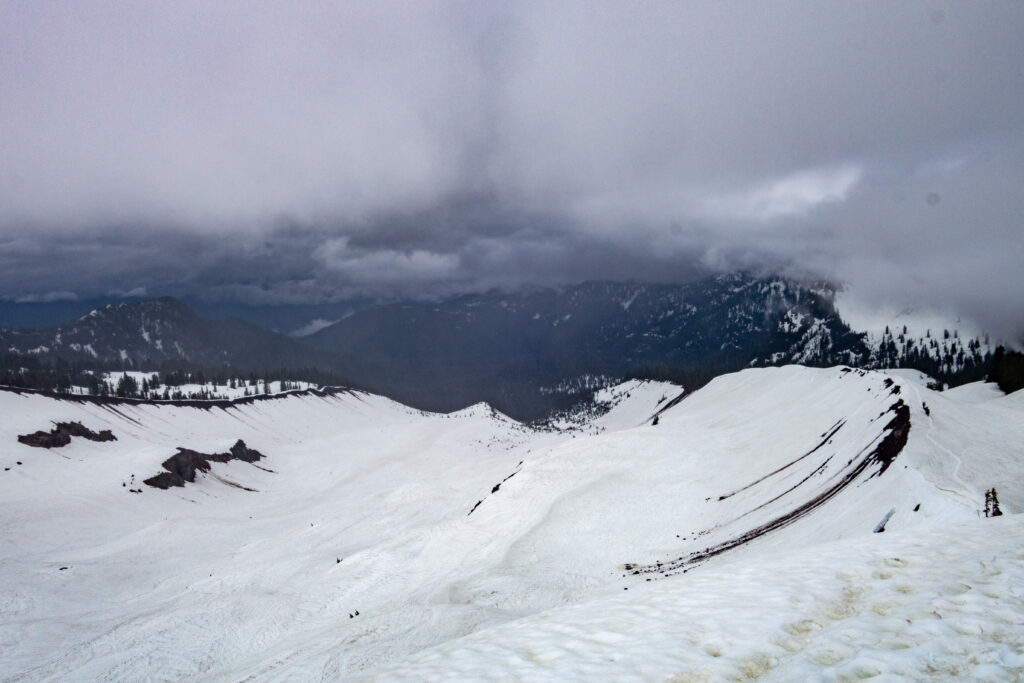 We ascended up the steep sided valley carved by the Easton glacier, hopping over streams with melting snow bridges and kicking steps in slushy snow. After a couple of hours we veered left, sharply zig-zagging up the wall of the lateral moraine, a huge dam of lose rubble piled up by the glacier. On the top of this we could see the other moraine on the far side, buttressing the vast u-shaped valley.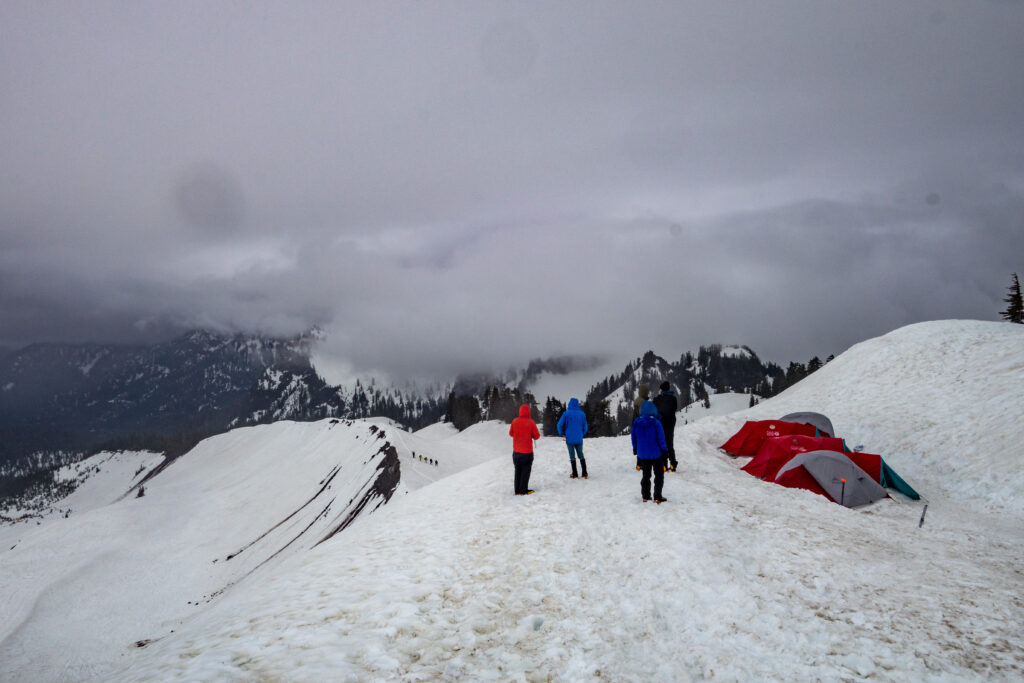 It was here, perched on the side of the valley by the main path up that we found our camp. A significant advantage of going with a guide company is that the tents were already up there, and indeed some were still occupied by a group heading down. The visibility was poor and it began to snow and rain as we waited for our turn to crawl into a tent. Ben and I were sharing, and we found the floor was soaking wet – a normal occurrence when camped on snow. I mopped it our as best as I could with a bandana, and Ben set to work digging out the porch so we could sit inside the tent and put our boots on.
There was little else to do that day – we had arrived at 2:30 pm having hiked at a break neck pace, but apart from dinner at 5 pm there were no activities planned, leaving many of us at a bit of a loss for what to do. I eventually went to bed at 7 pm, cursing my decision not to bring a book or headphones. I'd decided to leave my phone in the car anyway, as there was only some hard to track down signal. I went to sleep rather uneasy – I felt much less prepared than the others for this trip, most of my stuff was already wet and I was exhausted from the sweaty hike up. I was unsure how I'd survive another four days like this, and I fell to sleep rather fitfully.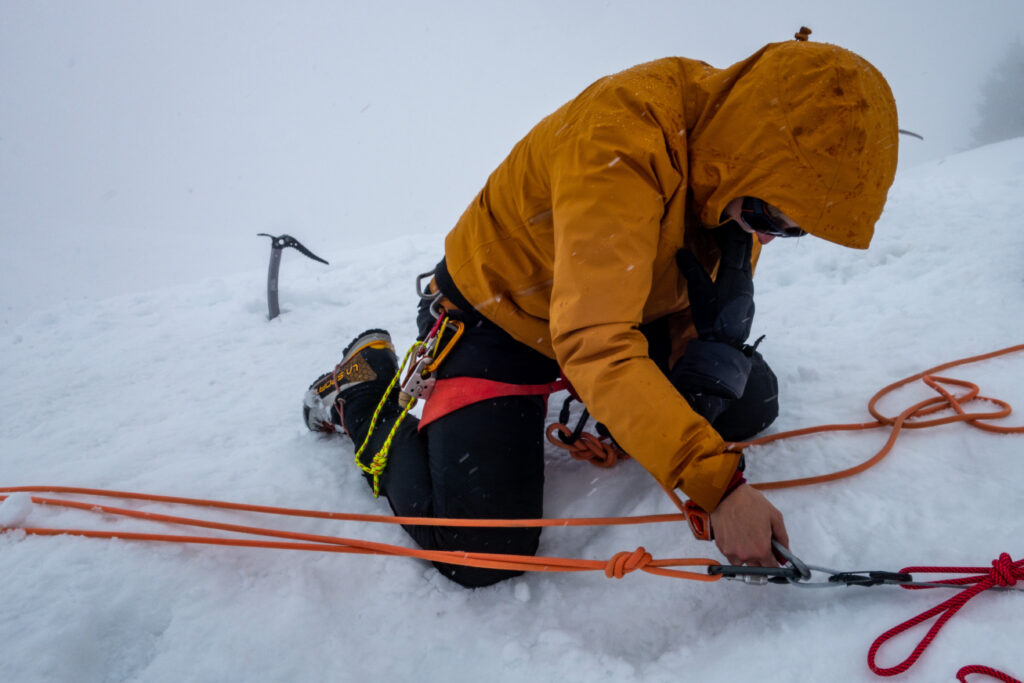 The next day we woke at 7 am to begin our training. Our sub-group had already done some basic crevasse rescue and rope skills, so we were paired with lead guide Ryan McGuire, who winters in New Hampshire teaching ice skills, and summers in the Cascades, teaching ice skills. Dude loves ice, what can you say. Anyway, after some walking around roped up and practicing team arrests with ice axes, we got onto crevasse rescue.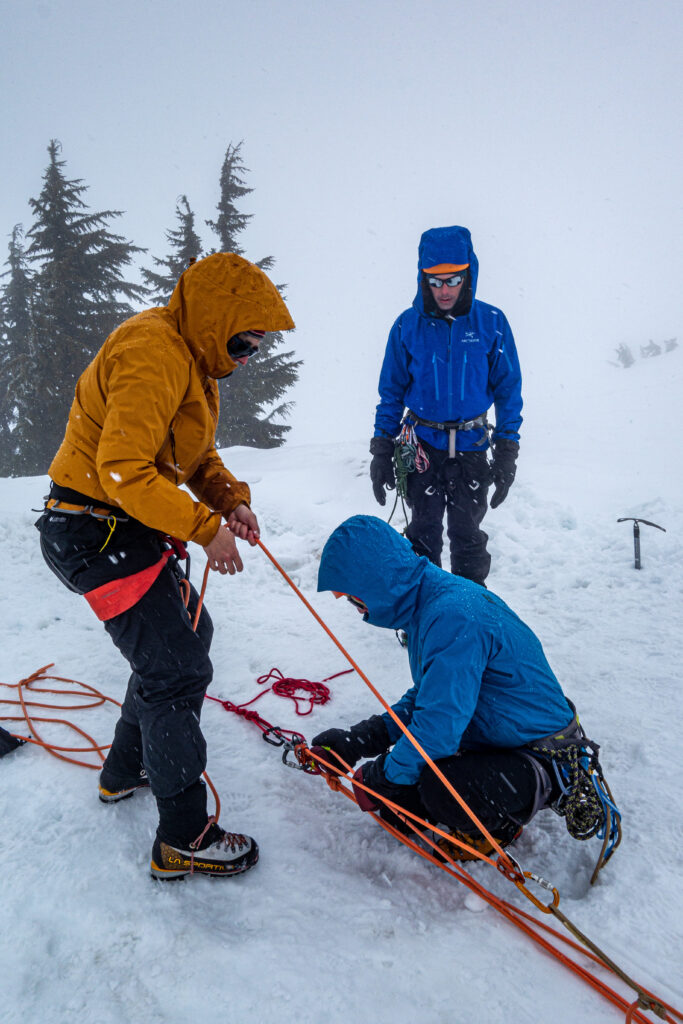 I'd previously been taught a technique which assumed the person below was unconscious, but Ryan taught a technique which was useful for a conscious victim – first build two solid anchors and head to check out the victim. Then, lower a loop or rope with a carabiner down to them, and get them to clip in. Using that loop, build a progress capture (a micro traxion works well), and then build a 3 to 1 system with a pulley and tibloc on that 2 to 1 loop, giving a 6 to 1 overall.
This was all great fun, and as we all practiced being the victim and the rescuer we got a lot of repetition in – much better than my previous course where each skill was shown once, quickly, and then on to the next thing. I really felt I learned a lot with Ryan.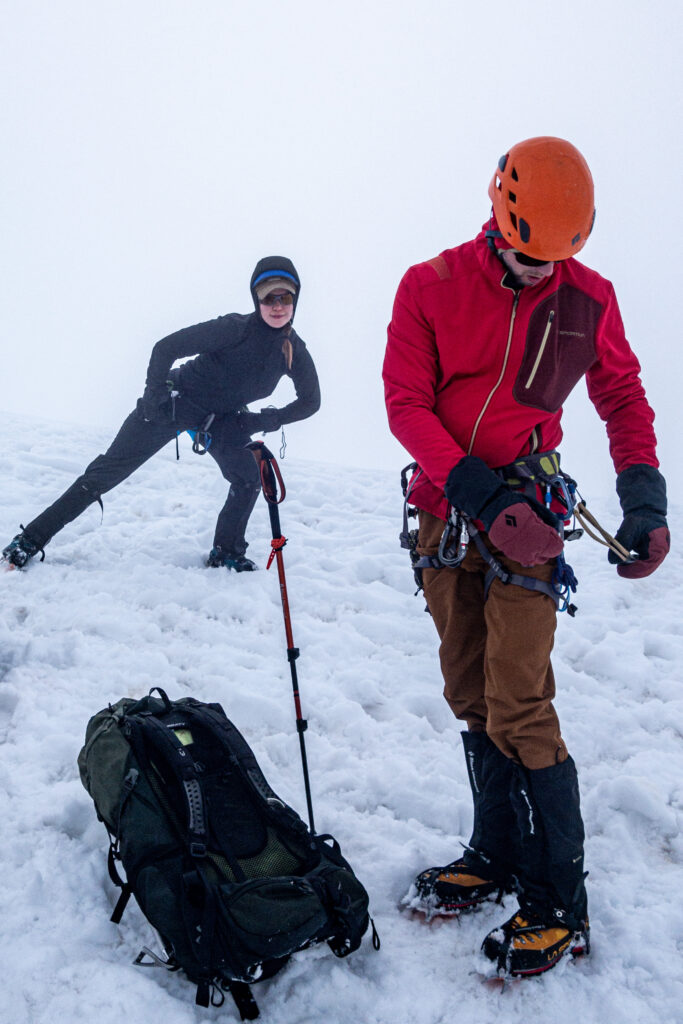 Back at camp, and there was still little to do bar eat and stretch. The guides had found running water, relieving the tedium of melting snow, and food was free-dried dehydrated meals. I'd never had these before, but they were pretty palatable. Humour in camp tended to be quite toilet based, as we had to pack out all our solid waste in (mercifully opaque) wag bags. There was a great deal of discussion about how many times a day each person had used their bag, and on the best pose to adopt. Even more entertainingly, Emily kept mistaking my tent for her own, even going so far as to bury her wag bag under it before I shouted at her. Later in the trip I also picked the wrong tent, and I was rightfully mocked for it.
On Tuesday we spent another day on rescue skills, especially descending down to an unconscious victim to set up the 2 to 1 pulley, and ascending the rope again. Once again, the micro-traxion and tibloc proved very effective compared to prussik based systems, and several people muttered that they would buy one as soon as they got back to civilisation. I felt very smug for already owning these, bought for my previous mountaineering class. The group entertainment that evening was digging a gigantic snow cave (a task taken up with enthusiasm/reckless abandon by the guides) and constructing a cornhole board out of snow.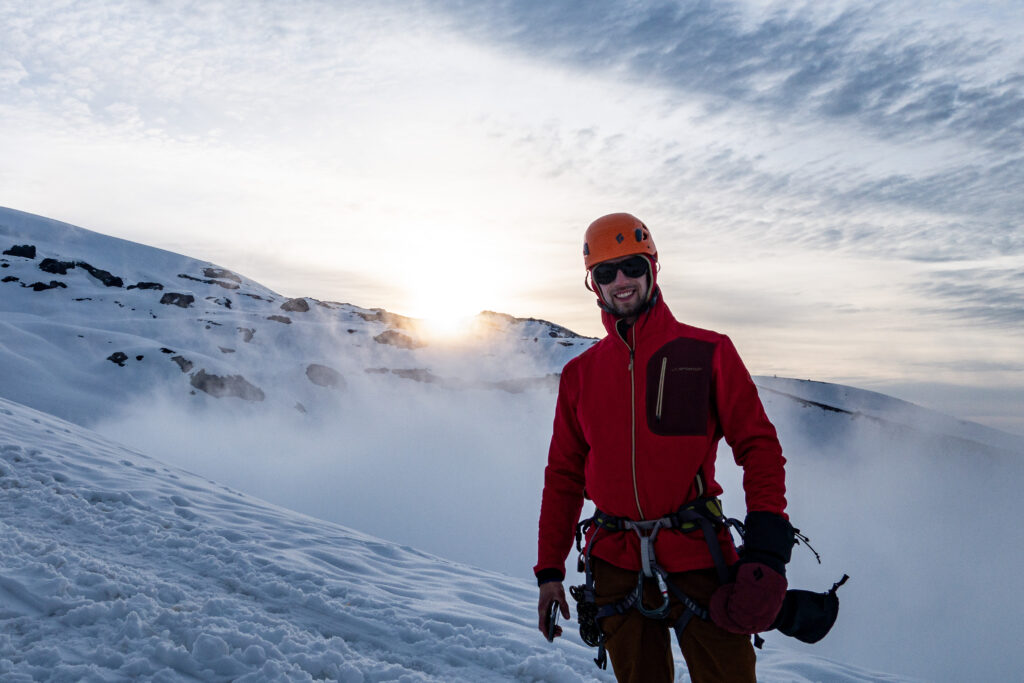 On Wednesday we woke at 5 am for our summit day. And what a day it was – the clouds had lifted and glorious sunshine illuminated the peak of Mt Baker. After three days of minimal visibility mixed with snow and rain, finally we had clear skies and sunshine. We were all elated as we packed our bags, grabbed our ice axes and headed up the moraine.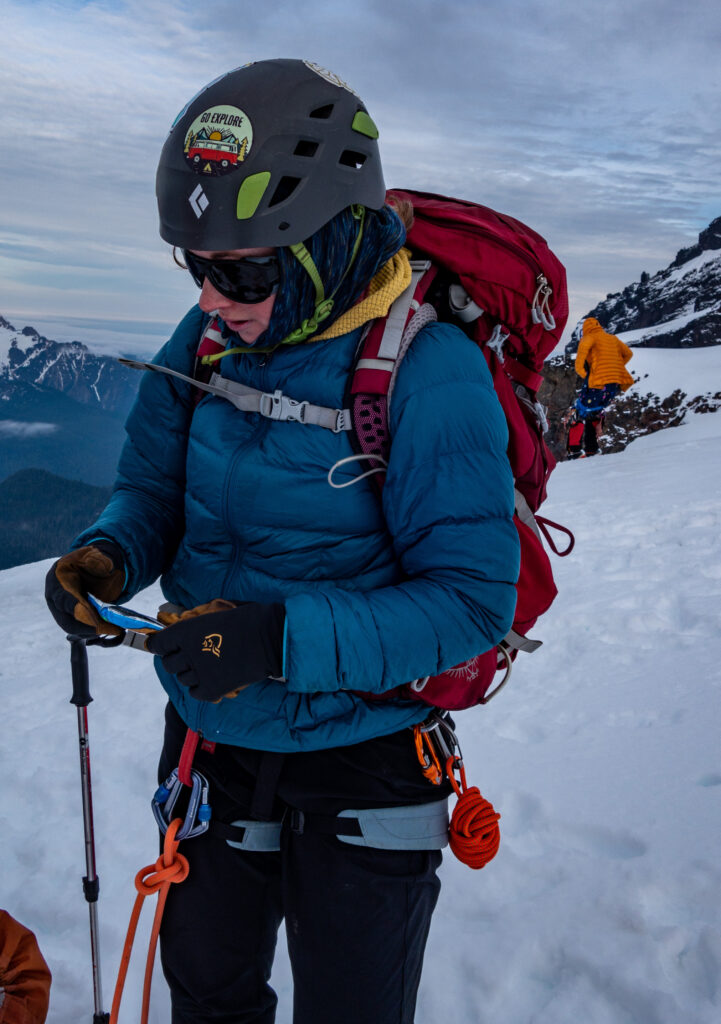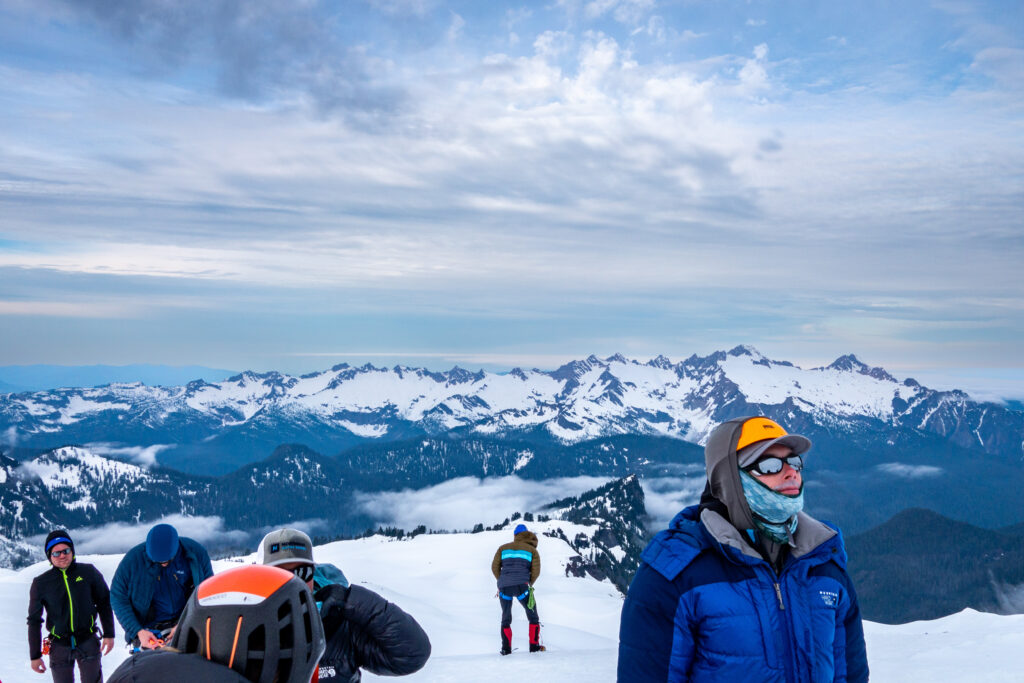 After an hour or so of hiking we arrived at the glacier itself, whee we split into rope teams. I was with Emily and Ben, led by Avery, who had spent time in Ecuador studying and working as a guide. On the rope we kept a steady pace, feeling for the tug from behind if we went too fast and watching not to build up slack in front. Every hour we stopped for a frantic break – in that time we had to eat, drink, pee, put on more sunscreen and, of course, take photos. Without breaks on the rope I have few action shots of us actually climbing, only snippets during these brief pauses.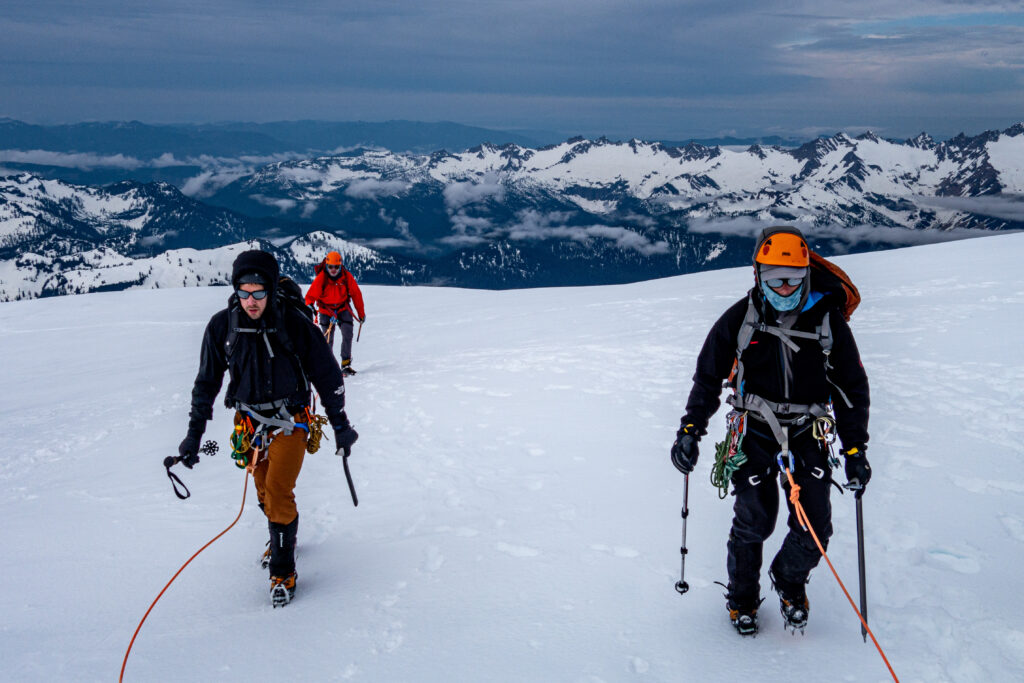 We zig-zagged slowly up until we reached the crater, which is below the summit. Already we could smell the sulphorous stench which proclaimed that the volcano was not extinct, but only sleeping. The combination of this deep gash in the Earth with thick glaciers gave the entire place an other-worldly feel.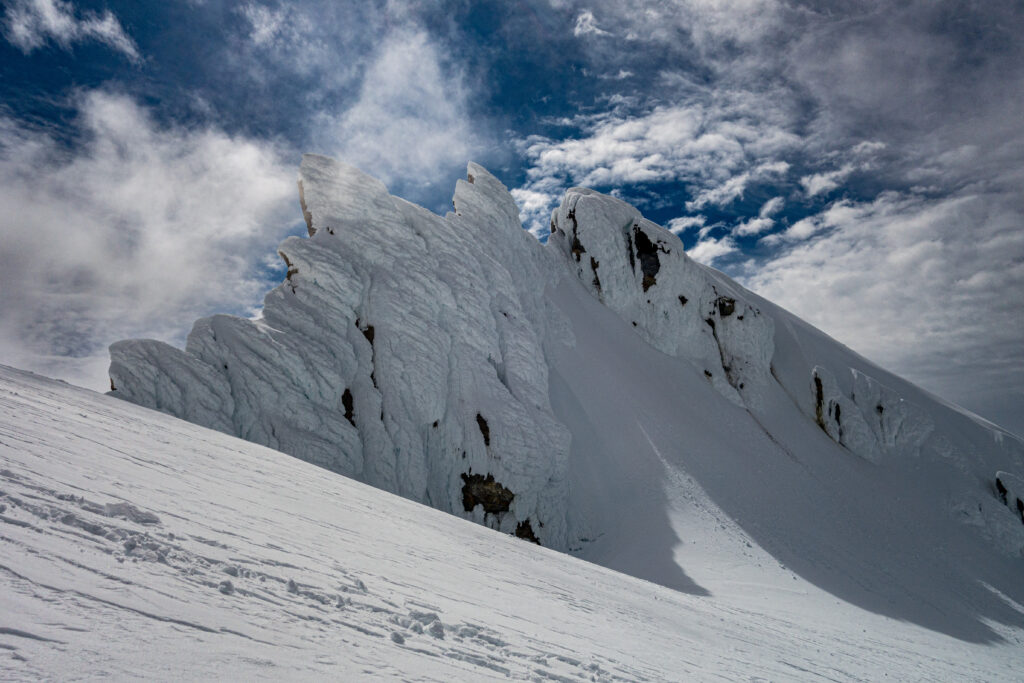 After pausing at the crater we set off for the steepest part of the hike, a long steep face called the Roman Wall up to the summit. Even at a steady pace with plenty of zig-zags I was exhausted by the top, when we suddenly ended up on a flat expanse. A few hundred metres away was the true summit, a small pimple sticking just above this flat region. The wind was ferocious, lifting our rope horizontal and gusting strongly. Without even a short pause we strode on, Avery relentlessly leading us to the summit.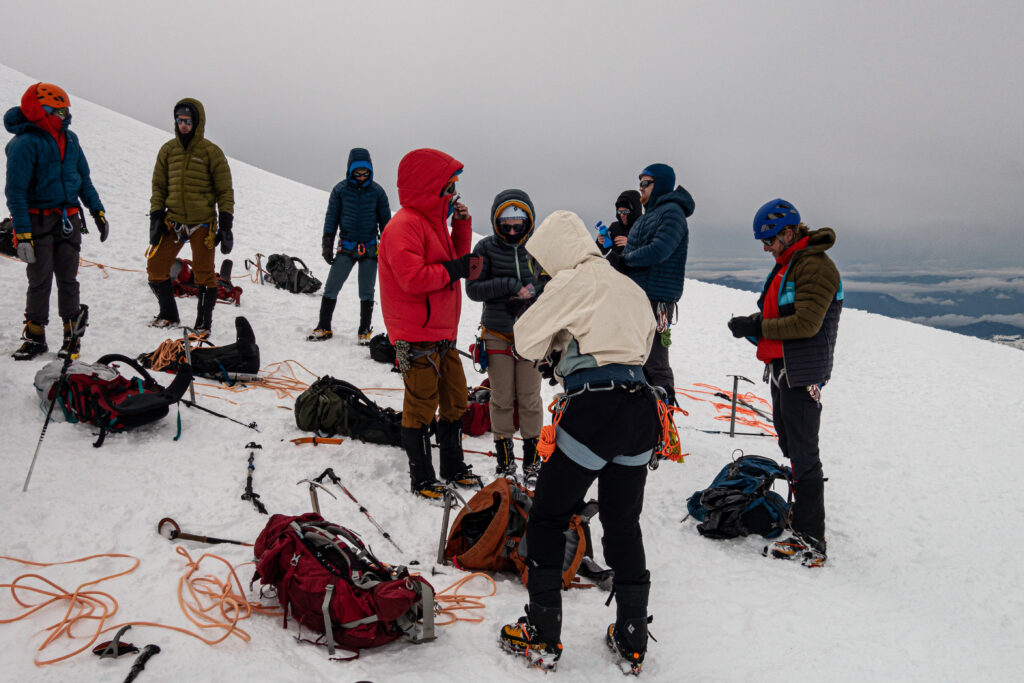 At the summit we had 360′ views of mountains in every direction. The wind blew strongly, and we spent a few minutes getting as many photos as possible.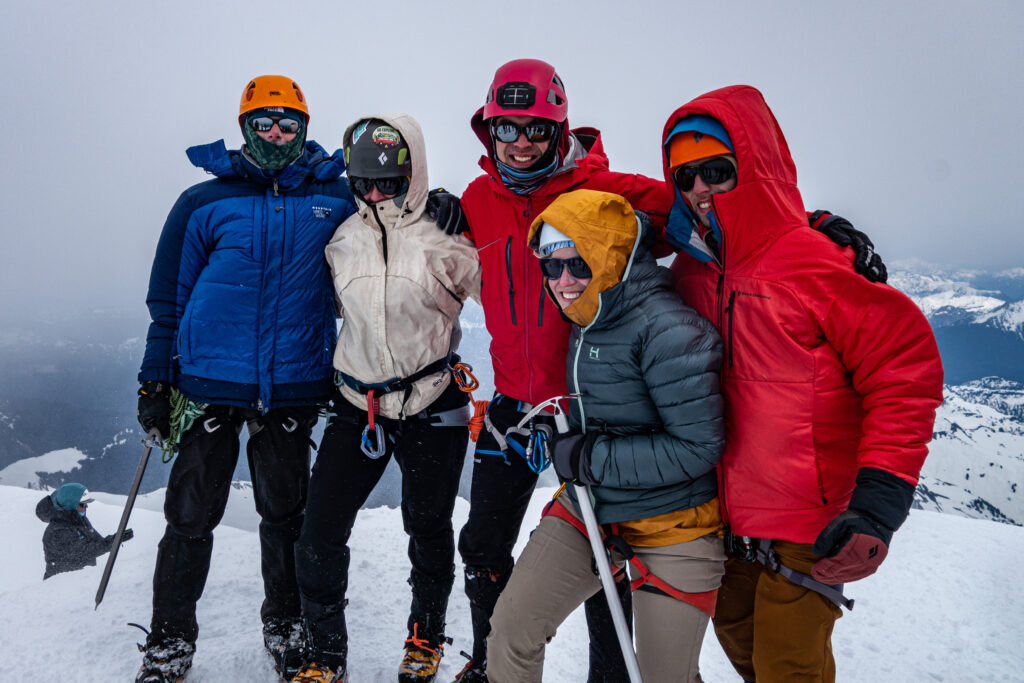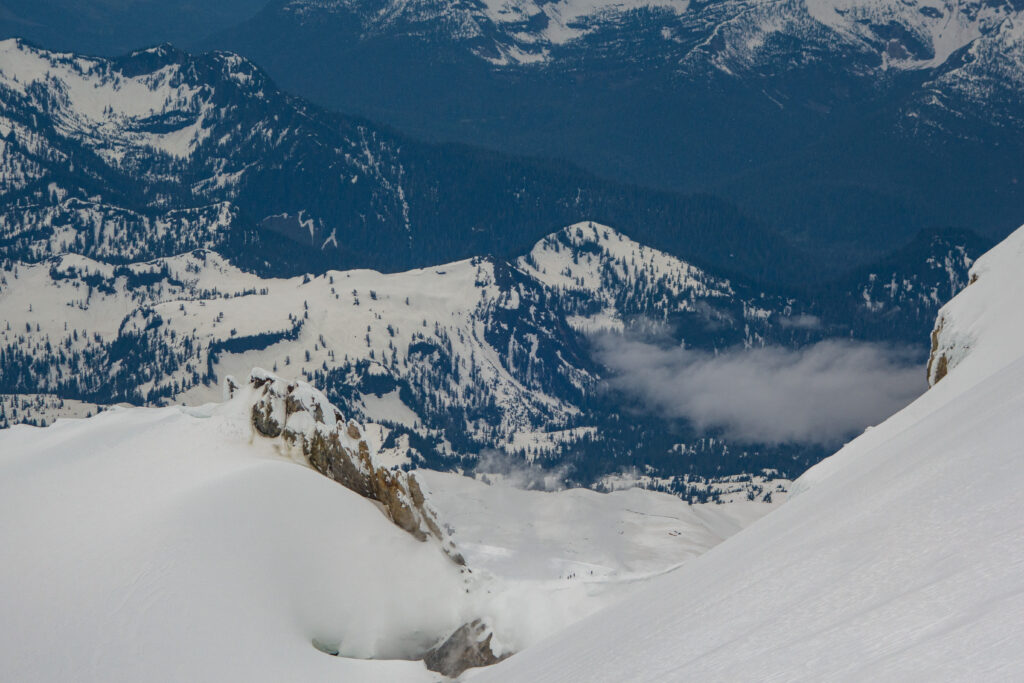 Roped up and hiking back into the wind was one of the toughest parts of the day – with every step you were blown off balance by a gust, and the wind froze the muscles in my face. Fortunately, it was soon over and we descended straight down the Roman Wall, making impressive time on the step slope. A few skiers, who had laboured up the slope now had their moment to shine, descending even faster than us. Ski mountaineering is definitely something I miss from the alps!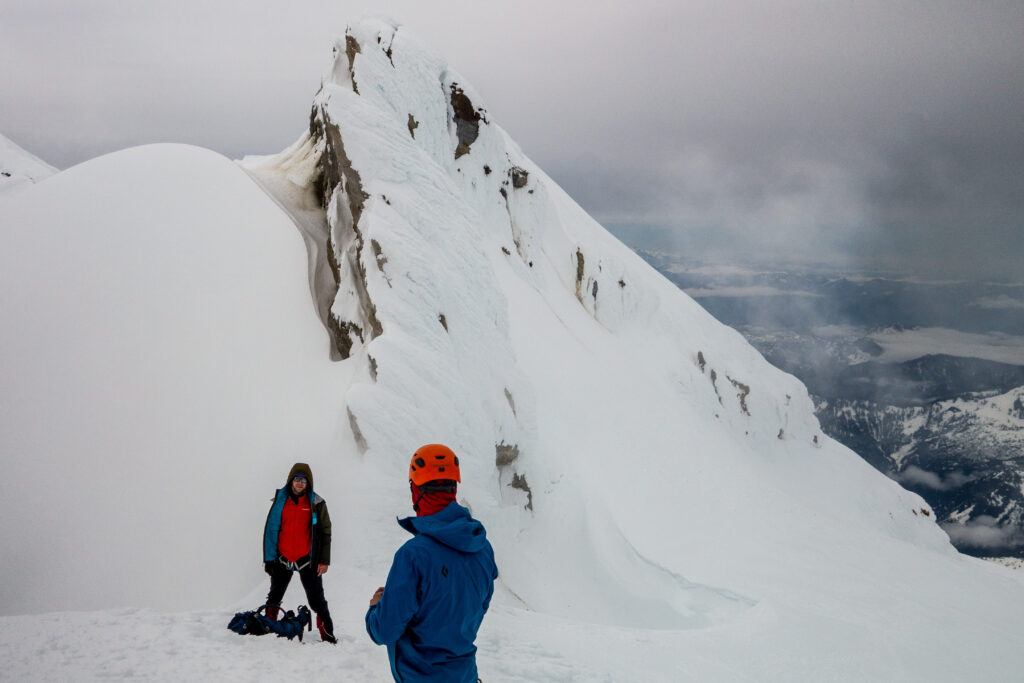 The descent went well – the temperatures rose and the snow became slushy, but otherwise it was easy going. Our rope teams often walked side by side, making it possible to have a chat as we plunged downwards back to camp.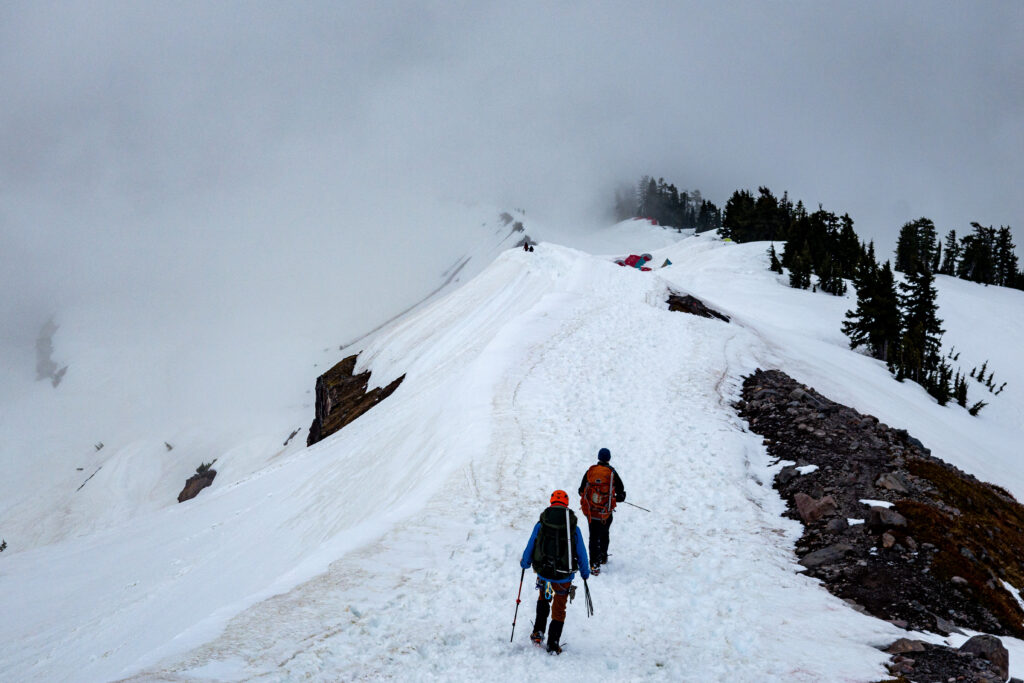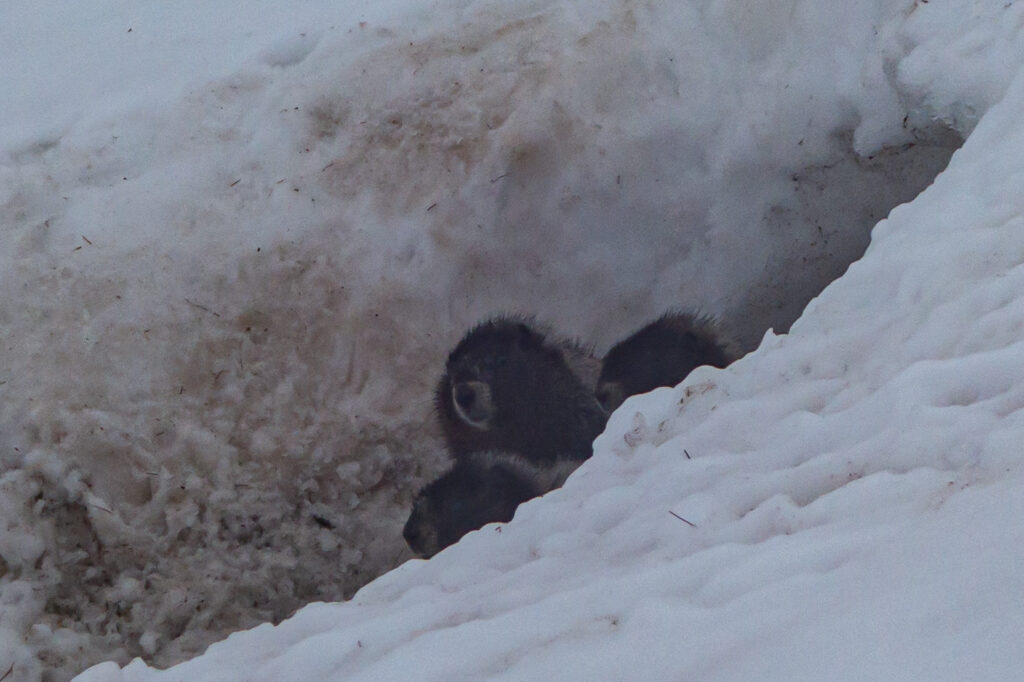 Back at camp we found some marmots watching us from their snow hole, presumably waiting for us to leave so they could raid for scraps of food. We were back by 3:15 pm – we'd left at 6 am, and summited at 12 pm, so just over nine hours round trip. I was tired, but not utterly knackered, and after eating a hearty dinner of rice and beans I hung around to chat for a bit before heading to bed.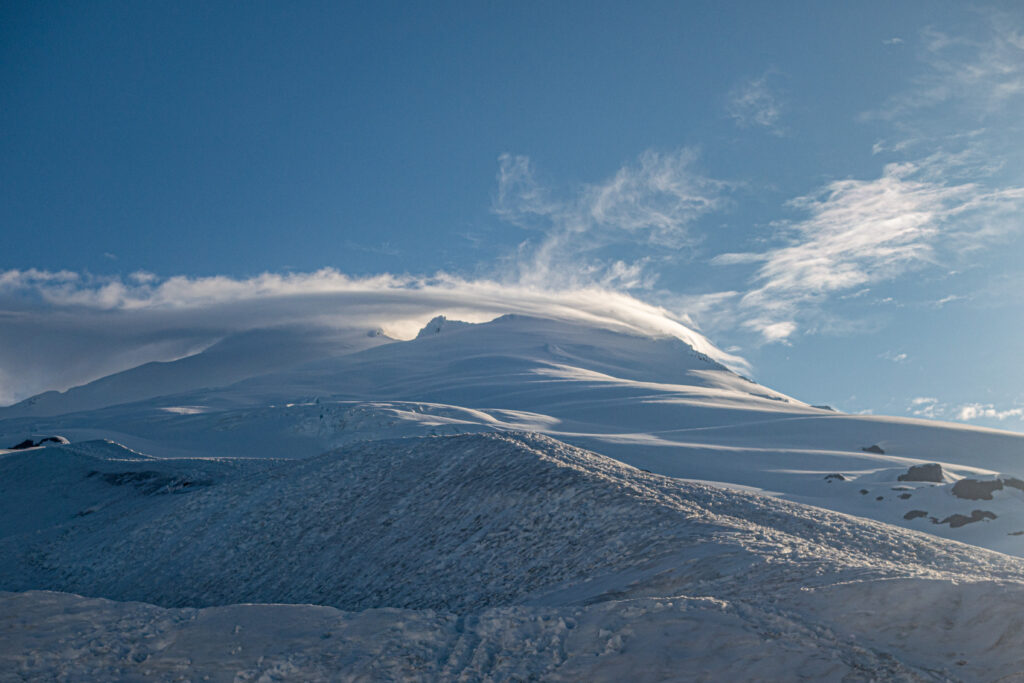 The next morning the weather was glorious again, with clear skies and clouds over Mt Baker. We packed up our things and hiked down the mountain, again at breakneck pace. As the snow bridges in the valley had melted away, we took the "summer route" which was mostly still covered in snow, plunging down steep hills through thick pine forest. After a while we were back at the cars, where a delightful change of clothing awaited us. Back at the guide hut we handed back our gear and said our thanks, before a few of us headed over to a bar to grab some lunch. After that, our group headed back to Ben's place just outside Seattle to have a shower and grab dinner. Overall, it had been a great trip, with wonderful people and a lot of good skills learned. I'm unsure how many similar trips I can do, given my location on the East Coast of the US, but if I can manage one a year I'll be very happy.