After a hellish mis-directed drive through Wetherby and every small village in the surrounding area, I arrived exhausted at Greenclose cottage at around 6 pm on Friday. Cecilia and Rhys showed up and we made vast amounts of rosti using potatoes from the allotment. Various people popped by to say hello, and Fiona joined us for a night of cheese, wine, and looking at the moons of Jupiter through a telescope.
Tatham Wife Hole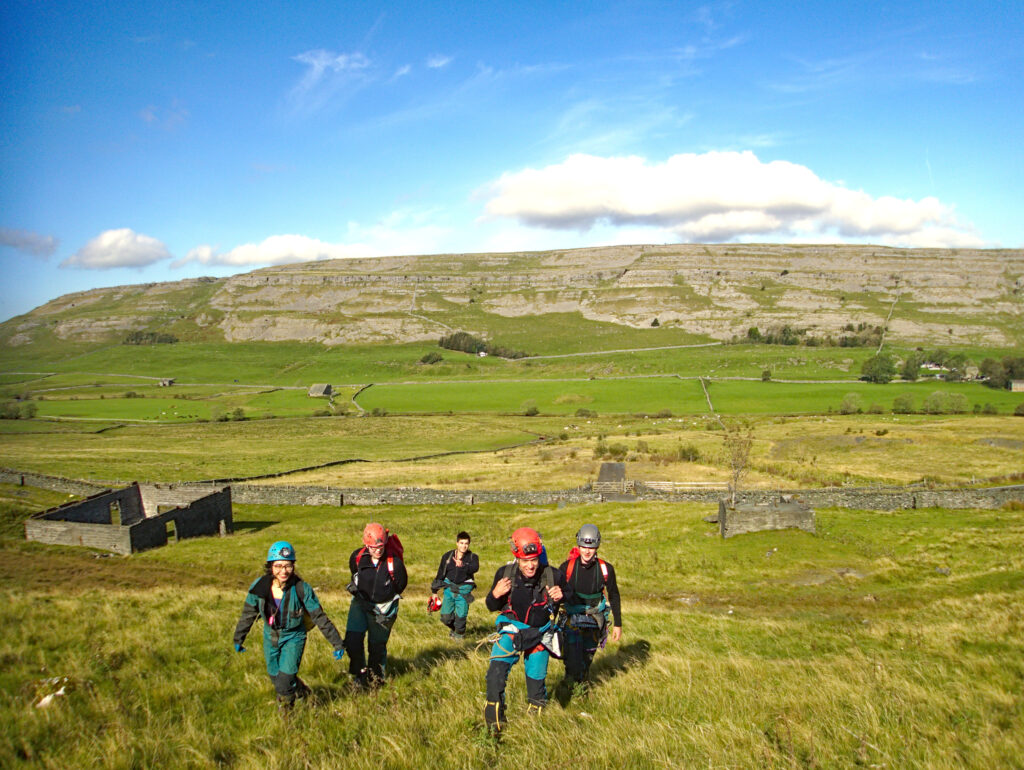 The next morning Arun and Perry joined us, and we drove over to near White Scar Cave to hike up to Tatham Wife Hole, on the west flank of Ingleborough. This is a well known cave, but I'd never been because it has a reputation for flooding rapidly and terminally. However, it had been dry for a week, and the weather was glorious, with bright sunshine and strong winds. The latter kept us cool as we picked our way up the steep rocky slope, following no path, but heading straight towards the summit.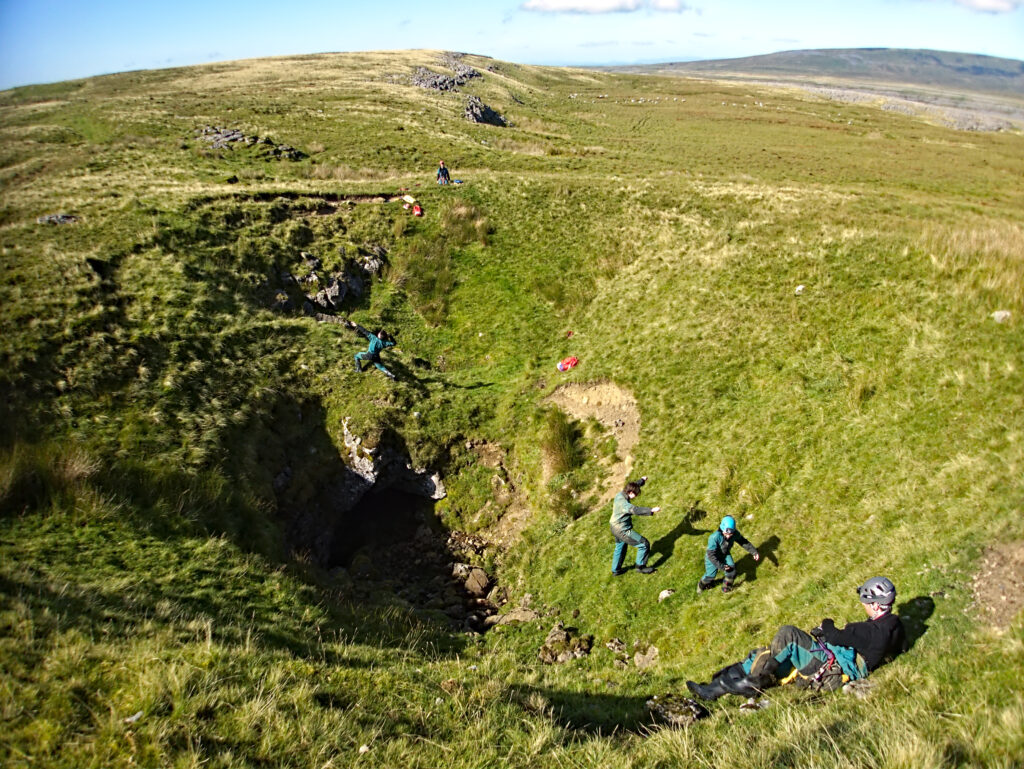 At the entrance we indulged in a certain amount of faff before slipping into the cool darkness of the cave. I rigged a handline down a nice but tricky free climb, and then we made rapid progress into the proper cave. It was classic Yorkshire streamway, but with a twist – a hading rift overhead, which controlled the formation of the cave as the passage twisted back and forth. When the passage touched the inclined bedding plane, it dropped down a pitch, and then wandered away again.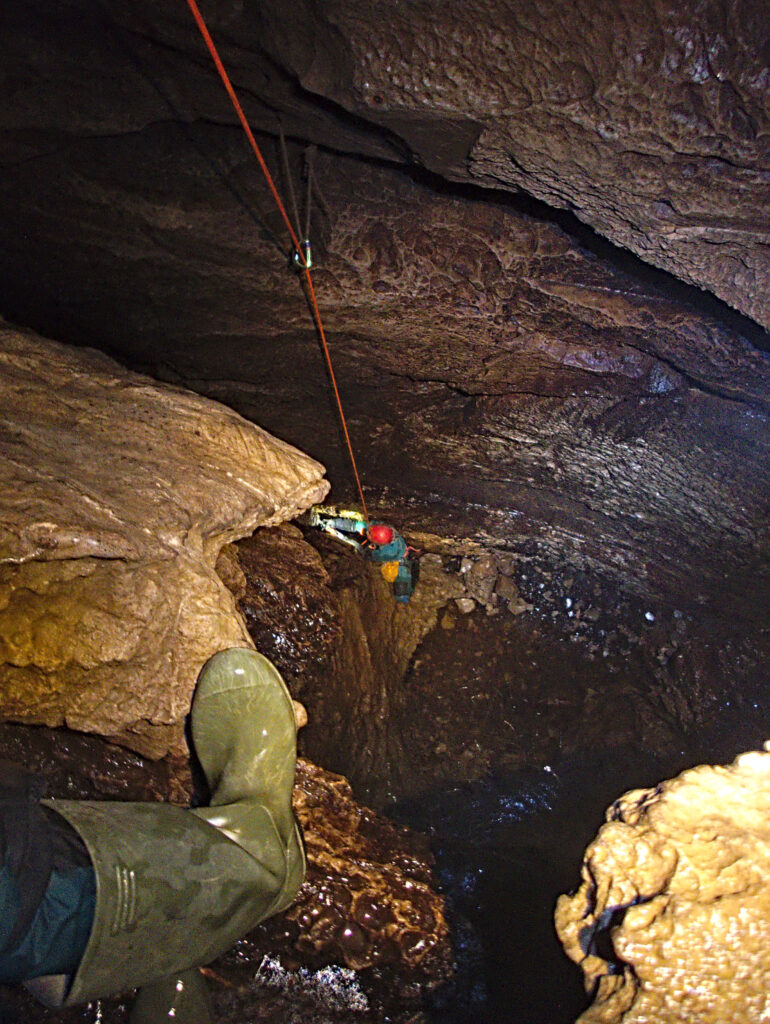 Some of the passage was a bit narrow, requiring either sideways squeezing or crawling in the water. Fortunately it was quite dry, and even the apparently spray drenched third pitch in the hading rift was only mildly wet. We approached the duck below with some fear, but it didn't require a full wetting and looked much easier than the climb over the top which bypassed it.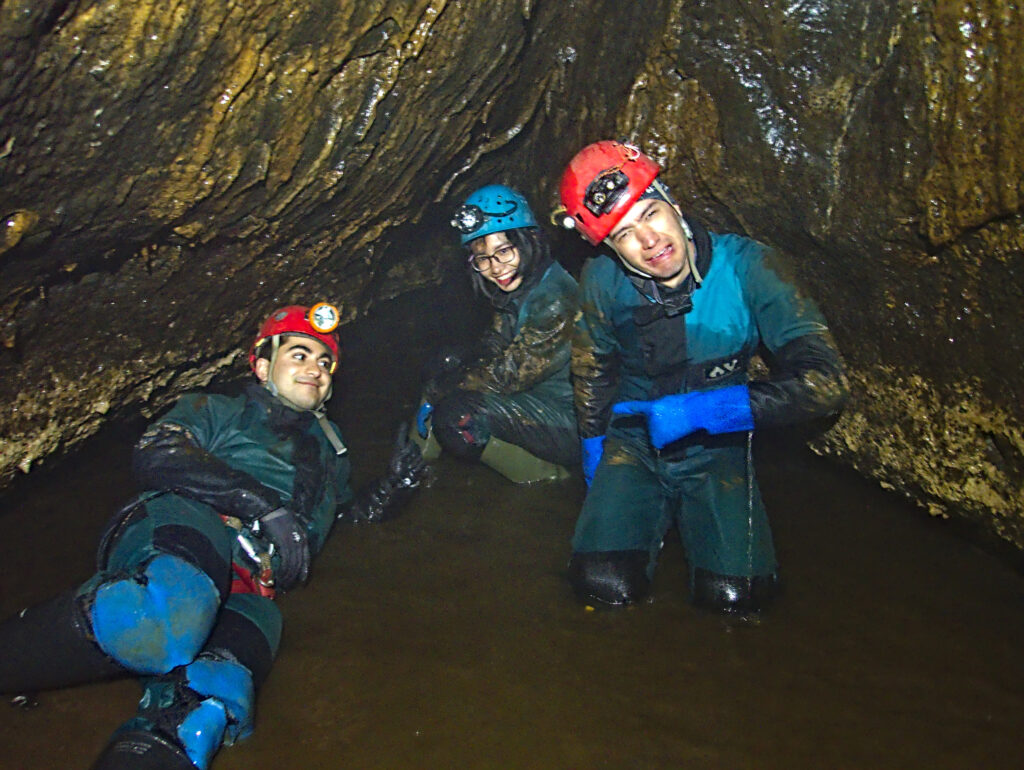 It's all beautiful streamway to the fourth pitch, which is an easy descent into a large chamber. At this point, Fiona and Perry opted to turn around, but Arun, Cecili, Rhys and myself decided to keep going, pushing towards the sump by crawling on hands and knees in elbow deep water. This was all tremendously good value, and in no time we were at the dive line by the sump, and turned around.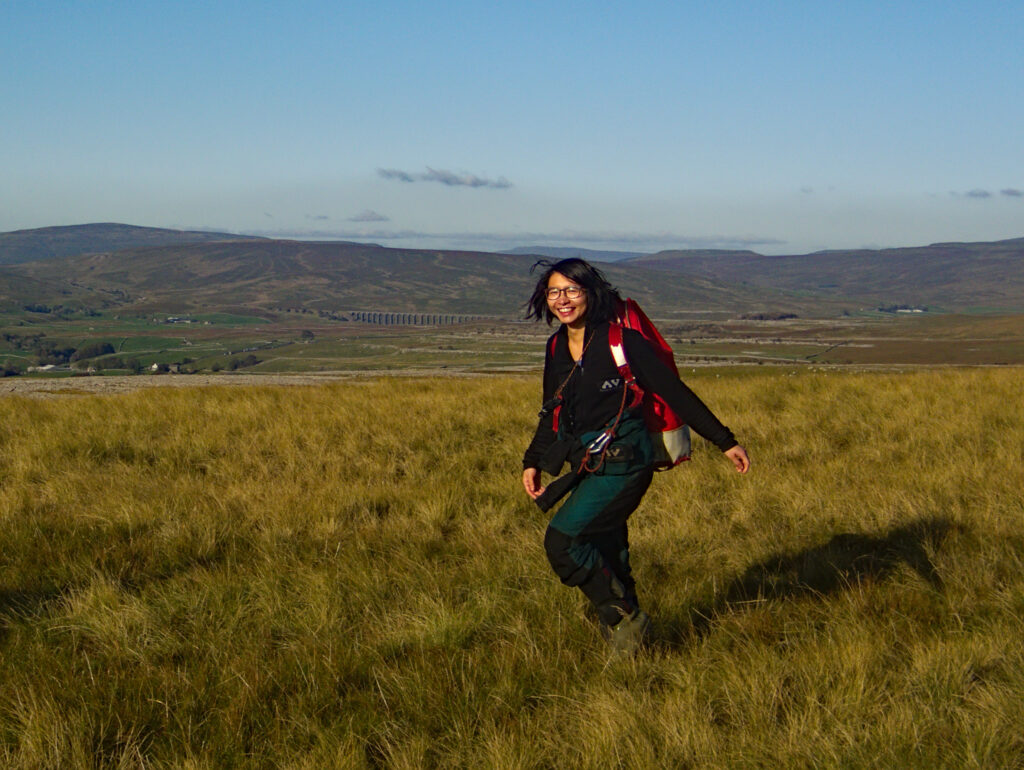 On the way out Rhys took many excellent photos and we were soon basking on the surface in the sun, sheltered from the wind in the large shakehole surrounding the cave entrance. After a while like this we headed back to Greenclose, Perry and Arun departed, and we settled in for an evening of more cheese, wine, board games and chatting with Tony Seddon.
Aygill Caverns
Another cave to avoid on a wet day, Aygill Caverns has an entrance next to a stream, protected by a low dam. It's also a classic, with a notoriously complex lower section which is a maze of old oxbows and sumps. Tony showed up in the morning with a shiny new pink helmet and light for me, to replace my aging and heavy Ecrin Roc, and thus armoured we strode confidently along the bridleway from Bullpot Farm to the cave entrance.
It was a bit warm, and I wasn't feeling 100%, so I opted to sit in the cool dark cave for a bit whilst Cecilia went ahead to rig. There was a bit of a tight squeeze before the second pitch, in a narrow, low meandering streamway. I solved it by posting myself over the constriction and slithering down, but I wasn't sure that this would work in reverse, and Fiona was also a bit nervous about the whole manoeuvre. After a bit of faff with rope lengths we were down the second pitch and into the proper meat of the cave.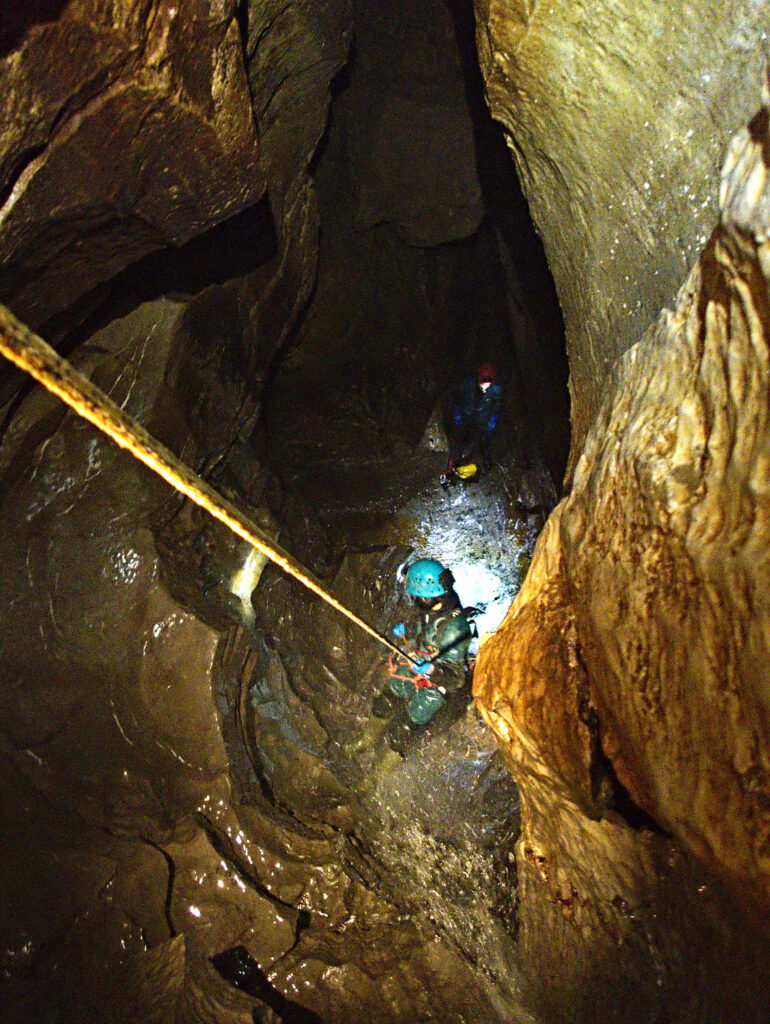 Here a series of fine cascades tumbled down well sculpted rock, providing some interesting mini bouldering problems. All too soon the water sunk into a low cobbled bedding, with no way on. But we knew that the many oxbows (old abandoned cave passage) lead through to the true sump, so we set about exploring them.
First of all I crawled into a low oxbow filled with thick, slightly smelly mud. I encouraged the others through by standing up in a small chamber, before climbing up into an oxbow and crossing back over above, dropping back down behind them and assuring them that they definitely had to do the same little round trip. They grudgingly concurred, and we all washed the foul smelling mud from ourselves back at the cascades.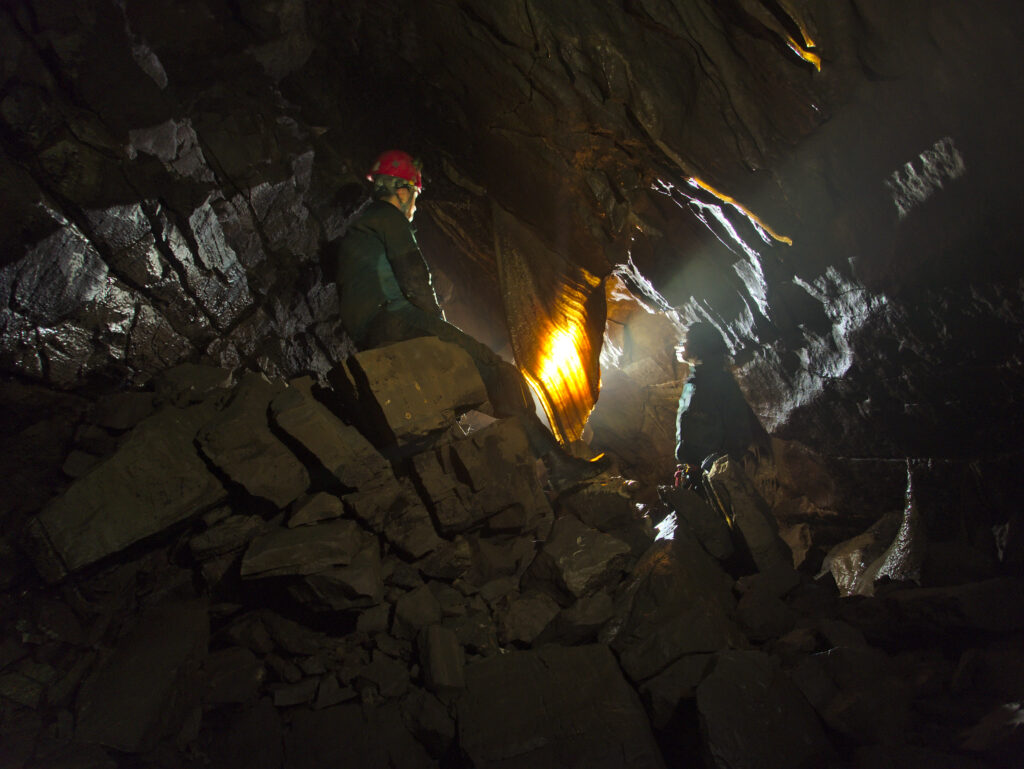 Rhys then found a better way on, with many branching passages. We paused a few times to remind ourselves of the way back, and found ourselves crawling over undisturbed mud, a clear sign that this bit of the cave floods completely. Soon we came to an impressive chamber with a big calcite curtain in it. We backlit this with Cecilia's helmet for a long exposure shot before heading back out, the squeeze praying on our minds a bit.
In the end, the way out was pretty uneventful bar some minor cursing, and again we basked in the sun before heading back to Greenclose for some final food and the drive home. Another glorious weekend, visiting two new caves and spending time in fine company!