It had been a long time since I'd stayed at Greenclose Cottage, the caving "hut" run by the Northern Pennine Club in the Yorkshire Dales. Rhys and I booked in for the long weekend, and planned an ambitious schedule of caving, climbing, cycling, canyoning and hiking, only three of which actually happened.
Pool Sink to Lancaster Hole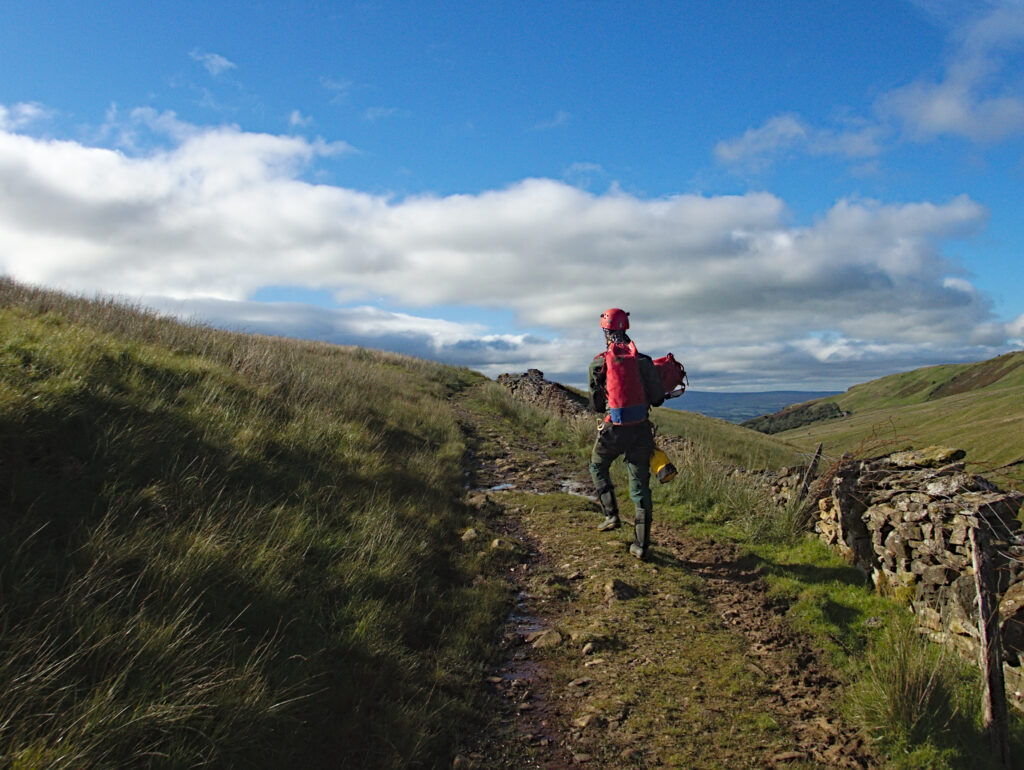 On Saturday, we headed to Bullpot Farm, to try out a new entrance to the massive Easegill system, Pool Sink. We walked across from the farm, first to Lancaster Hole to rig, and then down to Ease Gill itself. We ended up quite far south, so we got the benefit of a long walk up the stream, examining all the entrances and the mini-canyon in the middle.
The entrance crawl to Pool is a bit intimidating, especially after so long away from caving, but after a scant ten metres or so it improves rapidly. Pool Sink is lovely, with classic Yorkshire streamway and some nice pitches, and we sped through. The second pitch has a long traverse that has to be rigged and derigged, and I do wonder if it could be split into multiple canyoning style pitches for those who want to move even faster.
Before not too long, we joined the Main Drain and the "usual" way from the upper parts of the system to the lower parts. We stomped along the high level fossil passages, remarking that really there was too much of it – all we need is a compressed version, with the Minarets, the big pits and the Painter's Pallet, and we'd be satisfied.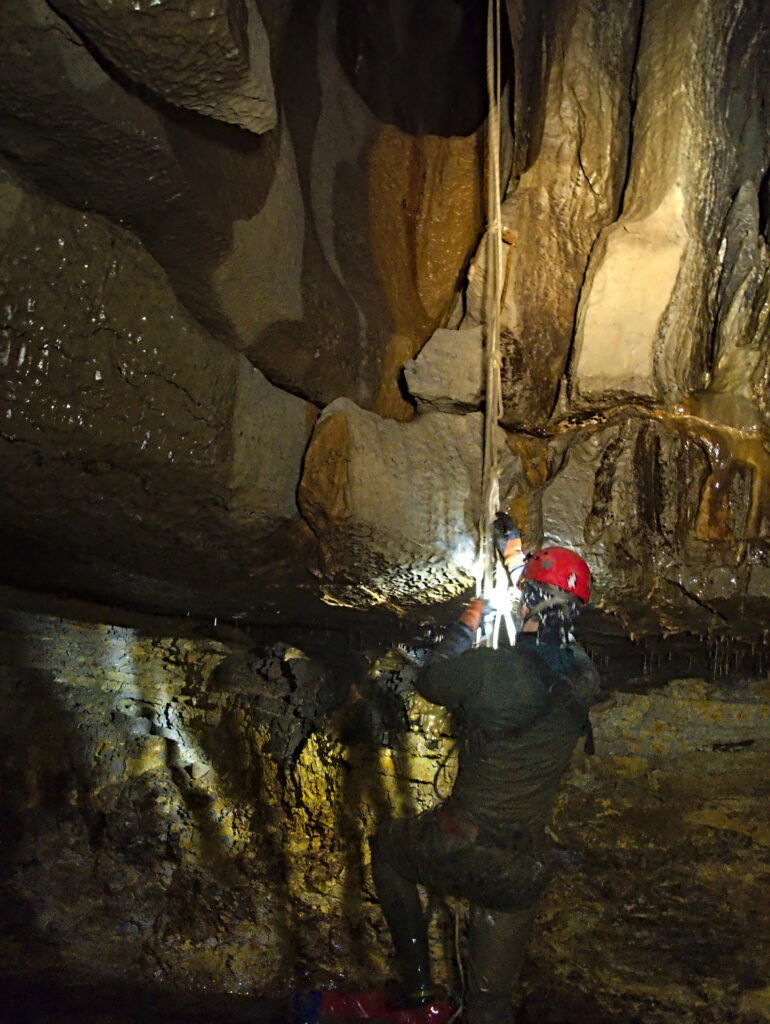 Still, we eventually got to Fall pot, where Cow pot drops from the ceiling and meets the Lancaster Hole route. Instead of the normal route out though, we opted for Wilf Taylor's passage, a lovely roundabout route full of small streamway and nice little pitches. We climbed up the in situ tat (my footloop broke at one point, so I was a bit slow) and then crawled out to meet Lancaster Hole.
It was an exhausting trip, despite only being five hours long. Moving with one other experienced caver means you burn a lot more energy and when we got back we ate vast amounts of cheese and crackers before we felt human again. A cracking trip.
Hell Gill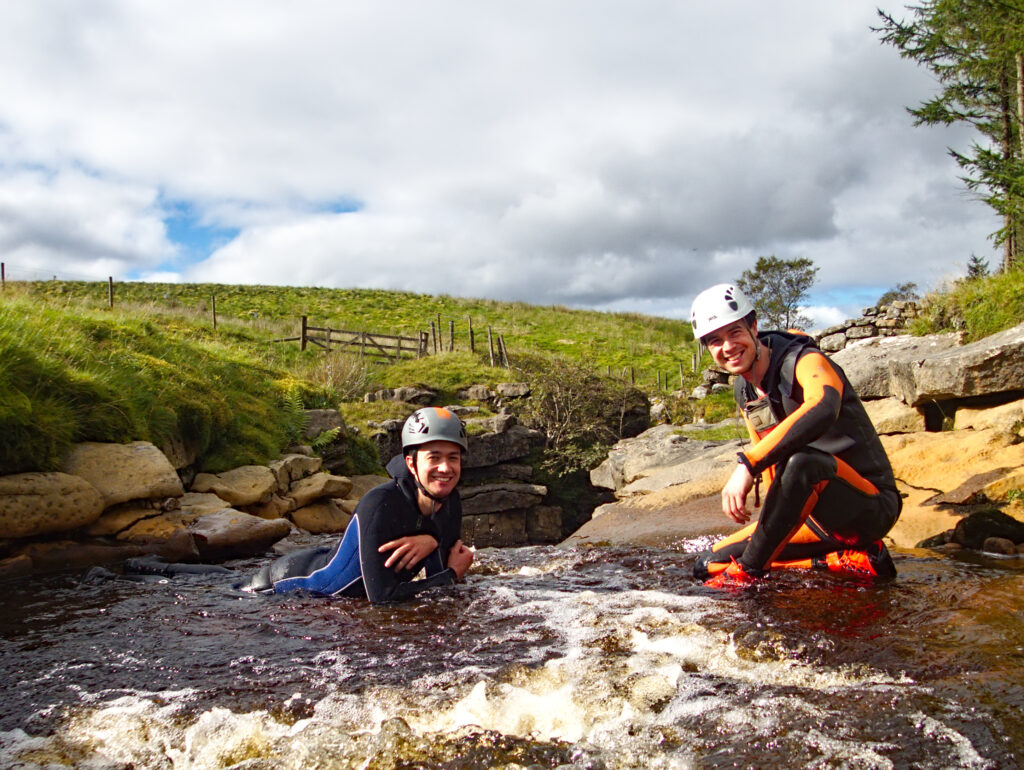 Recently I've been going canyoning one or two weeks a year, so this year was a bit of a disappointment. Still, there is one canyon in Yorkshire, Hell Gill, for which there is an astonishingly detailed guide. At 300 m long, it is Yorkshire's best, longest and only canyon, and so we donned our finest neoprene and stomped up to the start.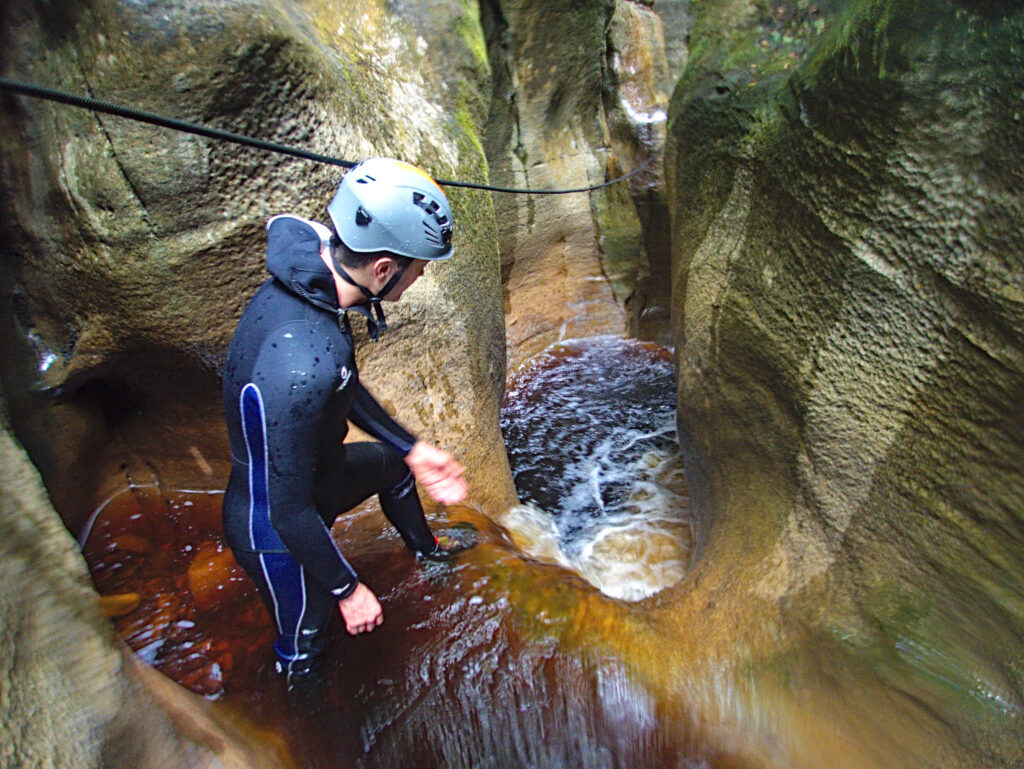 The brown water and low cliffs were not instantly appealing, but as we got deeper we found it had a certain charm. Some nice slides, a decent jump and some rock arches made the whole thing seem worthwhile, so we did it again.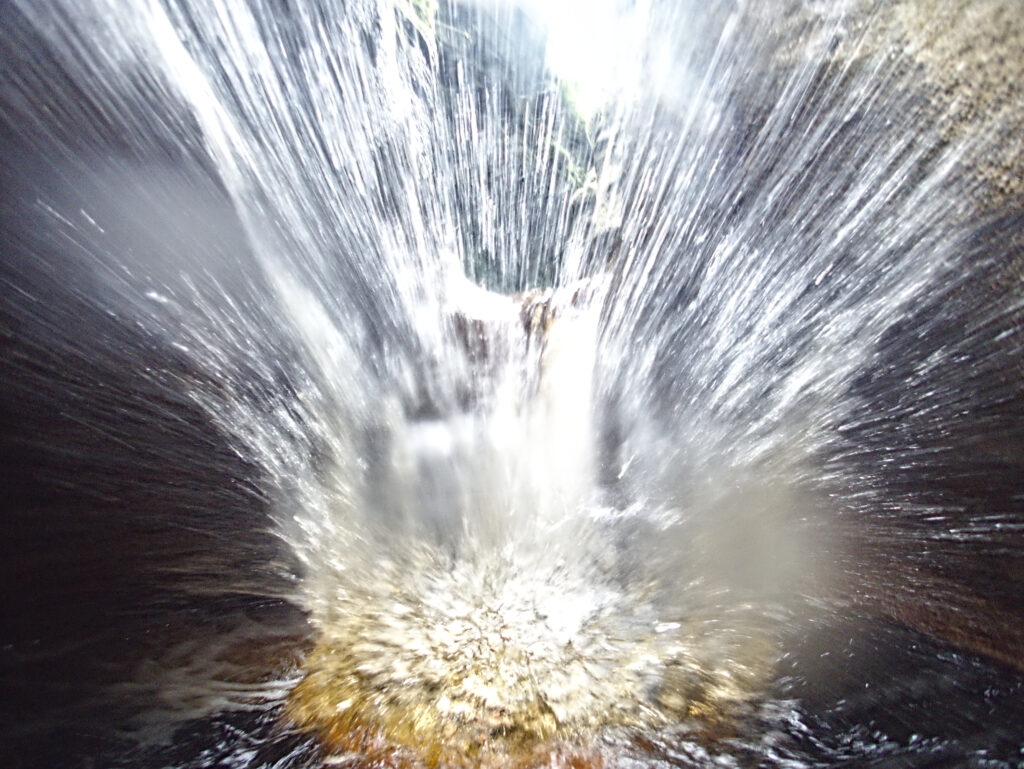 The water was cold, and the air was 10 C, so we were glad of our thick neoprene (though we have seen photos of people doing it in far skimpier gear), and it was worth it because we were already in the area.
Toyland (Valley Entrance)
In the afternoon, Fiona joined us for a trip to Toyland, a recently rebolted set of extensions to Valley Entrance. Valley Entrance is normally something to stomp through on the way out of Simpson's or Swinsto (both classic Yorkshire pull throughs) but this time we were going there for its own sake.
I was a bit tired, and I found the long, wet crawls quite arduous, and some of the squeezes a bit tight. Toyland itself was a nice chamber with good flowstone, and the streamway above was pleasant, but the upper extensions (Good Friday and Victoria) were really not worth it for me. Still, it was good to do a bit more caving and we were out early enough for fish and chips.
Gragareth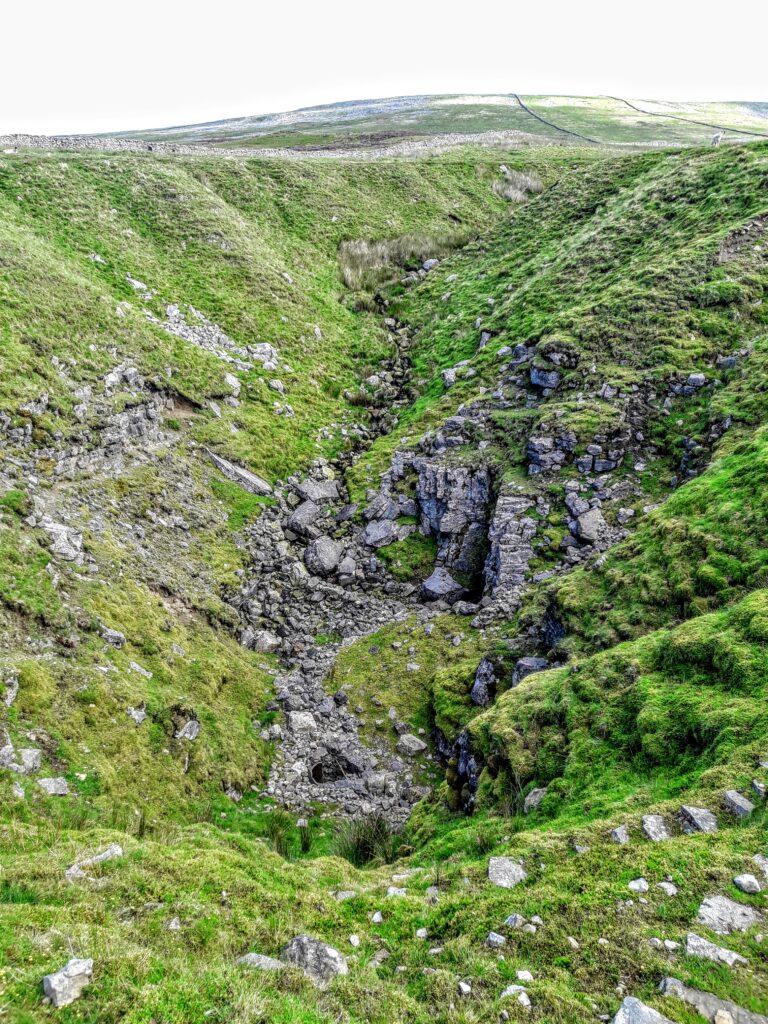 We were too tired to cave on Monday, so we decided to hike around some of our favourite caves. We parked up at Masongill, and walked across to Ireby Fell Cavern. From here, we went cross country to Notts Pot, and a couple of digs on Leck Fell, before heading to Boxhead, Lost Pot and finally Lost Johns', all classic trips which we have fond memories of.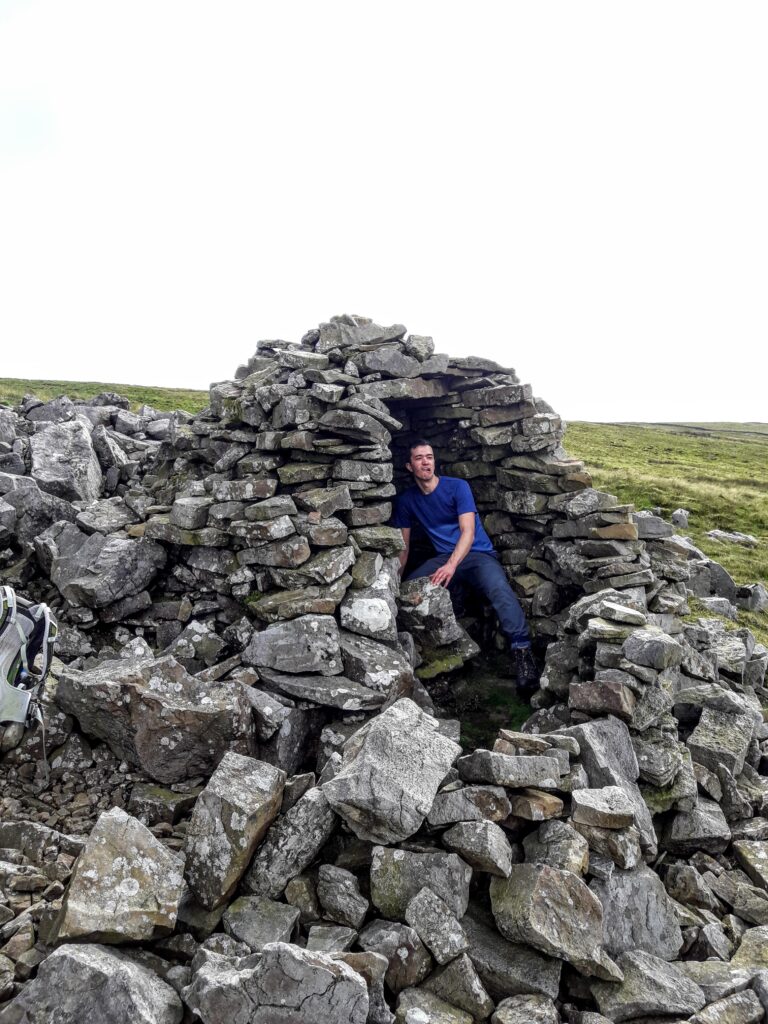 From the road on Leck Fell, we headed up to the farm, and then cut up hill onto Gragareth, the broad peak whichis in the centre of this excellent caving region. The top had many false summits, but we finally made it to a trig point that seems high enough.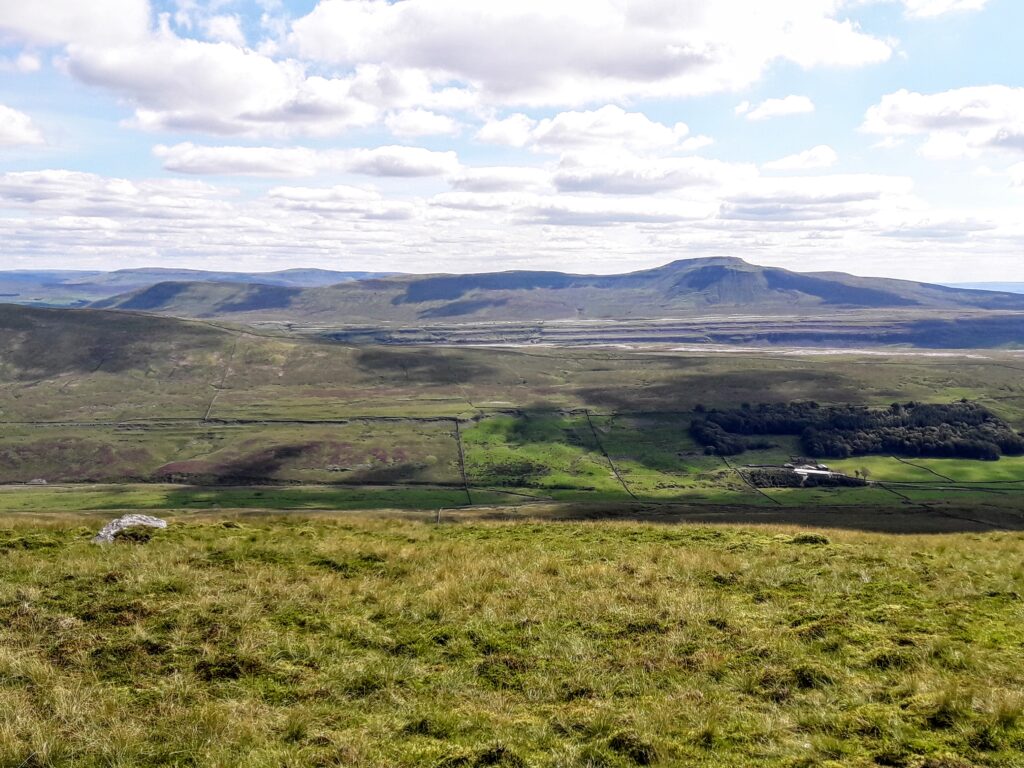 From here we crossed over the ridge and looked down over Kingsdale, another classic caving region. We could see a dozen caves from here, and the weather was glorious. We blasted back down the ridge, following a high dry stone wall, and went to look at Marble Steps and Rift Pot. All in all, an excellent walk and a great way to join together all of the caves.