After a hard week of science at Sandia National Labs, I met up with Alex, Minori and Carrin to explore the caves of the vast gypsum karst plains to the SE of Albuquerque. After an entertaining Friday night drinking whiskey at a distillery in Santa Fe owned by a nice Geordie, we woke up the next morning only slightly the worse for wear and compensated with some unbelievably cheap breakfast burritos from a very legitimate looking drive-thru.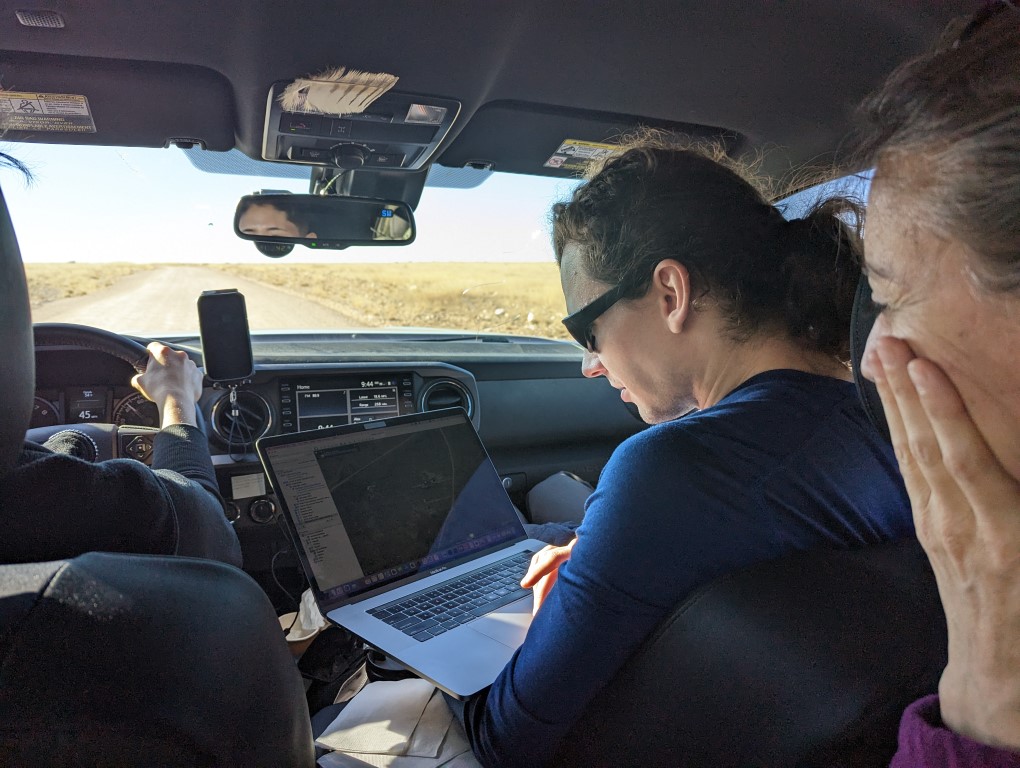 We drove further south and then turned off the paved roads and onto the dirt tracks through the open plains, covered by scrub and dotted with ranches and large black cows. Alex had a huge Google Earth document with loads of potential points of interest (POIs, I'm trying to get them named "petites pois" but it may not catch on) and we started by heading to one of those. The first "obvious" cave we went to take a look at was so obvious it had a USGS marker and the name "Topaz Cave" (Carrin suddenly realised she had been here before), but the next cave was more interesting. Located on the far side of a huge flat low area, it was clear that this whole basin flooded in the monsoon season, and the only way out was through the cave. However, after about ten minutes of exploration we reached a part which was too tight to continue, and ticked it off the list.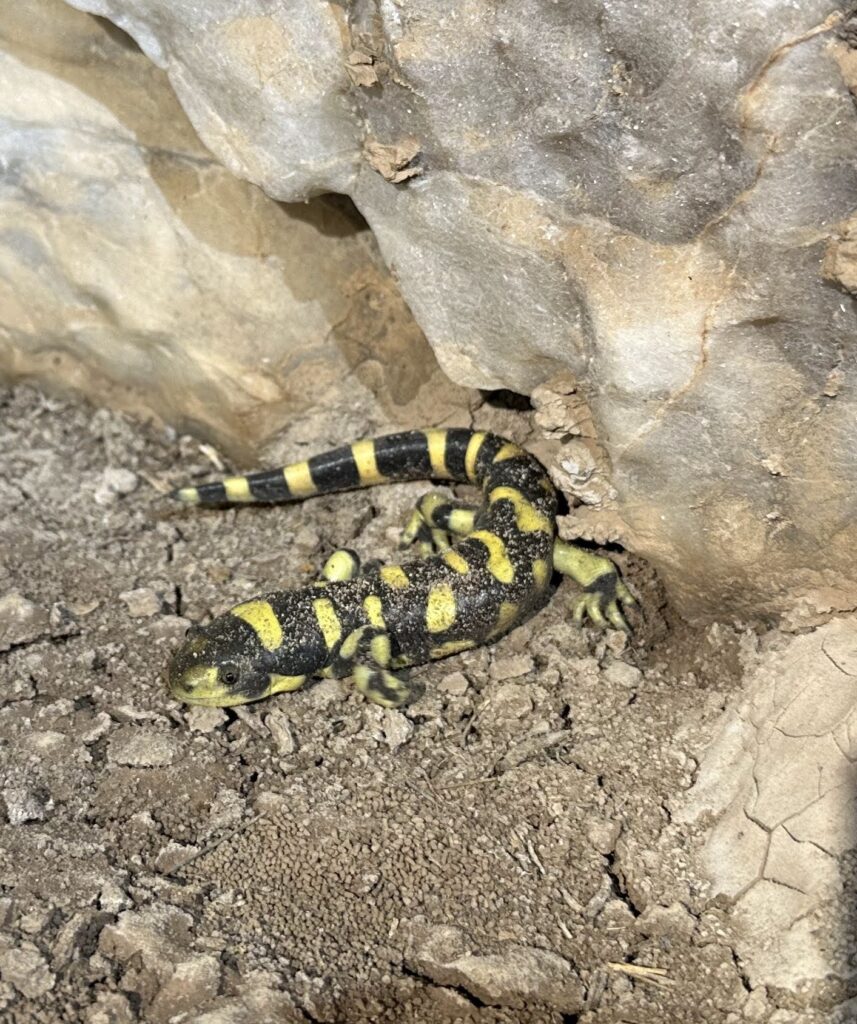 Next we headed to a known cave, Sparks/Zalea, the two names referring to the two entrances. We had a survey from the 90s, but not much else. The entrance to Sparks had been full of trash chucked in there by generations of ranchers, but Alex and Minori had been there a few months ago to help with a massive clean up effort, and now there was only lots of broken glass and razor sharp rusted sheet metal. Mmm. Still, we plunged in and we immediately rewarded with a pleasant, walking height cave with some fantastic tall avens. Shortly afterwards, we spotted this beautiful salamander, who seemed less pleased to see us and tottered off into a smaller crack where we could not follow.
Caving in NM is much warmer than anywhere else I've been, so I was just in a long sleeved mountaineers hoody and some rather fetching Cordura shorts I borrowed from Alex. This meant that when the cave passage suddenly plunged low and forced us into the mud, I got very muddy indeed. Alex lead the way, pushing various routes with far more enthusiasm than I could muster. Many of the crawls were flat out, pushing with feet and choosing which side your head was going to face. We made good progress for a while until we noticed the survey stations counting down from 60. We'd already been in the cave for 90 minutes, and if we couldn't get out at the far side we might miss our call-out. Nothing guarantees that the way through is still open after so long, so we decided in the end to turn around and leave the through trip for another day.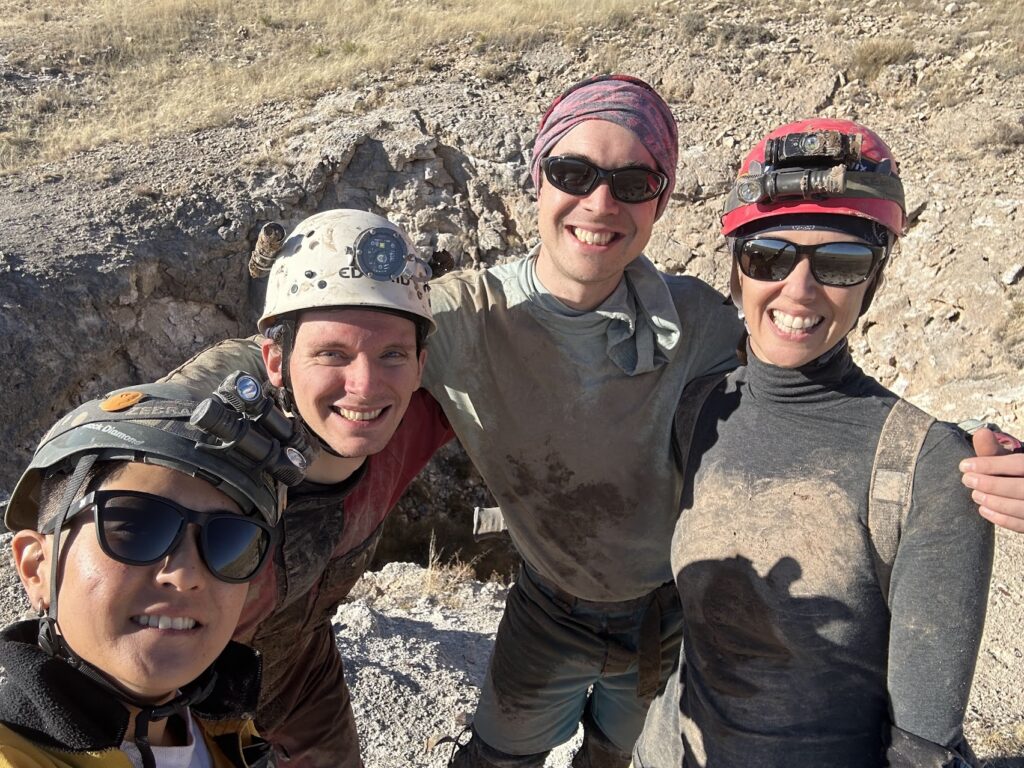 Back on the surface we quickly dried off in the sun, and then walked the two minutes over the low rise to the other entrance. Despite having been underground for almost three hours , we had made it only a very short distance! We decided to poke around for some more caves, and immediately found a set of deep pits about 100 m away. Unable to see the bottom, and with nothing to rig off, Minori brought her truck around off road and we rigged off the front and back tow points, thus: