An incredible weekend skit touring in Zillertal and my first time! Many thanks to Munan "Try turning" Gong and Kedron "It's not that steep" Silsbee for your patience and encouragement!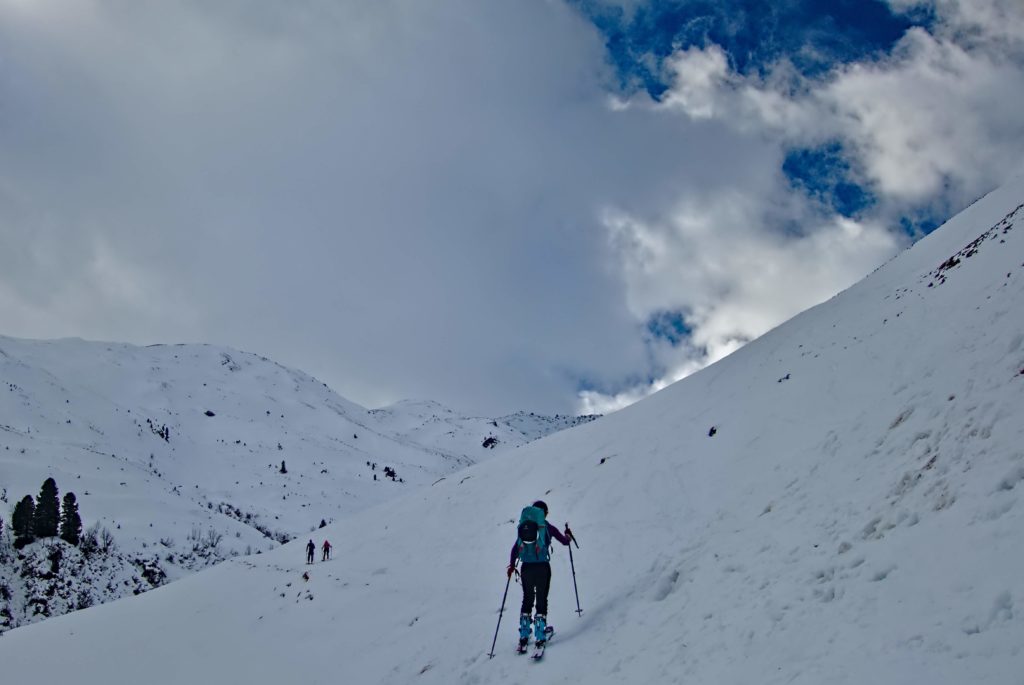 We got up at some ungodly hour and drove to Hochfügen, a hanging valley at 1450 hm, on the west side of Zillertal. It's a ski resort, and already busy with lots of people getting their first taste of snow for the season. We drove to the end of the carpark, attached skins and started to waddle up the groomed track (meant for sledgers) towardsn Rosskopf, our goal for the day.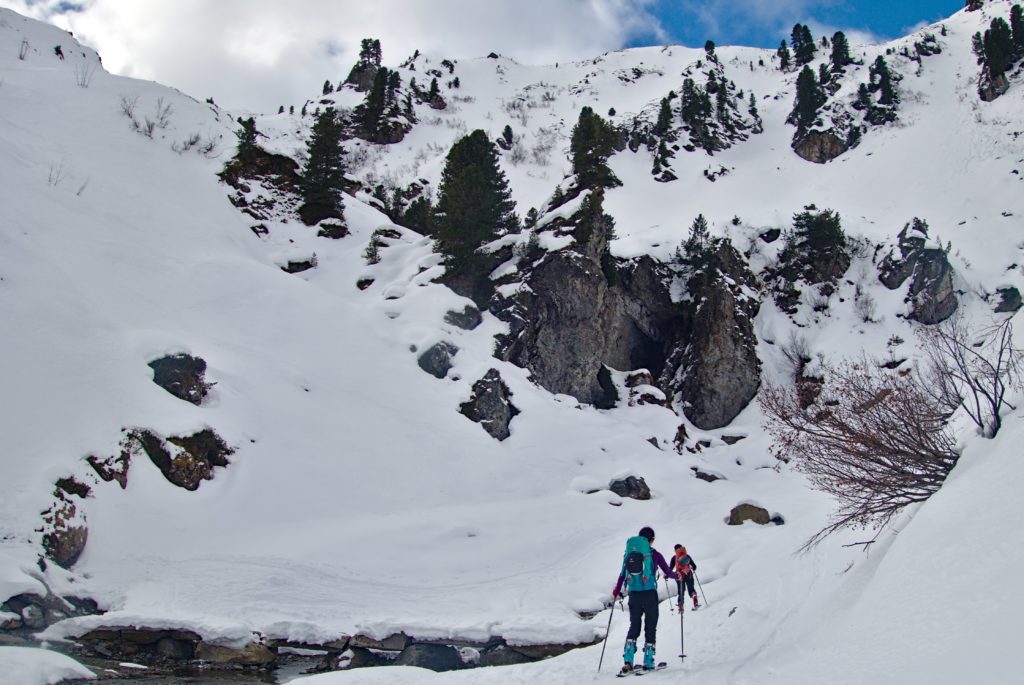 I say waddling, because ski touring is not exactly graceful. Compared to cross country skiing (gliding metres with every stride) or snow shoeing (where you have nice comfy boots) ski touring seems like a lot of faff on the way up. But the scenery was wonderful, and we watched a trail of people ahead of us and behind, all skinning up to the same peak.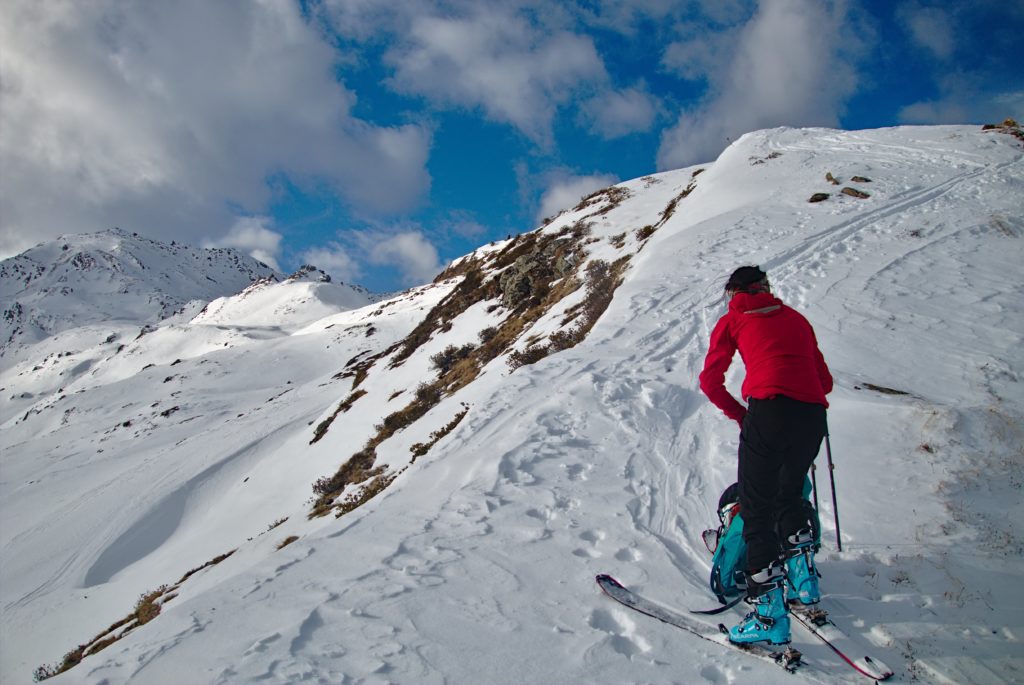 As it got steeper, I had chance to practice my kick turns, carefully avoiding dislocating my hips as we cut sharp zig zags up the steep slope. We climbed higher and higher, and reached the saddle of Sidanjoch. From here we had an incredible view over the mountains on the far side, and a clear look at our goal, Rosskopf.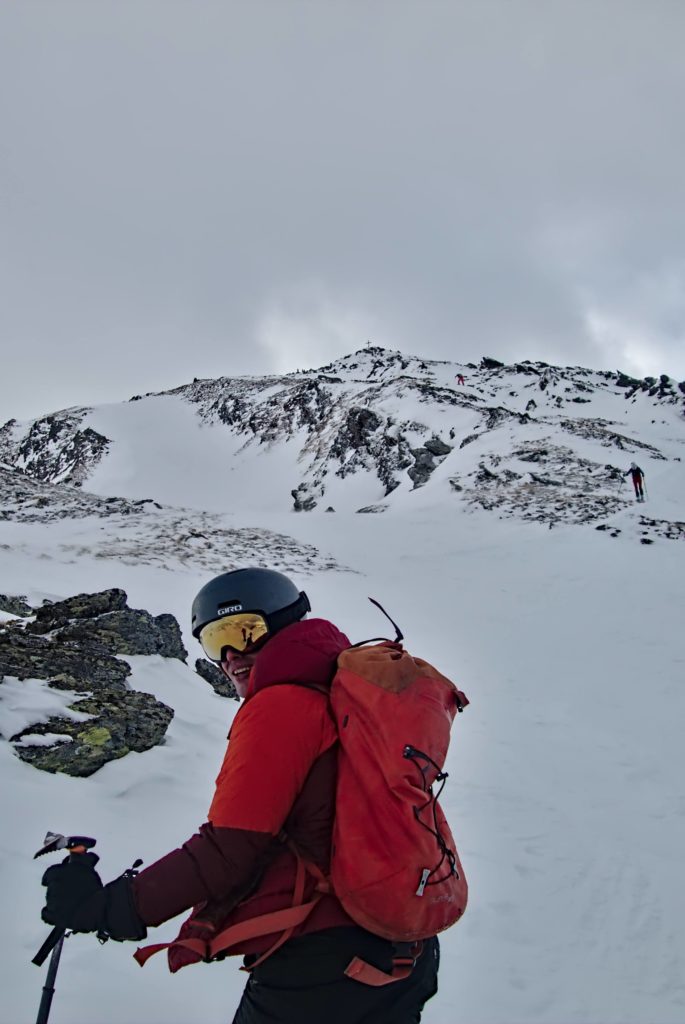 The peak was reached along a broken, undulating ridge. Still plenty of rocks sticking out this early in the season, and we had to ski down short sections with our skins on. The final stretch up to Rosskopf was tough going, as we zig-zagged in a steep rocky gully that we were sharing with the skiers coming down at high speed!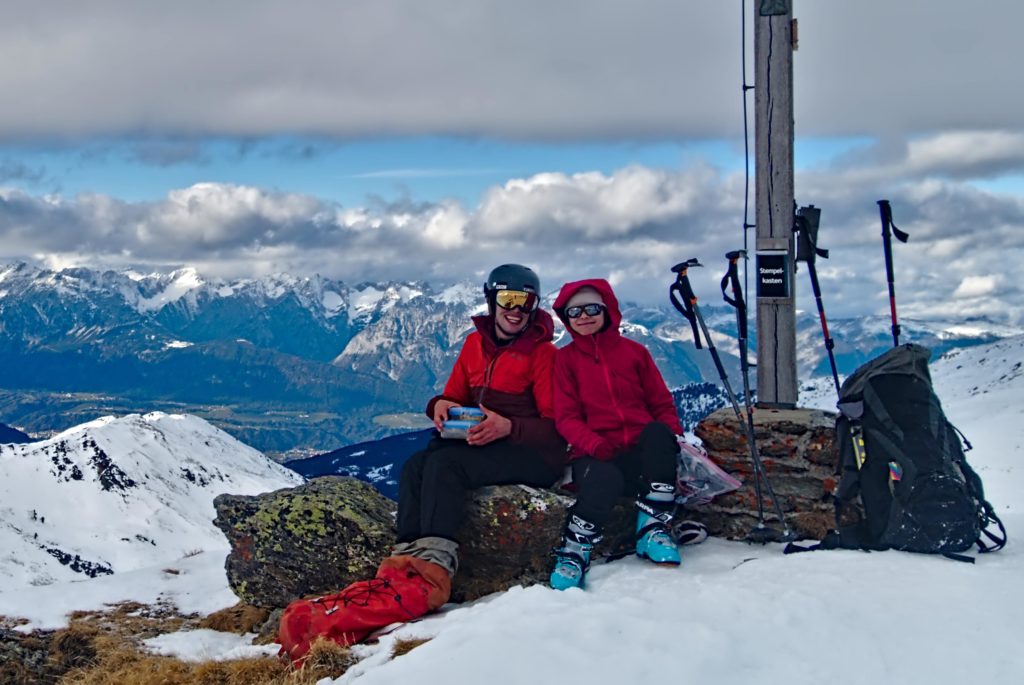 At the summit we ate some food, took some pictures, and I tried to mentally prepare myself for the descent. It has been almost three years since I last skied, and before that I'd skied when I was 17 or so. It's fair to say that it is not just like riding a bike, and it's unfortunate that mountains tend to be pointier at the top than the bottom, making it much harder to descend at the start! Still, with encouragement from Munan and Kedron I made it down the worst section, and onto the gently sloping powder strewn slopes.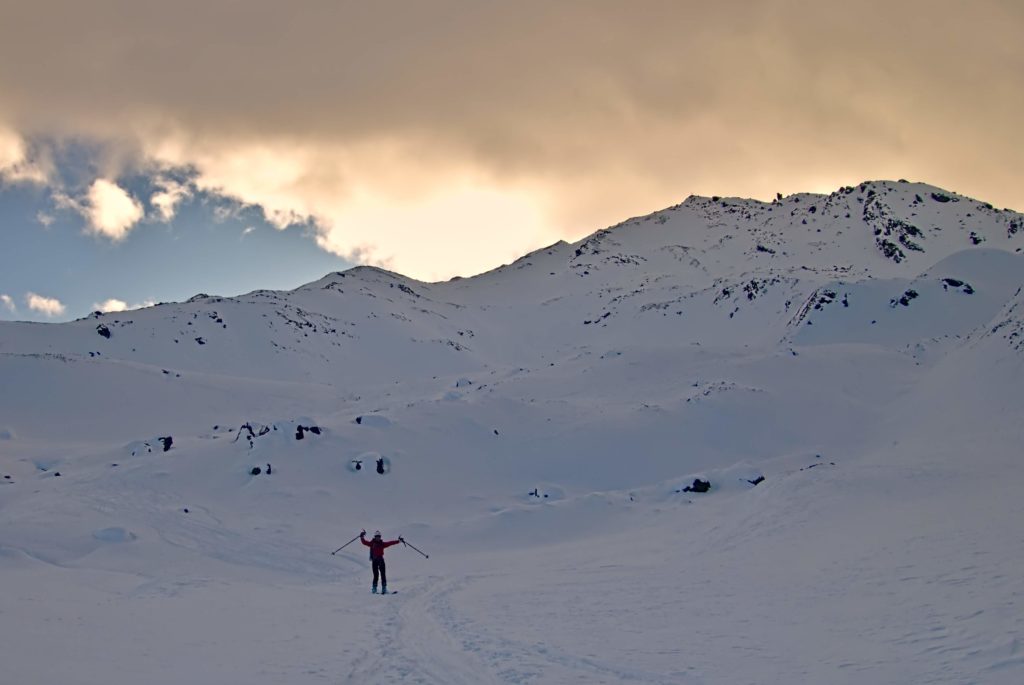 This was extremely fun, and really what I thought I'd signed up for – long swooping turns around rocks, dodging small streams and trees and making rapid progress. After a while, Kedron peeled off to go skin back up and descend somewhere else, but Munan and I decided to head back to the car. We had to cross three small streams three times on the zig zagging road we took, which meant I got a lot of practice at taking my skis on and off. Finally we were down, with time for a quick hot chocolate before driving to our guest house near Zell am Ziller for the night.
---
The next day we optimistically set off for a harder route, up the Hollensteinkar from Juns. The initial road was strewn with stones, and having scratched my rented skis once the day before I was not looking forward to the descent. However, once we got past the huts at the top the snow deepened and became much easier going.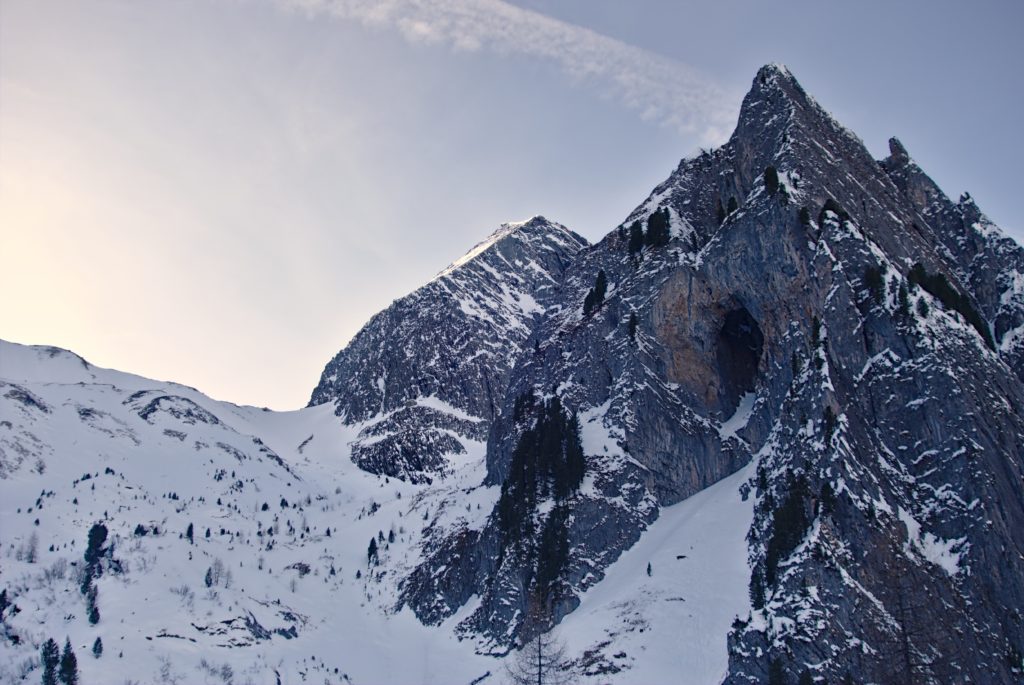 We climbed up the Hollensteinkar, and took a route on the right. Kedron lead the way, but it quickly became quite steep, and we saw another group ascending on the left. We went down to follow their trail, but found that the snow on their side was compacted by the wind, presenting a significant avalanche hazard. With a group of four above us and the conditions uncertain, we decided to bail on this and head over to Kreuzjoch and then Am Flach.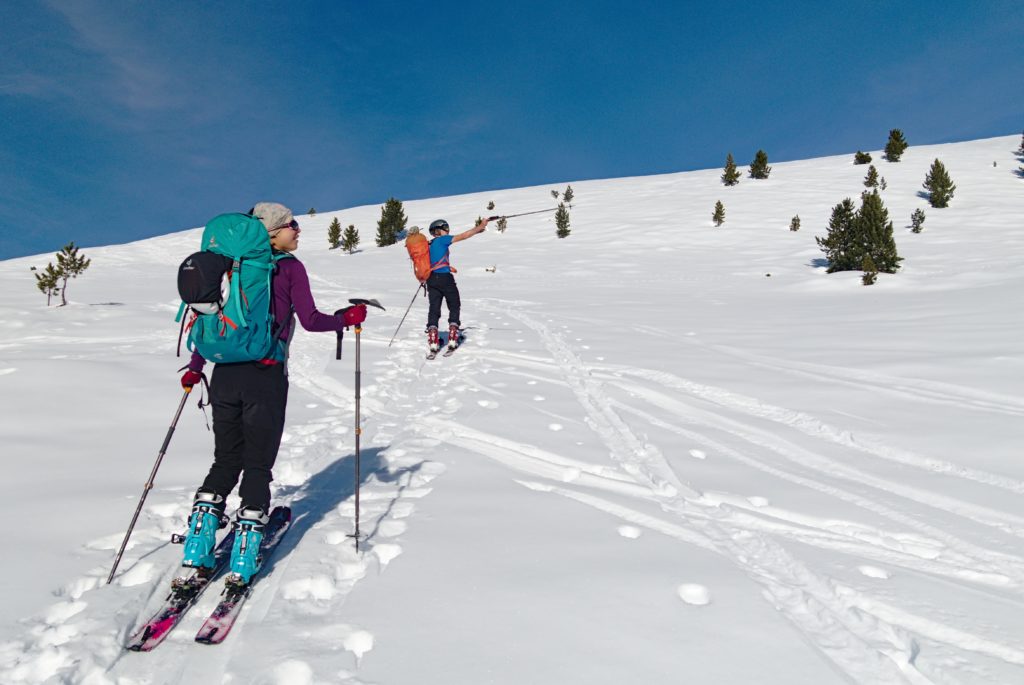 Here the slopes were gentle and gave me some much needed practice with turning. In one section I had to slide down sideways between the trees, unable to turn sharply enough to avoid an arboreal incident.
Back at the huts, we decided not to take the road down, but instead went through the trees. Here my skiing ability rapidly improved, as the alternative was to crash, and by the bottom of the long, steep, narrow and icy run I was able to do most of the turns, side sliding the rest.
It was a great weekend, and a wonderful introduction to ski touring! Now I just need to get my own skis and learn how to turn properly.