Torscharte
My parents are in town, so along with brother Tom we headed to Hinterriss, at the mouth of the Eng valley. The road was closed for winter just beyond where we parked, and we were clearly the only people around that day.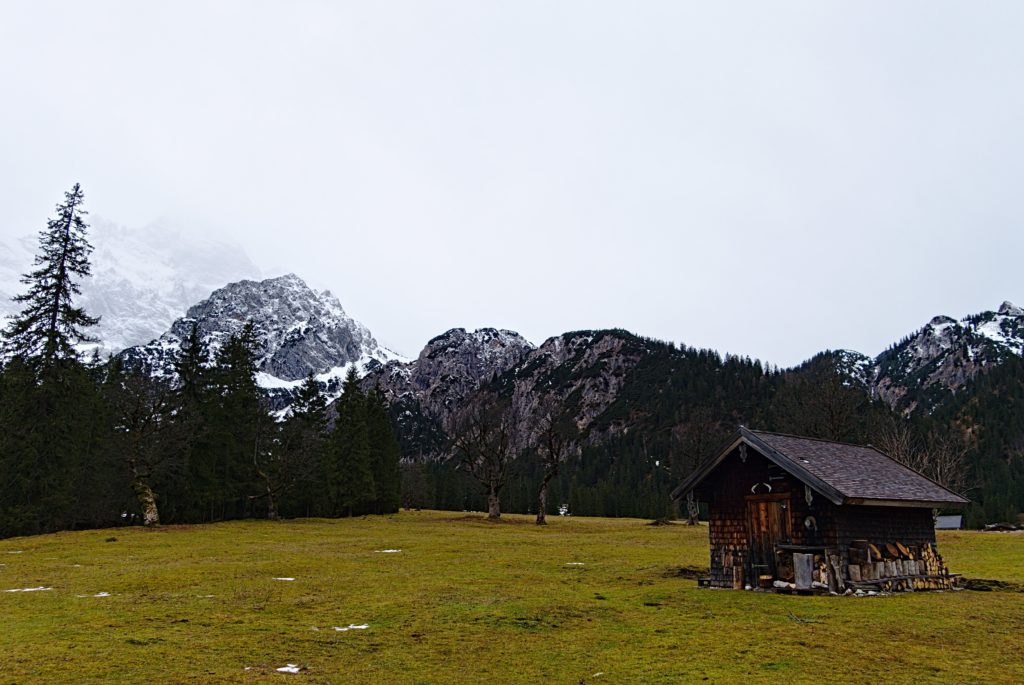 We started up the forest road, my feet a bit uncomfortable in my new stiffer hiking boots. After a while, we made it to Rontalalm, and we could see the amount of snow ahead. The path wound through the woods, and at about 1300 hm we put on our microspikes. Tom and Mum turned around some time after this, leaving me and Dad to press on for the saddle.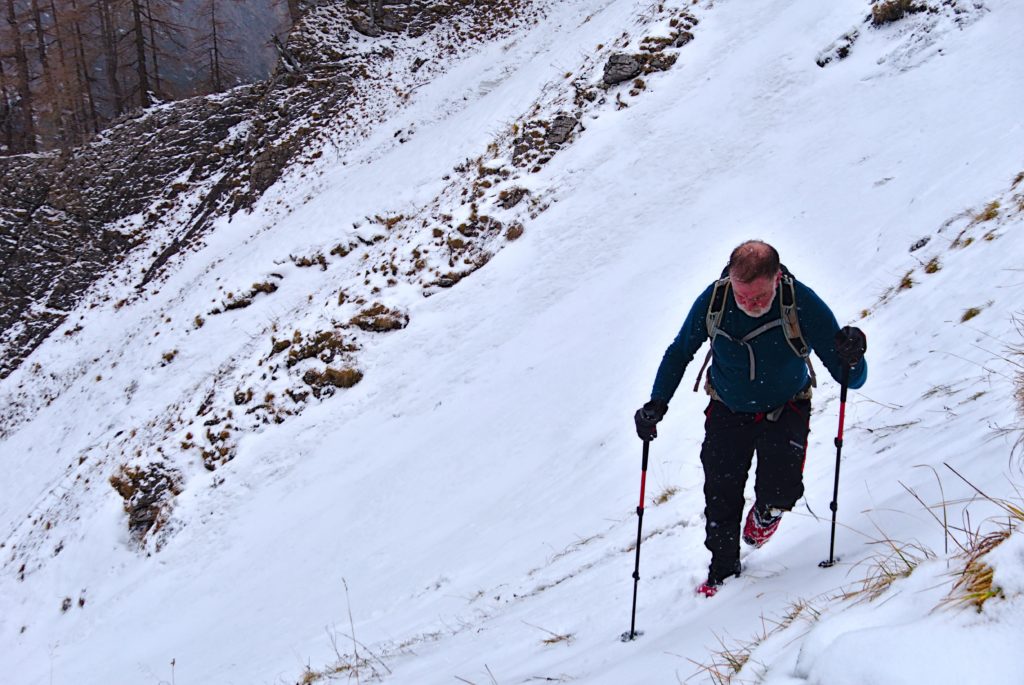 It was steep going, kicking steps all the way and struggling to find firm snow – we could've done with our snowshoes, which we left in the car as they didn't seem necessary! After a while and much panting and puffing, we arrived at the Torscharte, the saddle. We looked up at Torkopf, the peak 200 m above us, and said nah – the route looked a bit tough and the snow was beginning to fall thickly.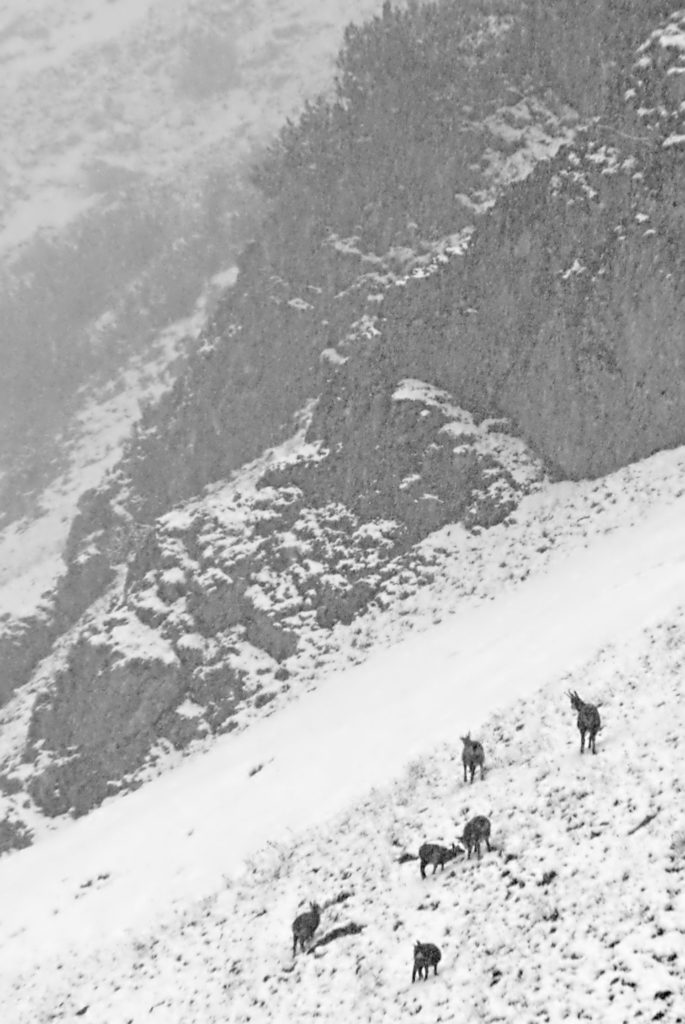 We plunged down the otherside, and noticed lots of gams (chamois). Lots and lots of gams – we were surrounded! There was a family on one side with young gams, and more flanking us, with a commanding position of the heights. Despite this encirclement, we managed to escape, pushing lower and lower into the valley until the snow turned to rain.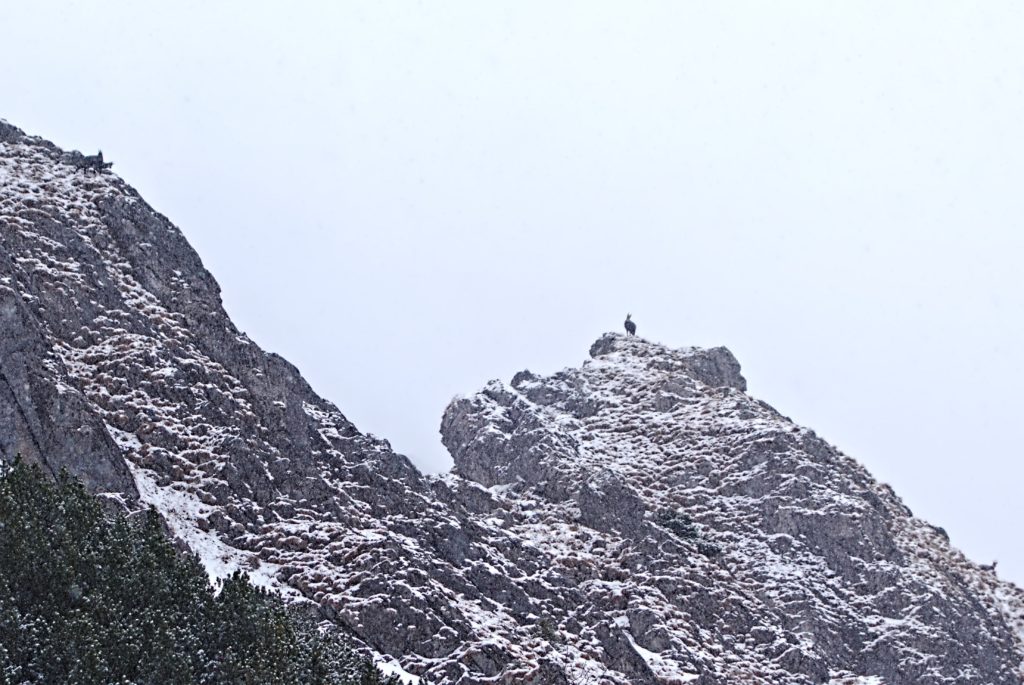 We got a bit soaked before putting on our waterproofs, but the rest of the route was easy, following another forest road, and we were soon back at Hinterriss. There is an intriguing canyon in the Torbach – it's not clear if anyone has abseiled it or not!
A very nice loop, and an excellent start to the winter season for me. Next time, snow shoes!
---
Brecherspitz
We set off on the train towards Schliersee, hoping to catch the bus up to Spitzingsee and get straight into all the fresh snow by starting as high as possible. Sadly, our train was delayed, and the bus driver declined to wait. Standing at the station, there was only one thing for it – we'd have to hike up ourselves!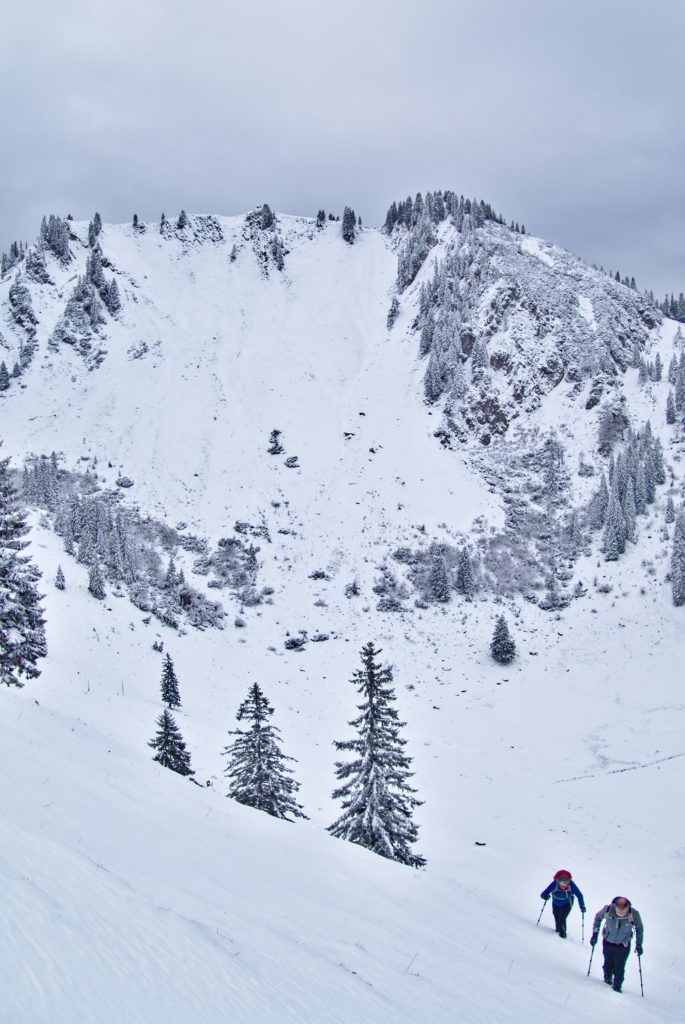 We could see Brecherspitze almost immediately from the town. It's a fairly pointy peak, and stands by itself, connected by a ridge to the north and west. We first climbed up the forest road to Ankelalm, which lay in the hanging valley formed by the two ridges of Brecherspitze. Here we put on our gaiters and microspikes and started up the steep slope to mount the north ridge.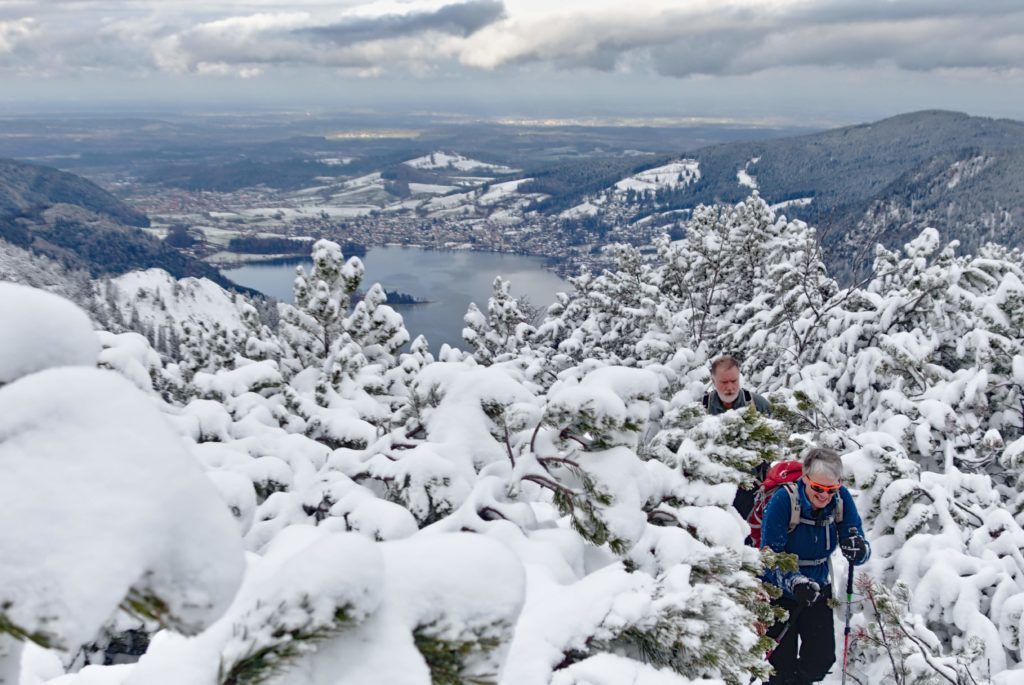 It was tough going, and we initially followed the footprints of someone else who clearly had as little idea of where to go as we did. Eventually we made it however, and picked up another set of footprints which lead past the red painted trail markers, and along up the ridge.
We were pushing through thick dwarf pine, laden with snow, and so managed to get quite snowy ourselves, when suddenly the footprints ran out. I tried to make my way up a steep, slippery slope but slid back down. This only encouraged Dad, who began to laboriously climb it on all fours. At this point, I spotted an easier way round at the side, and so was able to climb up and watch his progress from above. He really appreciated my helpful advice and incisive observations.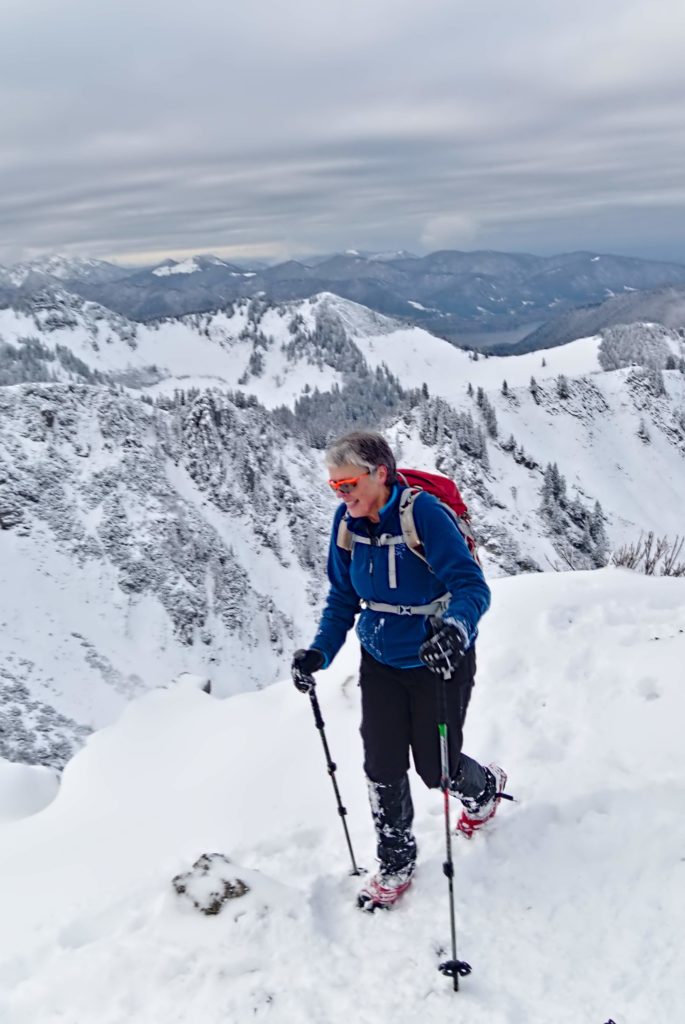 Now we were on fresh snow, and it took a while to find out where the good footholds were. After another half an hour or so we reached the summit, adorned with a rather tasteless Jesus onna cross, and paused to eat our lunch. We met a couple who had come up an unmarked trail, he in semi-automatic crampons, she in plain boots. Hmm.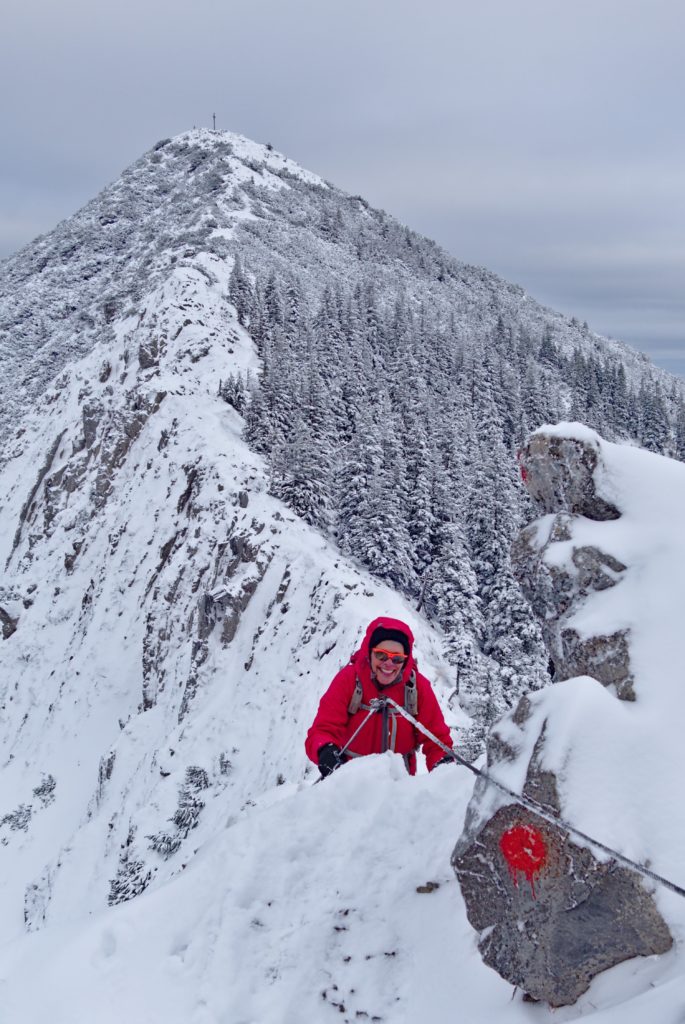 The western ridge had already been well trod, and it was an easy route down, except for a few bits secured with a steel cable, where the trees disappeared and the run out was severe. Soon we were heading down to Obere Firstalm, and we could smell the cake as we drew close.
Inside, we ordered vast amounts of food, and scoffed it all down with some alcohol free wheat beer (it's really rather good stuff). Outside, there were sledges to rent, and we could have done with one to get down the hill, but we decided there wasn't enough snow. We plodded down the forest road and caught the buss at Spitzingsee Sattel, back to Schliersee and took the train home.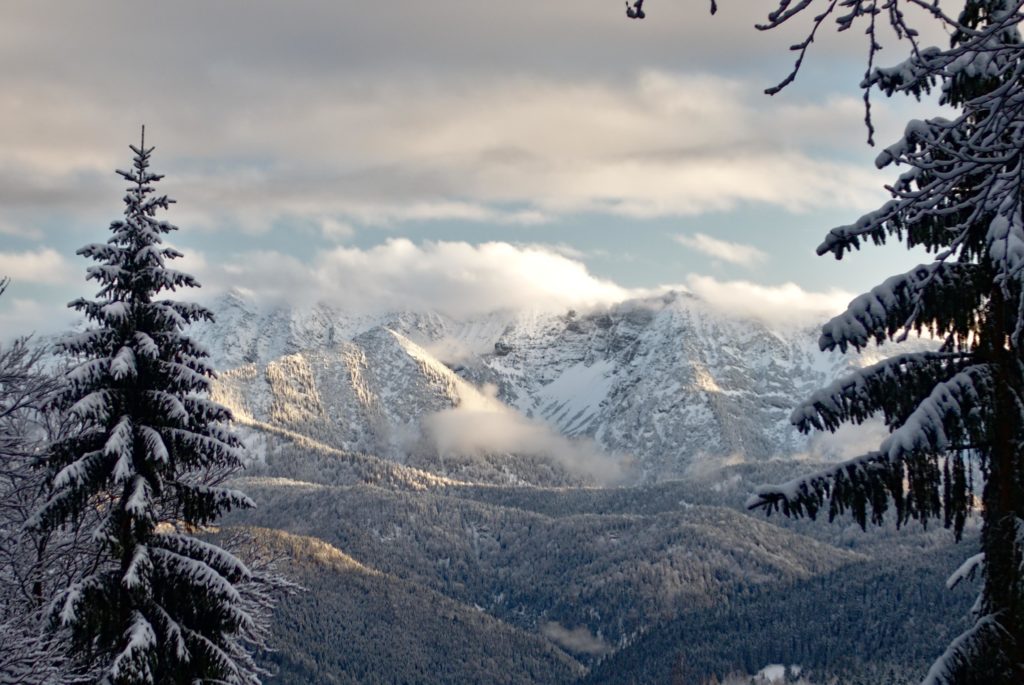 This is a really lovely little loop, and probably a good intro winter hike that's not too far from Munich. I was impressed at how good the views were at "only" 1650 m or so, and there was plenty of snow!