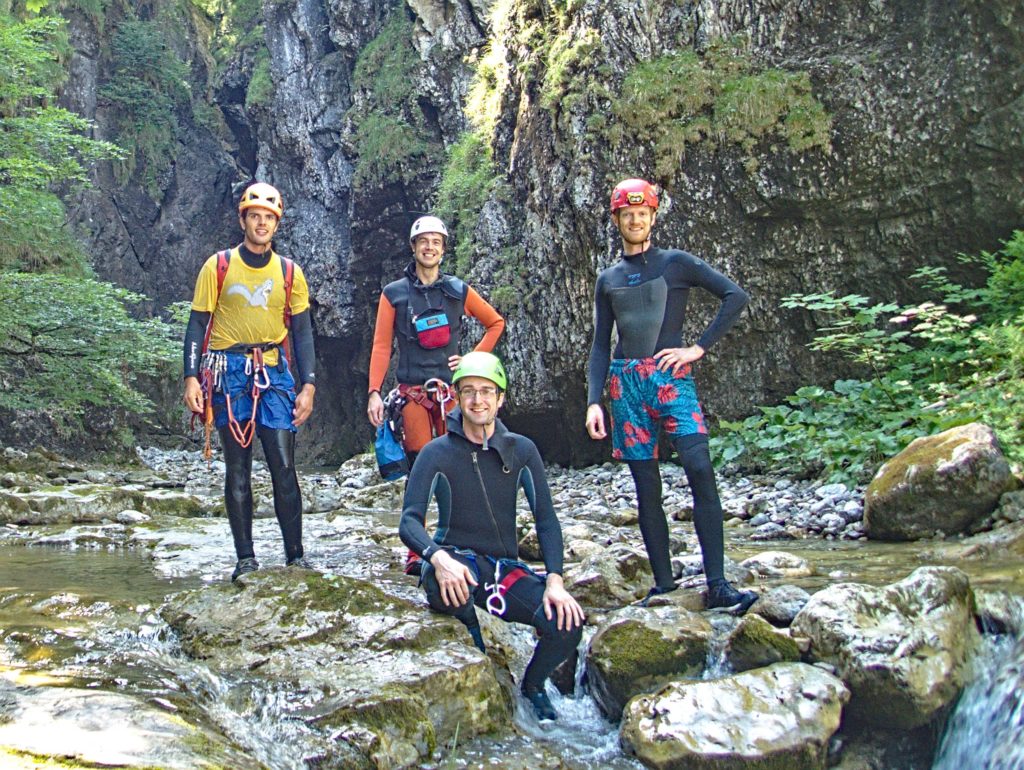 This was the first inaugural trip of the Max-Planck-Institüt für Canyonforschung, an interdisciplinary approach to getting wet in canyons. Our representatives were myself and Andrew from the MPI for Plasma Physics, Kedron from the MPI for Extraterrestrial Physics and Alex from the MPI for Mathematics – vier Dumme, ein Gedank! Kedron had done a few canyons in the US, and Andrew had done a lot of caving but no canyoning, so this first trip was to get a feel for how competent everyone was before launching into something harder.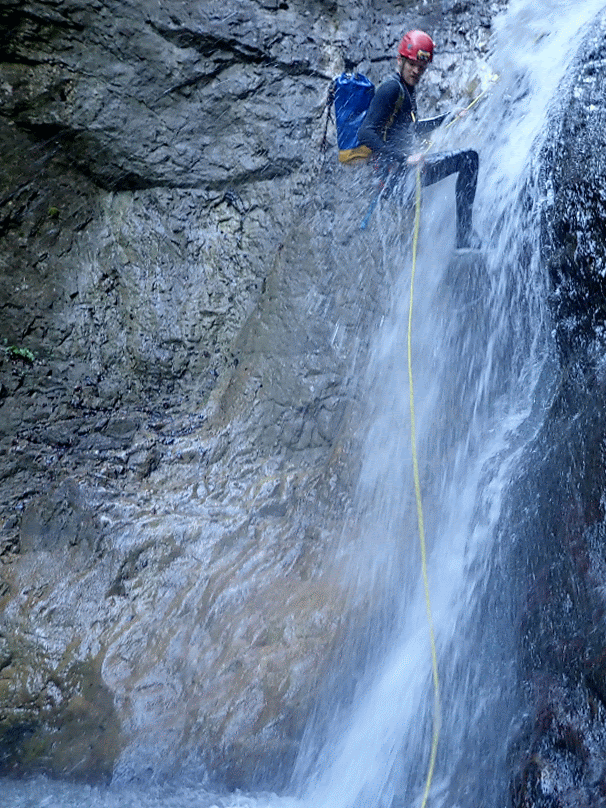 We'd chosen to begin with the picturesque Pitzbach, with it's many beautiful wet abseils. Pitzbach then leads to the Hühnersbach, a canyon which runs directly along the border between Asutria and Germany. Interestingly, canyoning is prohibited in Germany, so we made sure to always swim on the Austrian side. 😉
After a seemingly endless drive we arrived near Achenkirch in Tirol. We packed our bags and headed up – the approach walk is lovely, with lots of shade and a gentle gradient. We paused at the top for a quick picnic of tomatoes, cheese and bread. Before we could get going, a large guided group arrived, and the guide came over to ask if he could overtake us in the canyon. Sure, why not? We set off for the first abseil.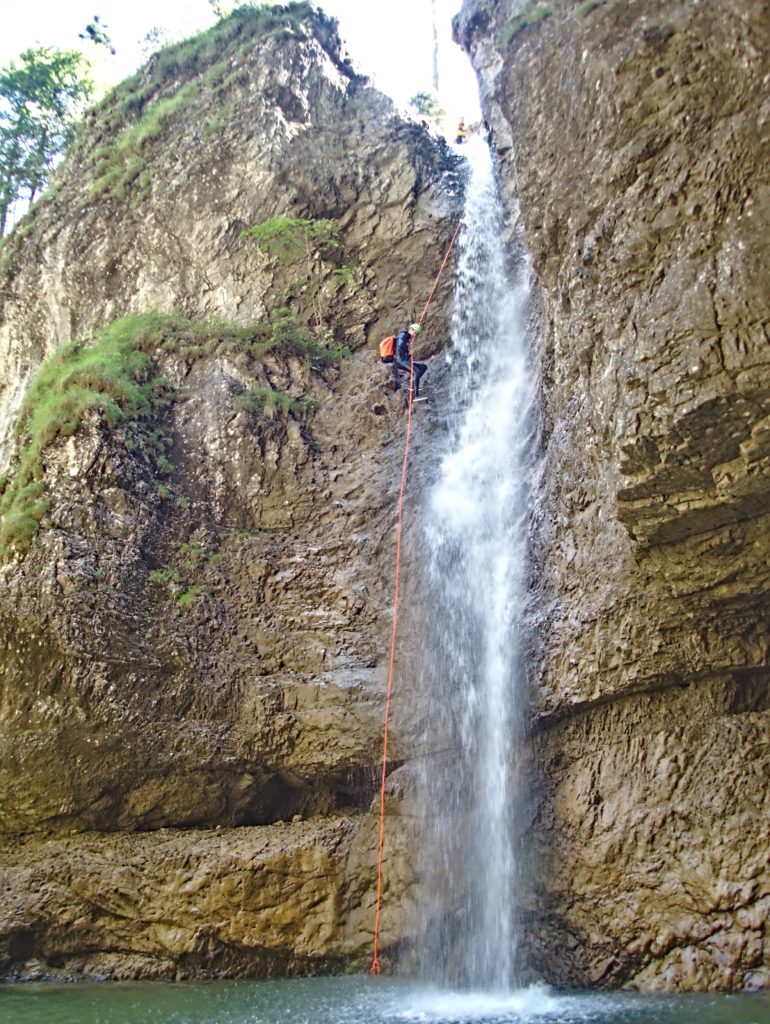 Well, it was an abseil for us. The guide knew this canyon well, and his group barreled down it as a massive slide. Looked really fun, and they were down in no time. So after the next abseil we let them pass. The guide paused to get my name and offer his bespoke guiding services. He also pointed out a terrifying failure mechanism for a fig 8, where the rope can slide up and form a larks foot knot. Fun. Fortunately he showed us how to avoid this happening, but Kedron was so put off he switched back to his ATC.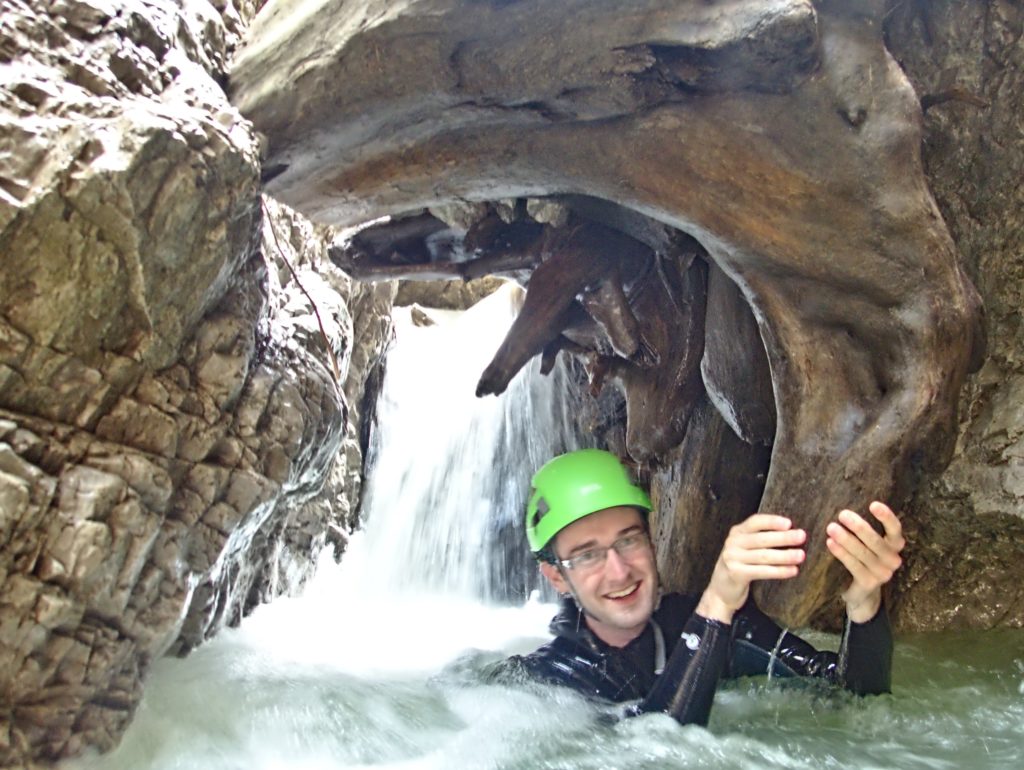 We lounged in the sun waiting for the big guided group to be lowered down the 25 m abseil. Eventually it was our turn, and I rigged the wetter route because seriously, what's the point of canyoning if you avoid all the water? It was satisfyingly splooshy.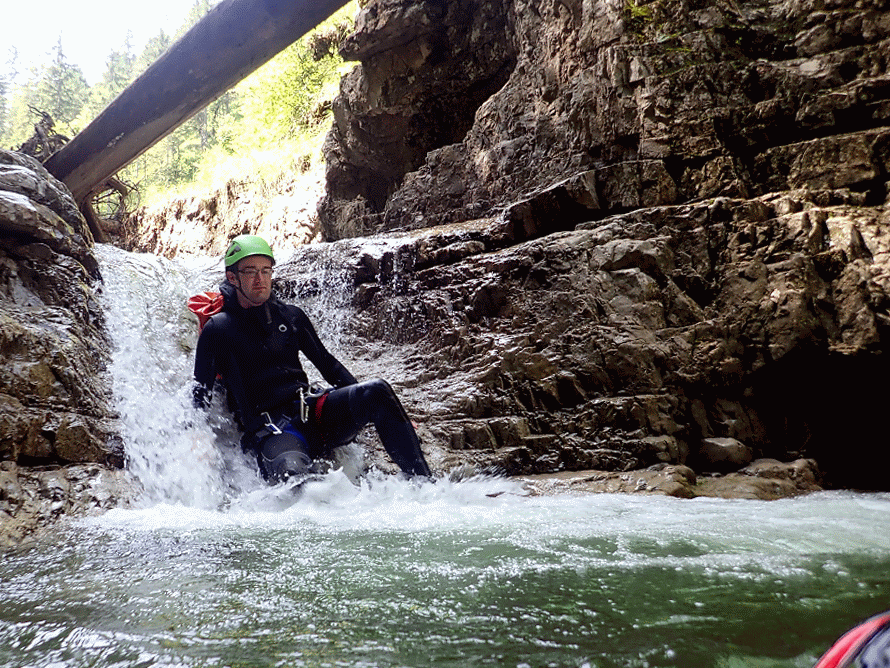 After a few more abseils, we were done with Pitzbach and we joined Hühnersbach. This is a far less vertical canyon, with lots of smaller pitches, plenty of jumps and toboggans and really nice enclosed section. We all got quite into trying the jumps, and Kedron climbed back up several times to have another go at one particularly deep pool.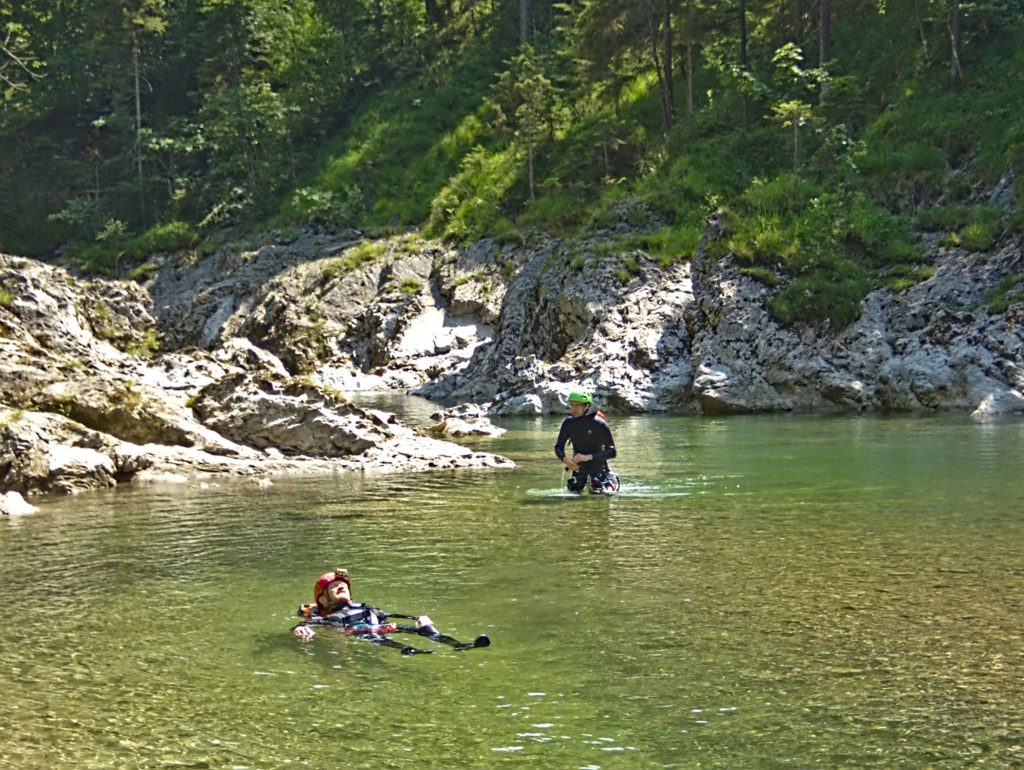 Eventually we ended up at another, slowly flowing river and after a bit of swimming me around we climbed out and went back to the car. The trip had taken about 6 hours in total – 1 hour to hike up and change, and 5 to get down. We definitely could've been faster, but it was a very enjoyable pace.
In a masterstroke of team building prowess, I suggested we stop for ice cream in Lenggries and we all ate vast amounts, washed down with various Schorles. I fell asleep in the car on the way back. What a lovely day.