Cecilia and Rhys organized a last minute trip to the Lakes before the UK descends into total lockdown. We swapped wild camping for glamping, including a gas stove with two burners and a big tent in which we could play socially distanced board-games.
Day One: Skiddaw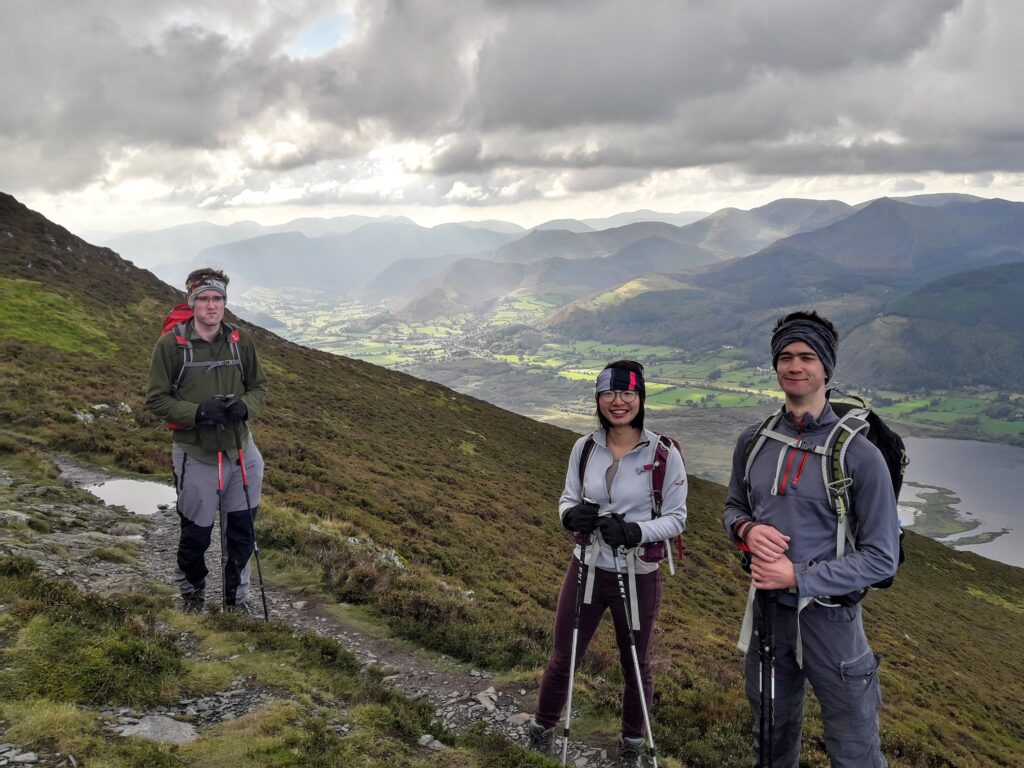 On the first day, we met up in the very northern corner of the Lake District to climb Skiddaw, a mountain I had never heard of. However, lots of other people had, and we barely found a parking place on a tiny side road. The NE ridge leading to Skiddaw is off all of the maps I have (OS and Harveys) so we navigated the first bit using GPS and optimism, which worked pretty well.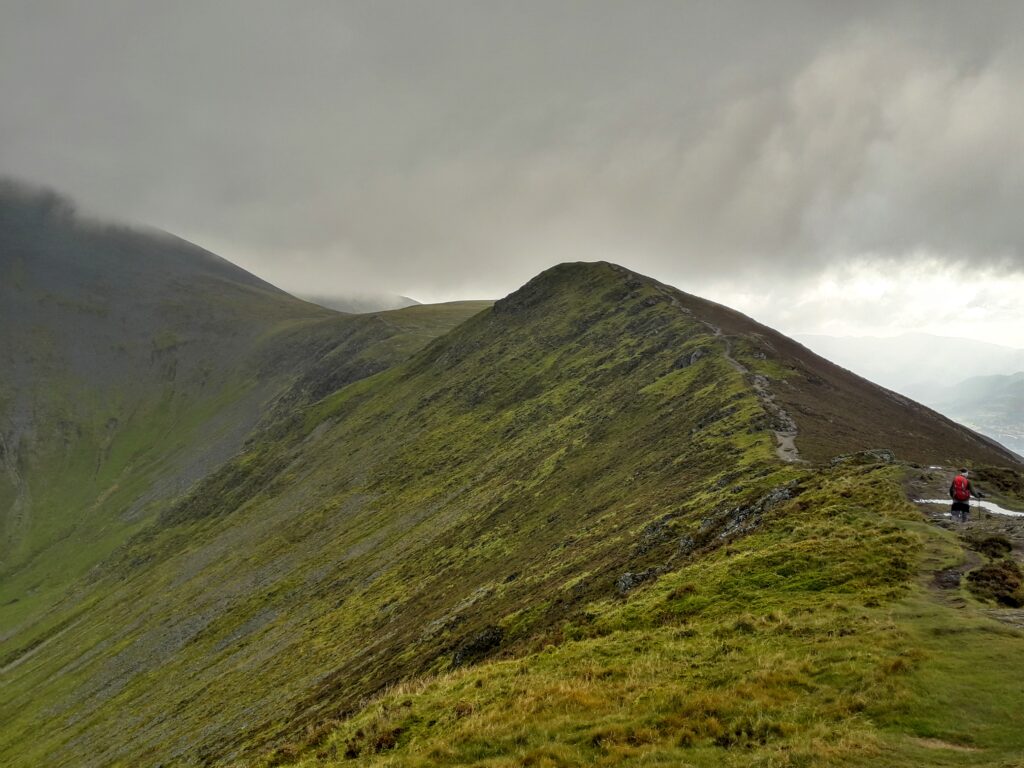 As we climbed the steep ridge, the wind grew incredibly strong, pushing us off balance and generally being a nuisance. However, as we reached the saddle below Skiddaw, everything calmed down in time for lunch, and we even had some sunshine.
The climb up to Skiddaw was a steep scree slope, but after plodding along for a bit we made it to the characteristic broad and flat Lake district summit. Here the cloud obscured most of the hill, with brief glimpses of cairns as the wind blew the mist away. There were a huge number of people out and about, doubtless also concerned that next week they wouldn't be allowed to leave the house.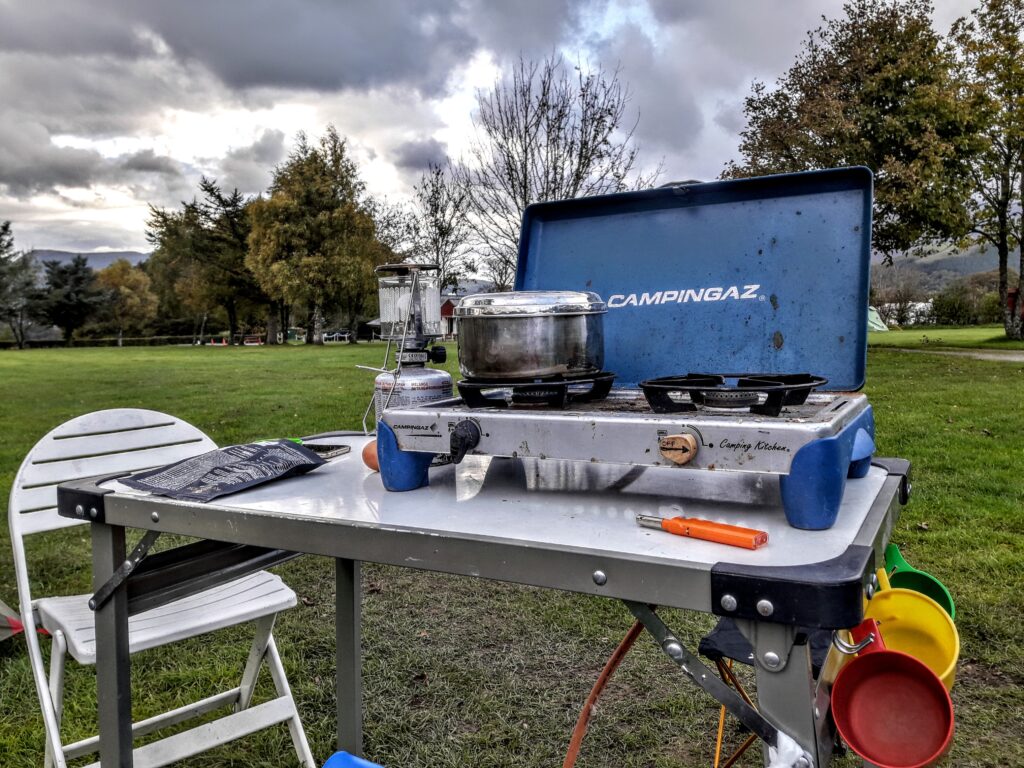 We dropped down from Skiddaw passed the woefully misleading "Bakestall", which was just a boggy hill, rather than a chance to buy cake. Back in the valley we circumnavigated an irate farmer's farm yard and arrived back at the cars relatively early. We drove over to Castlerigg to set up our tents, in a relatively deserted campground.
Day Two: Helvellyn and Striding Edge
Striding Edge is a classic scramble in the Lakes, and one high on our list. We couldn't camp near Ullswater, as all the campsites were closed due to Covid, so we had a bit of a drive in the morning to Glenridding. Sadly Rhys had hurt his knee the previous day, so had a wander around the lake instead.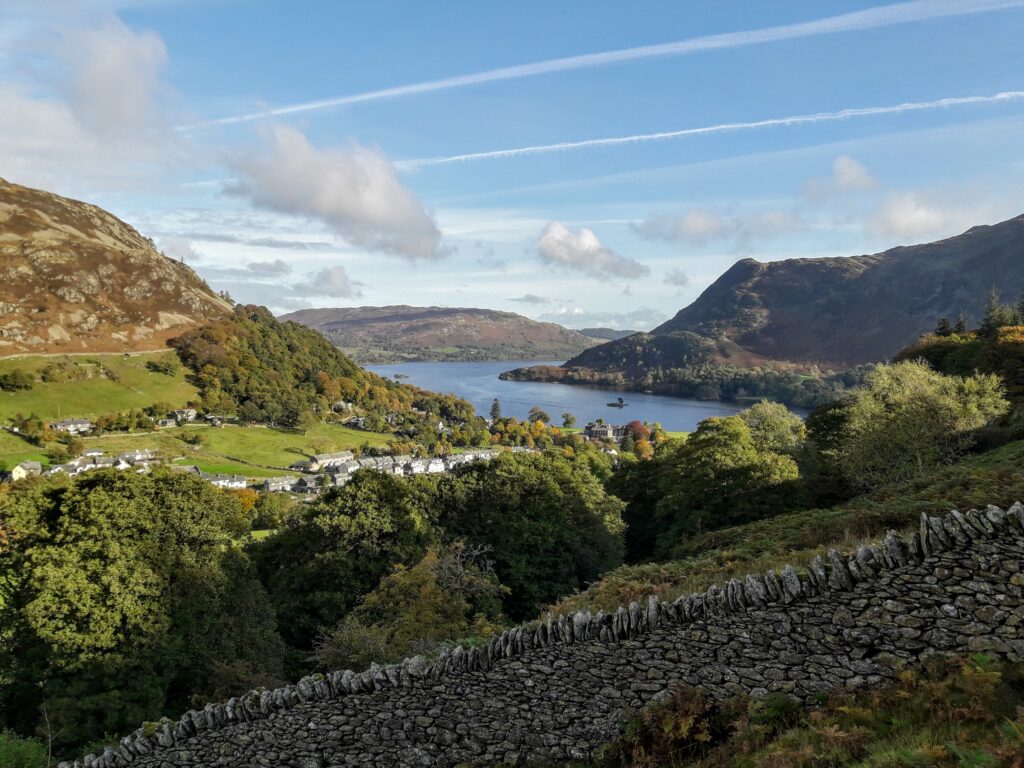 Rather than hike up the main drag passed Greenside mine, we went up Mires Beck, a steeper route but one with great views. The weather was glorious, with only a light, cooling breeze and real sunshine. There were plenty of people about, even on this less popular route, but it was never crowded.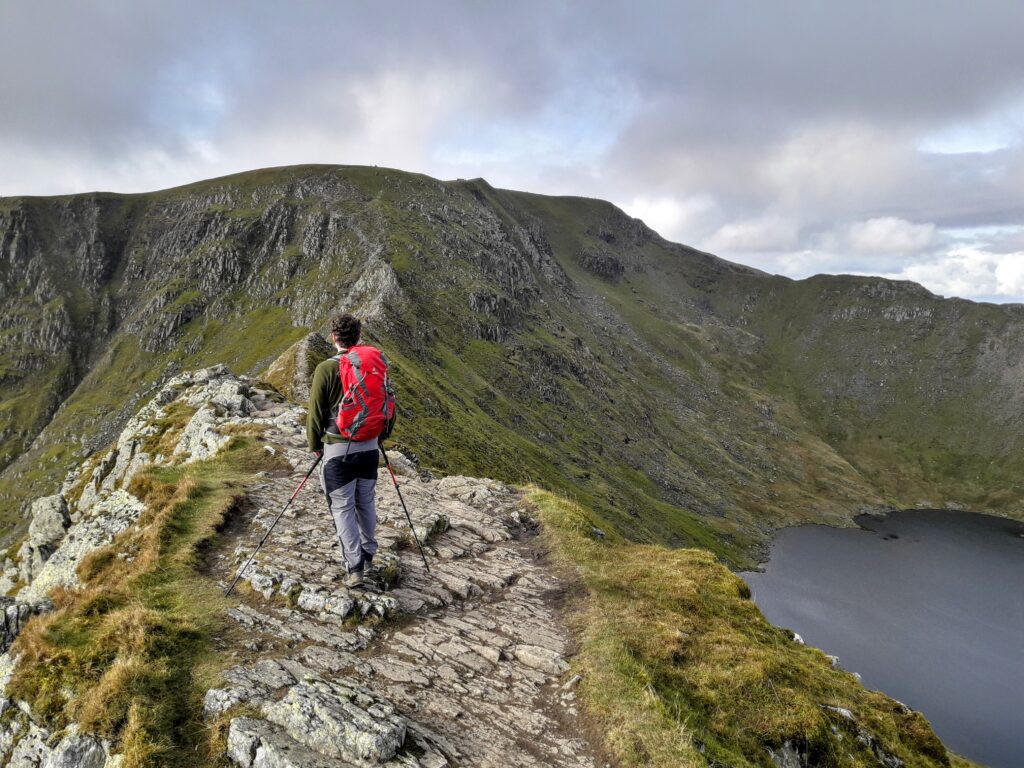 Striding Edge itself was both harder and easier than I remembered. The up and down climbs were trickier than I had thought, but the ridge is never as narrow as I remembered, and there are always good ways around the very difficult obstacles. We made good time up the ridge, passing several other groups and offering words of encouragement and ABBA sing alongs.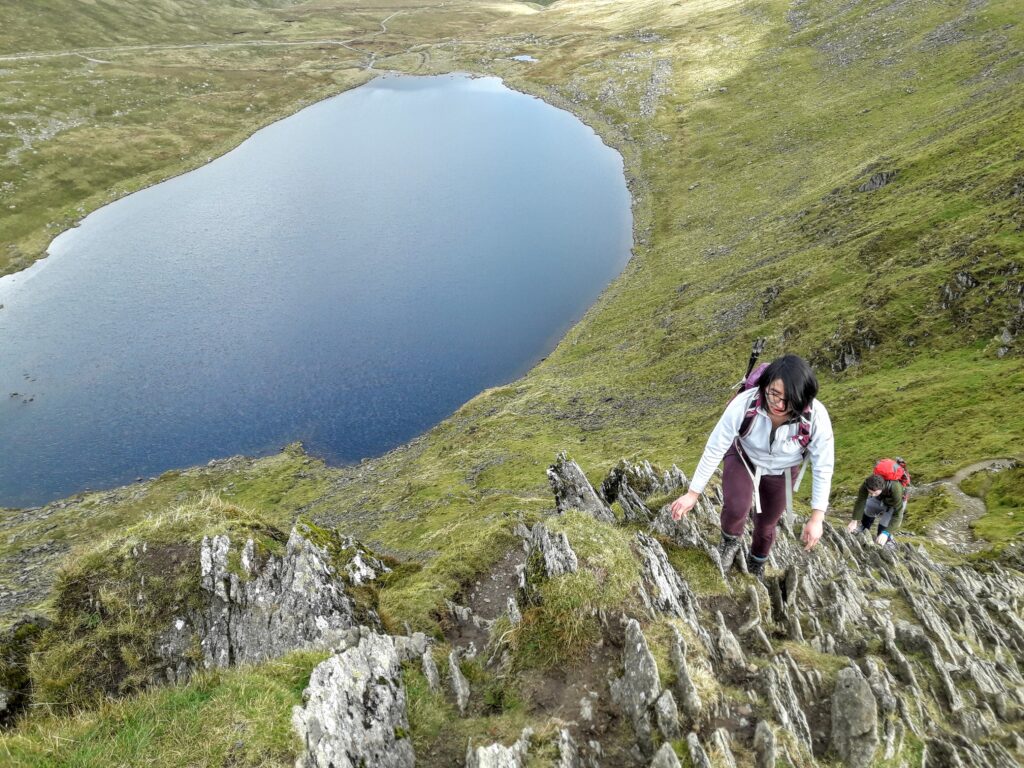 The final climb up is the most strenuous bit, and I was a bit tired when we got to the broad, rolling summit of Helvellyn. We decided to extend the trip a little bit by going north to White Side and then down the Red Screes. Rhys met us at Greenside Mine and we ambled back into town, for an evening of fish and chips and boardgames.
Day Three: Walla Crag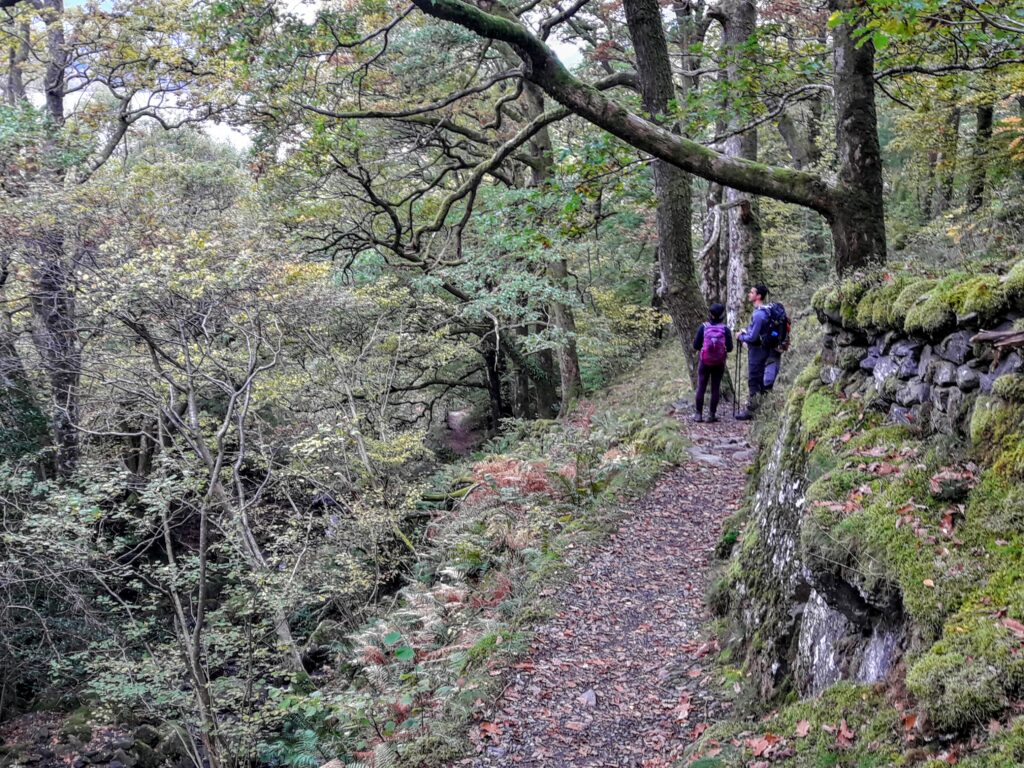 Given Rhys' knee and our general exhaustion, we opted for a simple final day, climbing Walla Crag behind the campground. Alex had chosen a nice route through a forest along Derwent Water, followed by a steep hike/scramble up Cats Gill to the top of the crag.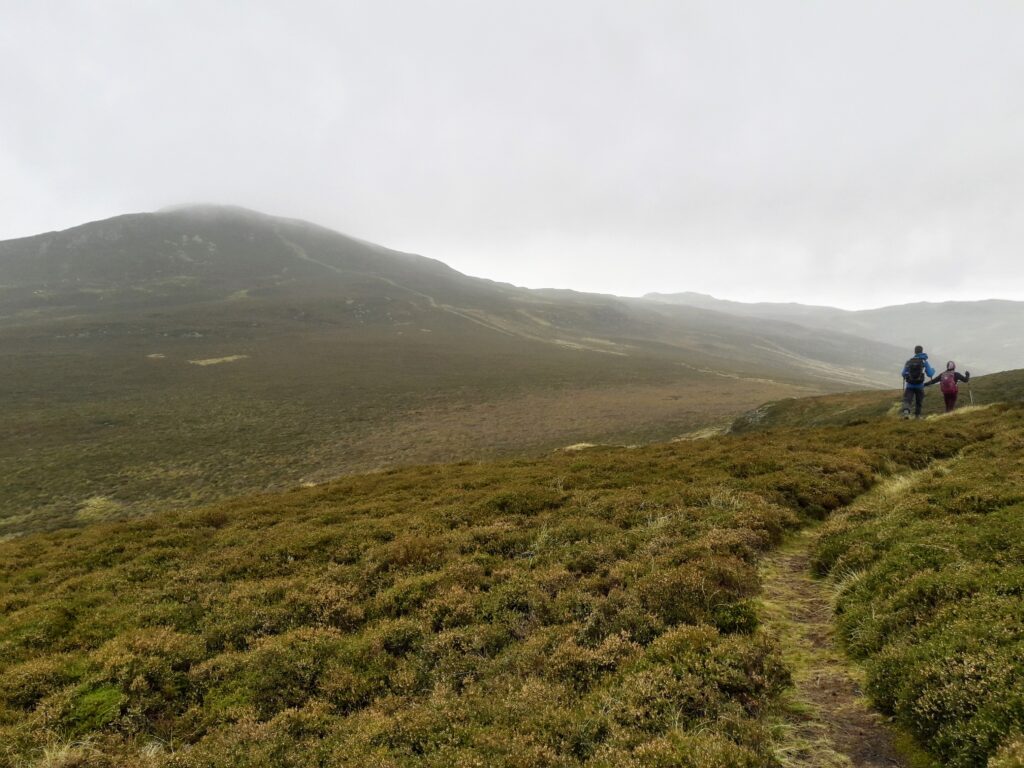 The weather was poor and we wandered around for a while before deciding it wasn't really worth it – the clouds covered even the lower hills and the rain was coming in thick. We retreated to the cars and drove back home, sated.